Southeast Asia's longest-running international film platform, Singapore International Film Festival (SGIFF) will take place from 26 November to 6 December 2015 to celebrate independent cinema in the region, telling the Asia story in film. SGIFF Executive Director, Yuni Hadi, said, "The region is rich with an eclectic mix of filmmakers, and SGIFF presents a choice platform for their different voices and styles of expression. It is always exhilarating to discover amazing works, create opportunities for exchanges between emerging talents and industry heavyweights, and connect these independent spirits with the wider regional and international audience."
The 26th edition of SGIFF will take place across various venues, including Marina Bay Sands, which returns this year as Presenting Sponsor. The other screening venues are National Museum of Singapore, Shaw Theatres Lido, National Gallery Singapore, The Arts House, The Projector and The Substation. Film line-up for this year's edition will be curated from the over 1,400 submissions received since its open call in May 2015.
Line-up to Celebrate Two Iconic Asian Classics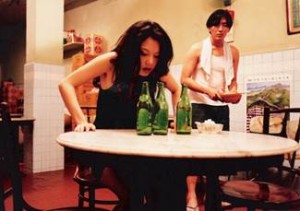 Two iconic films of Singapore cinema will lead the line-up for the Classics segment of the SGIFF. Eric Khoo's Mee Pok Man and Yonfan's Bugis Street are two well-known works that had been prominent in the 1990s – when a resurgence of independent cinema was noted in Singapore. Both films mark their 20th anniversaries this year.
Eric Khoo's Mee Pok Man (L) and Yonfan's Bugis Street Redux (R)
Hadi added, "Mee Pok Man and Bugis Street are two classics that not just tell a Singapore story, but also reflect a milestone of an era for our filmmaking industry. They have inspired bolder voices since their premieres in 1995 and are exemplary of the quality storytelling our filmmakers are capable of. As both films mark their 20th anniversaries this year, it is fitting for the Festival to celebrate their legacies that have helped pave the way for the rich cinematic culture we enjoy today."
Singapore's Cultural Medallion recipient and award winning filmmaker Eric Khoo's Mee Pok Man was an instrumental film that placed Singapore on the world map in 1995, bringing forth a resurgence for Singapore cinema after a decade of lull in the 1980s. Screened at 35 film festivals between 1995 and 1997, it was widely recognised for its independent spirit and focus on locality, which inspired and influenced Singapore films to come.
This year's SGIFF also presents the newly restored Bugis Street Redux which was groundbreaking for both Asia and veteran film director Yonfan back in 1995. Filmed in Singapore, it illustrated the beginnings of cross-cultural filmmaking within the region. The iconic piece was also Yonfan's first foray into independent filmmaking, and is an essential filmic document that captures the heartbeat and colour of 1960s Bugis Street as it once existed.
The SGIFF is an event of the Singapore Media Festival, hosted by Media Development Authority (Singapore). SGIFF's Official Sponsors include Presenting Sponsor, Marina Bay Sands and Official Time Partner, IWC Schaffhausen.
About the Singapore International Film Festival
The Singapore International Film Festival (SGIFF) is the largest and longest-running film event in Singapore. Founded in 1987, the festival has become an iconic event in the Singapore arts calendar that is widely attended by international film critics, and recognised worldwide for its focus on Asian filmmakers and the promotion of Southeast Asian films. The SGIFF is committed to nurturing and championing local and regional talents in the art of filmmaking. The festival serves as a catalyst in igniting public interest in the arts, and encouraging artistic dialogue and cultural exchanges. The SGIFF is organised by the Singapore International Film Festival Ltd, a non-profit organisation and holds the Institution of a Public Character (IPC) status.
For more information www.sgiff.com.
Eric Khoo's Mee Pok Man (L) and Yonfan's Bugis Street Redux (R)