For the latest update on surf spots in Bali:
https://travel.eatsandretreats.com/best-beginner-surf-spots-in-bali/
By Prima Ayu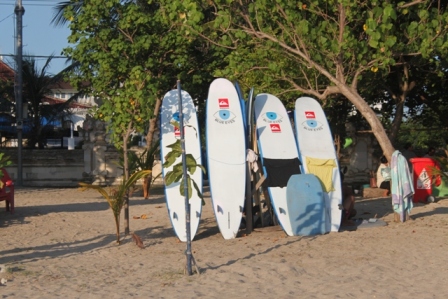 Surfboards for rent on Kuta beach, By: Prima Ayu
Bali is not just a tropical getaway and a honeymoon hotspot, it's also a paradise for surfers! Bali and the surrounding islands have some great surfing beaches, with beach breaks for beginners and huge barrels for the pro's.
You need to know the characteristics of the waves to find a surfing spot that fits your level so you don't end up in a whirlpool of thundering waves. Here are the best five surfing spots in Bali based on their level of difficulty.
In all cases: Respect the local surfers (don't drop in before them) and be careful around shallow water!
Surfing in Bali: From Uluwatu to Kuta Beach
Surfing Kuta Beach: Beginner-Intermediate
The easiest and most beginner friendly beach to try your surfing skills is Kuta beach. The beach is close to the nightlife and tourist center of Legian, hence the beach is always crowded. As a surfing spot, Kuta is very appropriate for beginners. The soft tide and average height of the waves make it a good first step for beginner to try out white water surfing (surfing the waves after they break and roll towards the beach). The good thing here is that there are plenty of lifeguards on the lookout, might you get into trouble (the undertow can get quite strong). Also, it might be a good idea to follow a surfing lesson (just ask one of the surfing dudes renting out boards at Kuta beach). For experts, Kuta beach's swell will be to easy to defeat.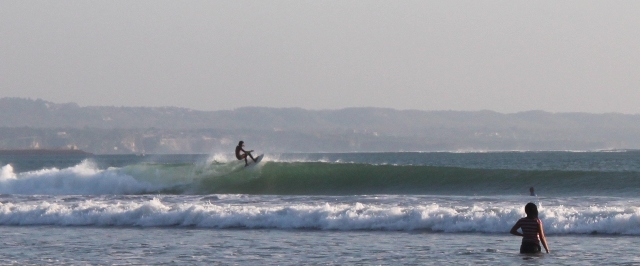 Decent waves at Kuta beach, By: Prima Ayu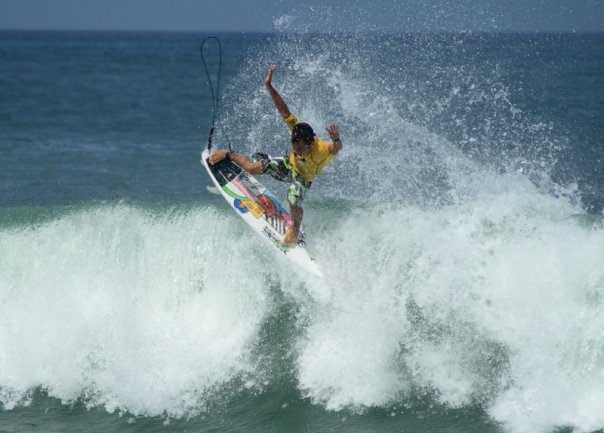 Surfing Canggu: Beginners Intermediate
Canggu beach is slightly more challenging, depending on the tide. Canggu is located close to Seminyak, about 30 minutes from Kuta. Canggu is a popular spot to surf just for everyone, both experienced surfers and beginners surf in Canggu. There is a variety of beach and reef breaks, with a few soft rolling waves that are ideal for beginners and some fast, rippable peaks, for experts. Canggu will be a place to have a relaxing surf with waves that aren't that extreme (but can get rather fast!). But, when the tide is up, it can be a real challenge even for the professionals. For beginners, Canggu is also a friendly beach. The soft waves and medium tide makes learning how to surf more fun. It's usually more quiet than in Kuta, there's a warung that sells some snacks, but that's about it.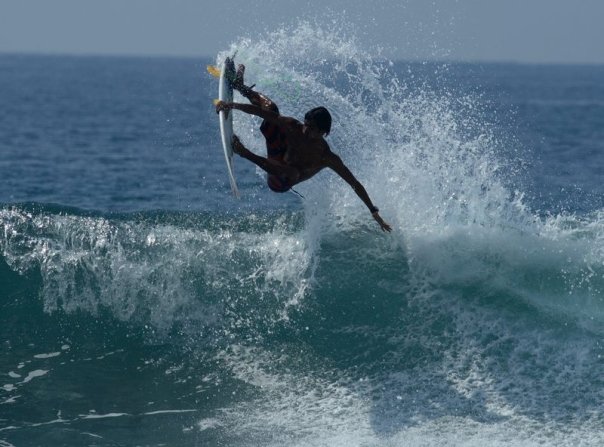 Surfing Keramas: Intermediate-Expert
Keramas beach is located passed Sanur, in the direction of Gianyar. This once secret hide-away is now one of the most popular surf spots on Bali. Keramas has an excellent reefbreak, and one of the few rights on Bali. It is definitely a wave for professional surfers. Keramas beach promises constant waves and a big swell, as long as you get up early, after 07.00 a.m the onshore wind might affect the barrel. The end section gets really shallow and you should be careful with the sharp reef and annoying sea urchins. The location makes this beach less crowded compared to the others, so, if you're looking for a world-class wave without having to battle to stand up on your board, Keramas is the place to be.
Surfing Uluwatu: Intermediate-Expert
Mysterious Uluwatu is the next spot to try. Go to the Uluwatu temple and walk down the reef through the famous cave. Be prepared for the reef and take reef booties and a good leash. Uluwatu might be the most famous wave in Bali and hence is always crowded. There's always some swell and there are several waves to try. The Peak, in front of the cave is the most consistent. Racetracks is good for tube riders. Outside Corner only works with big swells or low tide. Uluwatu is only for intermediate surfers, be careful at high tide to make it back to the cave. Uluwatu has several risks that include shallow water, reefs and lots and lots of other surfers. Uluwatu is especially crowded in the high waves seasons around August to September. See how it's done by Made Lana, a Balinese surf god (from the movie Black Market Bali):
Surfing Padang-Padang: Expert
Padang-Padang beach maybe the most famous surfing beach in Bali, nicknamed the Balinese Pipeline. You will find Padang-Padang on the Bukit Peninsula, opposite of the Padang Padang bridge. There are a lot of surfing competitions held in Padang-Padang. This 'gnarly' left hand point is strictly for professional surfers because this is the most dangerous and probably the most hollow wave in Bali. The size ranges from 4 to 12 feet (don't even try entering the water in the latter case!) Things to be cautious with include shallow water (coral) and fellow surfers (Padang-Padang gets seriously busy). Luckily there is also a gentle right hand wave that breaks on the beach here, a great beginners wave, especially at high tide. This next video shows you some world class surfing at Padang-Padang and pretty much also the way how to get there;-)
https://travel.eatsandretreats.com/best-beginner-surf-spots-in-bali/