Do you want to help dreams come true? Would you like to be part of an (educational) project in Indonesia? We hope you may be able to help us help with financial support for the development of our educational projects in Pandangaran, West Java, Indonesia through the development and establishment of a dedicated village school or through commitment to the financial sponsorship of one of the many orphans | street | foster children, to enable them to receive ongoing education and to provide their daily subsistence needs.
In the West, going to school is one of the most natural things in a child's life, but in Indonesia this is not the case. Children are kept home for many reasons but mostly because their parent(s) or caretakers simply cannot pay for the necessary school uniforms, other school costs/materials and send the children to work so they can help out their family financially. The aim of Meraih Bintang is to take away all the reasons there are to stop a child from going to school. We want to offer children continuity in basic schooling from kindergarten to primary to higher secondary education.
In 2011 we started an "English Lesson Project" and offer free English lessons 3 times a week after school at the children's library in Pananjung, Pangandaran. Our first 'big' project is building a kindergarten in the village, serving a maximum of 50 children aged 3, 5 – 6,5 years old, because there are no existing facilities that cater to this group at present. We started building last month and aim to be ready for  the new school year in July.
Sponsor a Child
In 2012 we started our "Sponsor-A-Child-Project". Our foundation has selected 7 children that need help the most, but hope that in the (near) future we will be able to help many more! By sponsoring one of these children you don't only pay for them to go to school but also provide in their daily subsistence needs and therefore take away any reason a parent or caretaker can have to keep that child at home. You can sponsor a child in kindergarten for 35 euro's per month and a child in elementary school for 36,50 per month. Please visit the Meraih Bintang website for more information.
Now our first project, building the kindergarten, is on its way, we want to look towards the future and start thinking about a new project. What is needed most is an orphanage, to create a safe place for children that have nowhere else to go, to live and grow up. We don't just envisage an orphanage, but we'd like to call it a "Rumah-Bina-Budi" where children are brought up as they would in a family situation, with values and morals, but also room for the beautiful traditions of West-Java which are rapidly disappearing. Just like we did with our school project, we'll first look for a suitable place to build, purchase the land and then have plans drawn up and estimates made.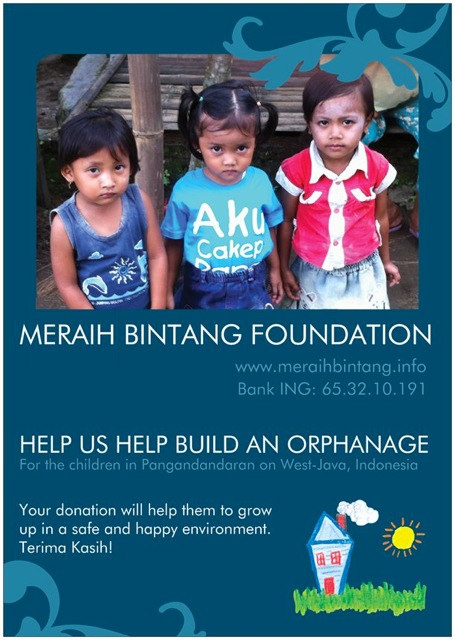 Meraih Bintang, 100% Non-profit
The Meraih Bintang Foundation is a 100% non-profit organization which means we totaly rely on sponsors and the donations of others. If you would like to help us help, please visit our donation page and find out how! Meraih Bintang is also on Facebook and LinkedIn.
Action: From April 28 – May 11 2012, Loek & Martin have taken on the challenge to walk the coast 2 coast in England as a sponsor walk to raise money for the Meraih Bintang Foundation. The money will go towards the new "Rumah-Bina-Budi Project". If you would like to sponsor the men on their 319 kilometer sponsor walk, please visit Coast 2 Coast and find out how!
On behalf of all of us at the Meraih Bintang Foundation: TERIMA KASIH!