Latitudes Travel Award
Our slogan "Latitudes.nu: Your Gateway to Southeast Asia!" has been supported by many travel writers. Over the last two years they have sent us stories from all over the region. Now it's time to reward the best travel report. You can help us by picking your favourite one. Check Latitudes.nu during the month of  April everyday. You may win a price too! Mail your choice to win@latitudes.nu
By: Andri Suryo
Get ready to explore one of Indonesia's most bustling cities: Bandung! Bandung is the capital city of west Java, the Indonesian answer to Paris or as we like to call it 'Parijs Van Java!'
Bandung is not the most tourist friendly city out there, as public transport is hard to figure out and information and facilities are haphazard to say the least. Yet, there is plenty to explore. If you're in Bandung for just a day, nothing beats these fundamental principles of Bandung, THE ABC OF BANDUNG!
Grab a cab or hire an ojek (motorcycle taxi) and see the best of Bandung in a day!
A stands for Aroma
For those of you who haven't come to Bandung, this should be your first stop! Aroma is the one and only legendary coffee factory in Bandung that dates back to the Dutch colonial 1930's. Not only do they produce the finest Robusta and Arabica coffee in Indonesia, they have been successful at maintaining the building's structure and machinery that hails from Holland.
Tan Houw Sian built this factory in 1930, while he was working for the colonial regime. Since the 1970's one of his offspring named Widya Pratama continued his legacy. Inheriting this successful business doesn't make Widya forget his roots. The coffee is still roasted  according to the same methods and rests stacked in an old warehouse for up to 8 years.
Other than the machinery and production, the same packaging with old spelled Bahasa Indonesia and Dutch is used.
The key to their finest coffee is the production method. The coffee beans that have just been harvested, must be stored in an organic sack in a warehouse for 8 years! The purpose is to decrease the acidity that comes from the bean. That way, coffee afficionados will not experience heart and ulcer problems by drinking Aroma coffee. In fact, Robusta coffee is believed to be beneficial for diabetic problems . Moving on, The selected beans that are ready to be processed will be roasted on rubber tree wood, to produce that special aroma.
Ranging from 12.500 IDR ( 1.20 USD) per quarter ounce till 30.000 IDR, this coffee is one of Bandungs iconic mementos. Visit  Aroma Coffee at Jalan Banceuy no 51. Phone +62224230473. If you want to visit the factory and the warehouse, be sure you go there before 1 PM, where the humble owner, Mr Widya will be happy to show you around and explain everything in detail.
B is for Batagor!
You will never experience Bandung to its fullest without trying the local delicacies. Bandung is known for its many cheap and delicious snacks. One of them is Batagor.
Batagor stands from Baso Tahu Goreng (Fried tofu meatball) and is basically a mix of tofu, flour, fish and some spices that will be used for the filling.
There are two ways of enjoying batagor. Firstly you can eat batagor with a peanut sauce, and secondly in a soup. You can also try making it yourself with our batagor recipe!
You will find batagor sellers outside of Bandung, but of course it's best tasted in Bandung, the cradle of batagor.
There are a couple of well known Batagor sellers in Bandung, here are two of them:
Batagor RiRi
Batagor RiRi would be the most famous batagor outlet in Bandung. Many people from outside of Bandung, including many Indonesian celebrities, flock to RiRi to taste their legendary batagor. Check out their wall of fame !
Each piece of batagor is 8.000 IDR (0,75 USD, three serves one) and you can choose between peanut sauce or soup, whatever suits you best. RiRi doesn't only serve batagor, they also offer Siomay (similar to batagor, but without tofu), Baso (meatball soup), and lots of fresh fruit juices.
Insider tip: its better to go to Batagor RiRi on weekdays or non holidays, otherwise expect a long queue of hungry people!
Address : Jalan Burangrang no 41 Phone +62227303349
Batagor Kingsley
Batagor Kingsley is especially famous among Bandung locals. Not many people outside of Bandung knows it. But I can assure you, Batagor Kingsley delivers tons of taste. One thing that really stands out is the good quality of tofu that they use. It has a mild and tender taste, mixed with fish and prawn filling, and perfectly complemented by their fresh and organic peanut sauce. One portion is 24.000 IDR (2.2 USD), and contains 3 pieces of batagor and you have the option of mixing in some siomay.
Address : Jalan Veteran no 25 Phone +62224207104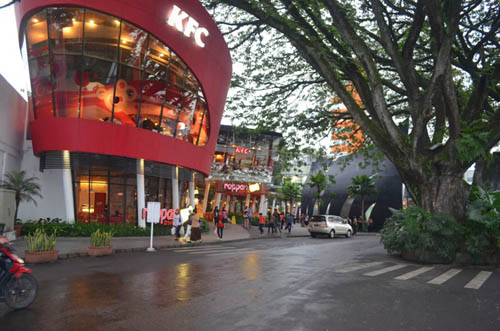 C for Ciwalk!
Ciwalk stands for Cihampelas walk, a modern yet green shopping mall located in the heart of Bandung. The street  the mall sits on (Cihampelas) is also well known for its affordable jeans sellers and tacky superheroes lining the street.
Even though Cialk is a modern, huge shopping mall, theold and leafy trees and the open air walkway add a more natural feel to the place.
In terms of shops you will find modern outlets such as Crocs, Apple Store, Kentucky Fried Chicken, Starbucks and of course, a lot of other food options.
If you're looking for Bandung souvenirs, pay a visit to Mahanagari. They specialize in  traditional yet comical souvenirs, such as key-chains, t shirts, old colonial Dutch posters, Wayang Golek (puppets) and more.
Once you' re done shopping, indulge in some local cuisine at THE KIOSK, a place with affordable traditional dishes.
The best time to visit Ciwalk is in the afternoon, and like many tourist centers, best  on weekdays. On weekends the place is packed with domestic tourists from next door neighbor Jakarta.
Address : Cihampelas Walk , Hangout & Shopping. Jl. Cihampelas 160. Bandung – 40116. West Java, Indonesia. phone, : +62 22 2061122; 2030800