By: Ed Caffin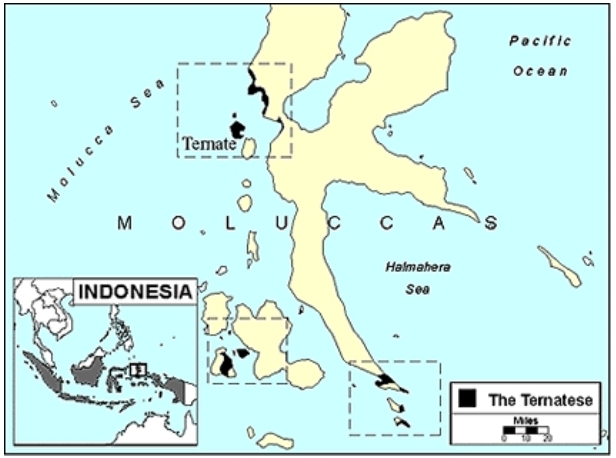 Ternate, the small but busy island-capital of the North Moluccas, is not a place many travelers linger around for too long. Its remote location and conservative character have built its reputation as a dull city. I explored the island for a few days, and although it might indeed not fit all travelers, I soon discovered that there are a lot of nice things to see and do in Ternate. And, by no means a rock 'n roll party-town, nightlife can be fun too. There are more than a dozen places to have good food ánd a good time – at least, if you like Karaoke.
Around noon, men with praying-carpets over their shoulders walk toward the new big mosque in the centre of town that watches over the Sultan's city. Muezzins on the dozen or so minarets nearby take turns in singing,― some beautifully and some less so – their fellow believers to prayer. For those that might have missed it all, signs on major roads make sure all muslims do their duty: 'Go and pray! Don't be too late…'
Ternate's Food makes its Heart Beat
Praying times may dictate the city's rhythm, but I soon discover that it's food that makes its heart beat. At the seaside of the city center, an area called Swering, a barren strip of land at daylight, is turned into an open-air food market at night. Thin smoke circles from its make-shift stalls and warung serving fresh fish and all kinds of stir-fried snacks. Making your way into the center of town, there are many pleasant small eateries to choose from, as well as a few good, though slightly more expensive, restaurants.
In the northern end of the town centre, food stalls congregate around Benteng Oranye, one of the many remnants of the city's colonial history. A history it shares with neighboring Tidore, as the two sultanates were sworn enemies for centuries. As I turn to look at Tidore, the intimidating Kiematabu peak looms in the distance.
Ternate & Tidore: Rivalry between Twins
I begin to ponder the history of rivalry between the twin islands. The world's only clove producers, both established strong trading bases and attracted interest from European colonial powers. Backed by Dutch and Spanish armies respectively, their rivalry peaked during the 1800's when most of the riches were spent on waging war.
But that's a long time ago. Nowadays, Ternate is a busy trade- and transport hub, while Tidore, only a short boat trip apart, is a pleasant getaway. Since most travel guides reserve just a few pages for Northern Maluku, let alone Ternate, discovering its highlights might take some time but will guarantee some adventure.
Highlights of Ternate
During daytime, I head out to find scenic spots on the island's quieter parts. On the Western coast for example, the beautiful and mystical Tolire Lake, said to be home to crocodiles, is a good place to relax. For the more energetic, climbing mount Galama in Ternate's humid heat might be just the perfect exercise. The active volcano, that basically is the island, measures 1712 meters. An excursion to the top and back will take more than half a day. Also, boat trips to small islets and hidden beaches can be made from one of Ternate's many harbors.
After a day of activities, you might want to enjoy a typical Ternate night out! Go for snacks, drinks and karaoke at one of the many karaoke-resto's. You can rent small private cabins and enjoy some local delicacies while singing your favorite classics in between regular power-cuts.
On my last night in Ternate, I stumble upon another Karaoke-restaurant. As I enter, a big arrow points to the upstairs Karaoke-fun, but instead, I choose a quiet diner in the downstairs restaurant. On a small stage a two-man band plays familiar songs.
As I enjoy the food and background music, the waitress suddenly approaches my table. 'Mister, do you want to sing a song tonight?' I shrug as she points at the stage. 'Eh, can they play Hello from Lionel Richie?'