By: Ed Caffin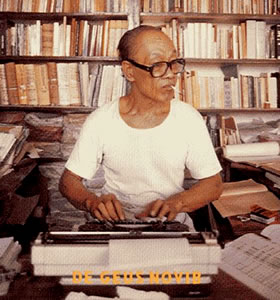 Pramoedya Ananta Toer was one of Indonesia's greatest authors and an influential political figure. When he died on April 30 in 2006 at the age of 86, he had published over 40 titles, of which the four novels that make up the Buru Quartet are the most eminent. This series, which he wrote during imprisonment on the island of Buru, consists of This Earth of Mankind, Child of All Nations, Footsteps, and House of Glass. He lived a life of struggle, commited to emancipate his people. How does the legacy of this great writer and poet live on?
Pramoedya Ananta Toer, or Pram, was born in 1925 in the central Javanese town of Blora. Dutch colonial rule was still at its height but anti-colonial sentiment in a so called national awaking was steadily spreading. Pram attended Radio Vocational School in Surabaya, but not long after he graduated, Japan invaded the East Indies. Like many others, Pram initially supported the Japanese.
Pramoedya Ananta Toer, writing against the grain
After the proclamation of independence in 1945, he joined the Indonesian Revolution against the British and Dutch. During this time he started writing short stories as well as nationalist propaganda. He became imprisoned in Jakarta in 1947 for his role in the independence struggle. He remained there until the Netherlands recognized Indonesian independence. During these 2,5 years in prison, Pram wrote his first major novel: The Fugitive.
In the years after his release he continued to clash with the new republican powers. His politically charged book Corruption that was released in 1954, created considerable friction between him and president Sukarno. Not much later, he was imprisoned for 9 months as a result of strong critisim of the government for their oppression of the Chinese community.
During the Suharto rule, however, matters became much worse. A military coup ended Sukarno's rule in 1965, and had put Suharto into place. In the months that followed, tens of thousands of communists were killed. Being head of the People's Cultural Organisation, Pram was arrested and, like many other political prisoners, taken to the 'prison island' of Buru.
While being locked up and treated like a barnyard animal for fourteen years, he composed some of the greatest epic novels of the twentieth century: The Buru Quartet. Pramoedya was already an established writer when he was sent to Buru island, so the authorities took to deprive him of paper and writing instruments of any kind. Armed with his mastery of the Indonesian language and extraordinary story-telling skills, Pram would, in daily instalments to his fellow prisoners, deliver the entire thirteen-hundred page work orally: at the end of each day of hard labour on the scorched savannahs, inmates would huddle around Pak Pram and listen while he told his stories.
Release and ongoing censorship
Upon his release in 1979, he was placed under house arrest. All his books were banned. Despite the censorship, he continued to write and managed to publish his works. Among these publications, the four historic novels which he 'wrote' during his imprisonment. The Buru Quartet tells the story of Indonesian nationalism, and the writings are partly based on his own experiences.
Although each new book was banned by law, his work became influential, reaching its public through underground networks and the internet. When Suharto finally stepped down in 1998, Toer's struggle was not yet over. According to him the revolution was not yet finished. He joined young people that wished to futher emancipate their country. In 1999 the ban on his books was lifted, making him truly free for the first time.
Until the end of his life he remained outspoken and critical. The fragment on the left comes from John Pilger's 2001 documentary 'The New Rulers of the World.'
With his writings, he continued the struggle, and did so for the rest of life. Still, almost five years after his death, his work inspires those who seek to complete Indonesia's revolution.