7th Angkor Photo Festival : 19th to 26th of November 2011 !
The call for submissions for the 2011 program is NOW OPEN !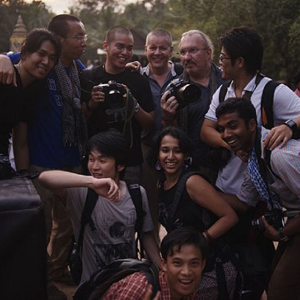 THE FIRST PHOTO PROJECT GRANT FOR ASIAN PHOTOGRAPHERS

In recent years, more and more Asian photographers are emerging onto the international scene, producing work of outstanding calibre and giving exposure to little known issues from their region or their own countries. However, one of the biggest obstacles faced by these photographers is the difficulty of finding financial funding to support their projects.
In-depth, investigative work requires long periods of research, and without help, many of these projects cannot be realized.
Last years winner was Sovan Philong, with the wonderful series 'Rabbit in your Headlights':
Consistent with the festival's mission of highlighting emerging Southeast Asian photographers, of the 110 photographers exhibiting in 2010, fifty were from Asia. The work was curated by two well-known figures in photography, Yumi Goto and Antoine d'Agata, as well as by Françoise Callier, the Program Director of the Angkor Photo Festival.
During their stay, renowned photographers tutor emerging Asian photographers in the free Angkor Photo Workshops, while the festival operates its own outreach program, the Anjali Children's Photo Workshops.
All events at the festival are entirely FREE OF CHARGE!
The Reminders Project and the Angkor Photo Festival share a common mission in promoting and highlighting the work of emerging Asian photographers. They have now come together to take their support one step further with the Reminders Project Asian Photographers Grant. A collaborative project by Yumi Goto / Reminders Project and the Angkor Photo Festival.
Call for applications is now open : Application is FREE and open to all Asian photographers with no age limit.
To see the Guidelines / Details about the Jury / Application Form / Workshops and more go to photography for change