By: Simon J Hare
Thanks to the likes of celebrity chef Gordon Ramsay, the notoriety of Cambodian delicacies such as stuffed frog, deep fried tarantula and sautéed cricket has spread far and wide and as a result, now everyone wants to be the person who has sampled the most unappetising menu item whilst visiting Siem Reap and its remarkable Angkorian ruins.  "I walked in the footsteps of Tomb Raider" is nothing compared to "I ate cow's intestine and water beetles!"
Munching on a bag of insects in Cambodia is a backpacker's rite of passage, as integral a part of Cambodian culture as Angkor Wat itself and a stark reminder of some of the horrors of this peaceful country's recent past. Much of the more adventurous fare you will come across in Cambodia found its way onto the menu through sheer necessity. Years of unimaginable hardship under the Khmer
Rouge and subsequent occupying forces gave rise to culinary inventiveness in the extreme – when you are starving, being a fussy eater will mean the difference between life and death and beetles, bugs and spiders are fair game. It is ironic that many food scientists now believe that one of the answers to world hunger lies in the humble insect. But that being the case, Cambodia is a great place to give edible creepy crawlies a try!
Table-top Khmer barbecues
You may well be tempted to think that the myriad restaurants lining Siem Reap's Pub Street offering table-top Khmer barbecues with crocodile, frog and snake will be enough for you to tick that "weird Cambodian food" box. Not so. To experience the real McCoy you need street stalls, or at least dishes that normally the most inquisitive diner would think twice about eating, or better still both. But given much of Asia's scant regard for food hygiene, how can you get your street food fix without running the risk of spending much of your holiday confined to your room, or at least within spitting distance of a toilet?
At least one respected Southeast Asian travel guide is still recommending the once popular and unshakably reliable street food stalls conveniently situated just yards from the throbbing hub of Pub Street. But alas, they are no more. In their place has sprung up a shiny triangular shopping centre consisting mainly of Cambodian massage parlours. Where once were sizzling woks and the pungent smells of chillis and Thai basil there are now nothing but the incessant sounds of young Khmers crying "you wan' massaaaaaaage?" But man cannot live by massage alone, so where can you get your essential fix of safe, good value "street food" now? Here are some recommendations.
For the cautious
If you are on a whistle-stop tour or you have just arrived and have not yet had a chance to adjust fully to Cambodia's unique and exotic cuisine, that doesn't mean you have to forego street-style food entirely.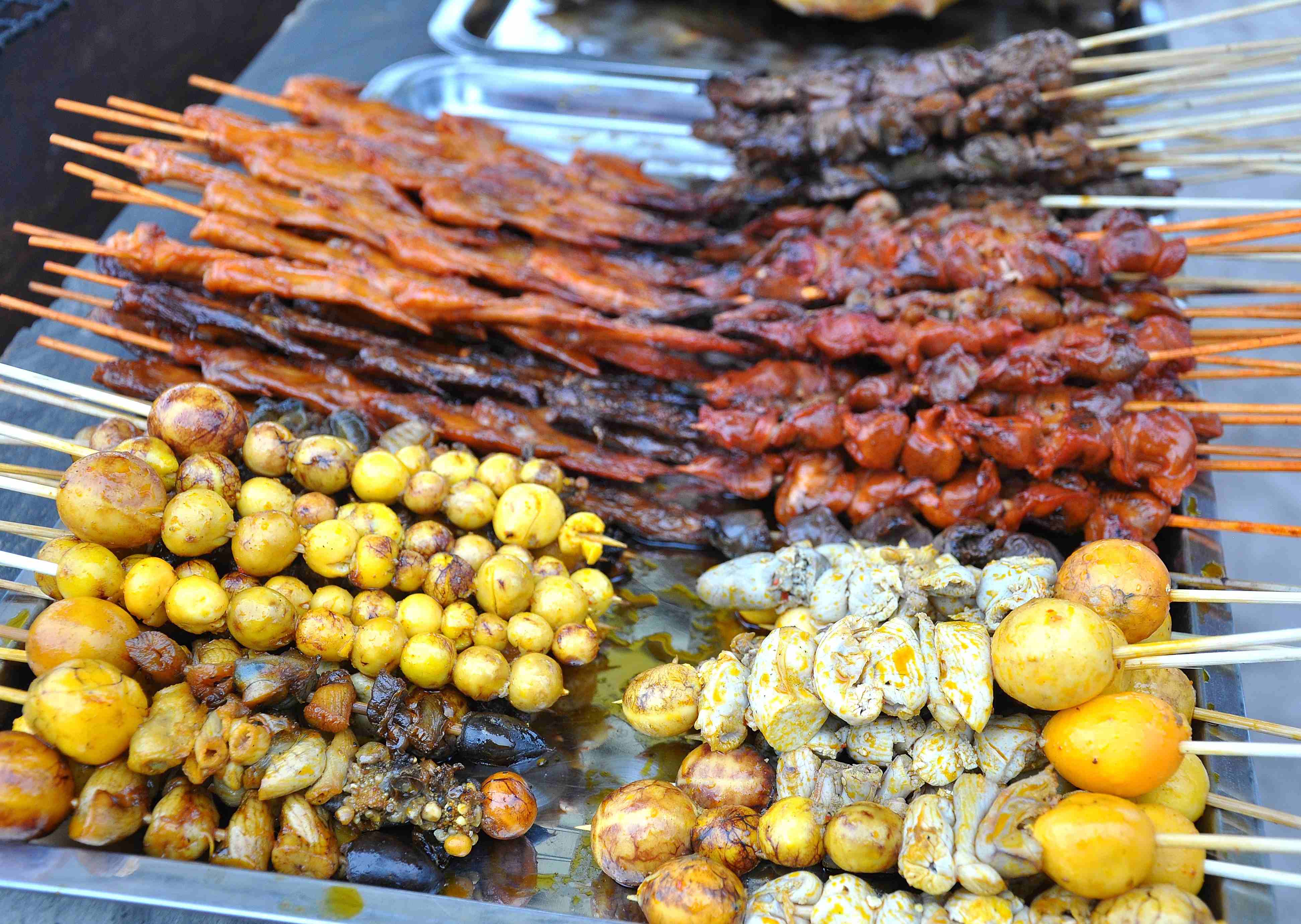 There are some excellent restaurants you will find safe and enjoyable takes on traditional cuisine but without the risk of ingesting unwanted pathogens.
Marum Restaurant is located at the north end of Wat Bo Road in a traditional wooden house in a typical neighbourhood street one block back from the Siem Reap river. It offers both vegetarian and carnivorous dishes from $3.25 upwards. Try Khmer dishes like taro and chive dumplings, seafood and coconut rice cakes, steamed dim sum, and for the more intrepid – red tree ant fritters with prahok (fermented fish sauce).  The ambiance is relaxed chic, and for that added al fresco feeling you can dine in their lush fairy-lit garden.
Green Star Restaurant on the other side of town near the Wat Damnak Pagoda, is another excellent choice for sampling some real Khmer delicacies and is well suited to the more budget-minded traveller with dishes starting at just $1. Their "Pot ling" or spicy fried sweet corn kernels is a perennial favourite, or if you are feeling brave you could try stir fried eel with lemongrass and chilli. The Top scorer on the scary food stakes is, however, their famous grilled frog.
"For extra feel-good you'll be glad to know that both Green Star and Marum are run as not-for-profit social enterprises."
Whilst Green Star also has a patio garden, if you really want that "eating in the street" vibe then you can catch them at the twice-monthly Shinta Mani "Made in Cambodia" Street Market which takes place on the first and third Saturday of  every month from 4pm outside the Shinta Mani Hotel. It's within walking distance of the town centre and you can also bag your entire luggage allowance in genuine Cambodian souvenirs as you chew on fresh spring rolls from one of the many food vendors here. The Sugar Palm, another alleged favourite of Gordon Ramsay and reputed to sell the best amok – Cambodia's signature dish – in Siem Reap, also has a stall here.
For the strong of stomach
If you have a cast iron constitution and fancy trying something a bit more adventurous there is no better place to go than Psar Chas or Old Market, right in the centre of Siem Reap's attractive old town. Eating here will test the strongest of stomachs. In the depths of the market you will find trays of fried insects and on a good day the odd pyramid of blackened tarantulas.
However, there are other challenges that might put you off eating here – this is a real working market after all. Be prepared for strong odours and the sights of live catfish slapping around on giant trestles and crabs scuttling sideways across the floor. You will eat in the shadow of animals' entrails and likely be watched over by a freshly severed pig's head.
For the intrepid adventurer
Your best bet if you are serious about actually consuming some of Siem Reap's best street food is to throw caution to the wind, jump in a tuk-tuk and ask to be taken to the fairground on Sixty Metre Road, also known as the Korean Road. Stall after stall is piled high with every kind of edible – and seemingly inedible – dish you could imagine. This is the stuff that street food dreams – and nightmares – are made of, and portions start at just 2000 Riel or 50 cents.
Amongst the fried rice and noodles are giant woks of stir-fried crickets, water beetles and silk worms.  Locals smack their lips as they dig into stewed cows' intestines and fertilized duck eggs – soft-boiled – and feast on different varieties of the humble kebab – seasoned pork, barbecued frog (with or without frog spawn stuffing), and grilled unlaid eggs, removed from a chicken's carcass for your dining delight.
If these delicacies don't whet your appetite, keep a look out for delicious spicy shrimp fritters, deep fried chive cakes and sweet churro-style desserts with black sesame seeds which are all much more palatable. If you fancy trying one of the many colourful tropical fruits on offer, you can virtually guarantee that none of your friends back home will have tried scaly snake fruit or palm fruit that oozes sweet juices into your mouth when you bite into its translucent white flesh.
By night this place is buzzing with Cambodian families enjoying the cheap and plentiful food, and of course the delights of the sprawling funfair, making it probably the most concentrated slice of real Cambodian life you will find in Siem Reap. One piece of advice: Bring Cambodian currency with you as it's the one place where your green-backs may be refused. And let's face it, it would be shame if you had to go hungry here, of all places.