By: Erna Dyanty
Every year in December, the streets will be covered with shades of red, green and white.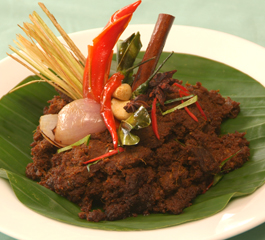 Everything seems warmer even when you're in the cold. Kids come up with a wish list, dad's figuring out the wiring for the lights and mom is listing out her shopping list for the kitchen. Christmas is that time of the year where everyone comes together under the tree for presents and at the dining table for a major end of the year feast.
While some of you may sit at home, dreaming of a white Christmas and a huge Turkey, we Malaysians wait for a sunny holiday and a feast with a spread of local goodness. Christmas in Malaysia, like any other festive season is celebrated by everyone! Whether you're a Muslim, Hindu, Buddhist or Atheist, we come together and just celebrate the year with thanks, a feast and of course the presents.
I remember when I was 12, Christmas was greeted with a phone call from a neighbour inviting me over for tea. When I got there, I realized that it was indeed a celebration for friends with a spread of banana fritters, kuih lapis, curry puffs, tapioca chips and tea. So, this got me thinking this week, what do Malaysians have on their tables for Christmas? So, I went around asking people about their end of the year menu.
Believe it or not – the roasted Turkey and cranberry sauce isn't the main star at the table here in Malaysia. An Indian friend of mine is going back to the east coast for a large Christmas serving that starts with breakfast and ends with a sweet supper. For breakfast, the ladies in the house will start to whip up a storm to serve a full house with idli, vadai, chappatis and prathas. For lunch, comes a selection of curries and dhal for lunch. For the evening, they go out for a good serving of steamed crabs, grilled calamari and grilled sting rays. Upon returning home from a full meal of seafood, they come home to a serving of homemade from gulab jamun, burfee and sweet rice pudding.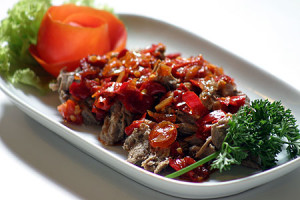 Friends who are in Sabah and Sarawak tells me that the infamous Rendang Tok is a must have on their table. Rendang Tok is usually made with tough red meat like water buffalo because this recipe requires at least 4 hours to be cooked on the stove. The recipe calls for at least 4 kilograms of coconut milk for cooking 2 kilograms of meat, and this is only for a small serving that is enough for a family of 6. They also have a large serving of satay, peanut sauce and nasi impit.
A friend in Sabah, tells me that she has a wide selection of roast from lamb, turkey to pork!
Not forgetting the smoked ham. There is also a spread made from the fresh produce from their garden, a beautiful serving of avocado salad and sometimes a dish made from the finest pumpkin from their garden. Not forgetting her mom's famous pudding, fruit cake and trifle. Gosh – which would you clench your teeth into first?!
Those who are celebrating here in Kuala Lumpur aren't missing out on the huge Christmas spread – in fact KL folks seem to take advantage of the variety of from the hawker stalls. Although it is Christmas but the hawker stalls in Kuala Lumpur are still open for business. So, some would celebrate with their nasi lemak buffet – with rendang, sambal sotong and sambal kerang. There are some who would drive all the way out to Klang for the best Bak Kut Teh and cendol.
This year, why not try adding an Asian dish to this years' Christmas spread. It should add a good kick to your Turkey this year. :
Green Apple Chutney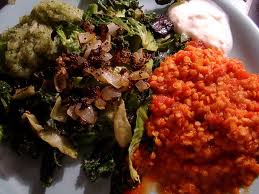 200g of chopped green apples,
chopped into 1" cubes
3 inches of ginger – minced
1 clove of garlic – minced
1 tbsp of cumin seeds
4 tbsp of dried chilli flakes
½ c of brown sugar
½ c of apple cider vinegar
2 tbsp of oil
pinch of salt to taste
Method
Heat the oil. Add to this the mince ginger, garlic and cumin seeds.

When aromatic, add the brown sugar, chilli flakes and vinegar as well as the green apples.

Once the apples are tender, add a pinch of salt.

Remove from the stove and let it cool.

This chutney can be stored for 2 weeks.