By: Monica Dominguez
Accommodations keep popping up in Yogyakarta, Indonesia, as more and more international and local travelers explore this wonderful city. Luckily there is still a variety of hotels, homestays, inns and hostels in Jogja to meet all your accommodation needs. For the best midrange options (from 100.000-400.000 Rp.) digs check out our favorite midrange hotels in Yogyakarta.
If you are looking to spoil yourself or your loved ones, try these:
Eclipse Hotel: jl. Prawirotaman 35, Yogyakarta 55153
website: http://www.eclipsehtl.com/index.htm
Description:
The price at the Eclipse ranges from $59-$147 US, but it is well worth it. They offer a swimming pool within a tropical garden, gourmet kitchens and terraces in each room! It is nice and quiet and secluded here by night if you want to relax after trudging around Jogja by motorbike all day. They accept Visa and Mastercard, and you can book online through their website or trip advisor.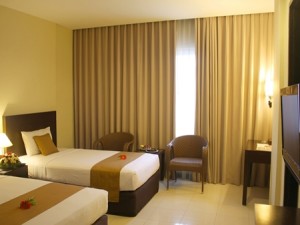 Grage Ramayana: Jl.Sosrowijayan No.33 ( Malioboro), Yogyakarta, Indonesia
Phone: (0274) 512928, 513018, 564211
Website: www.grageramayanahotel.com
E-mail : grageramayana@yahoo.com
Description: The Grage Ramayana is a great place for those on business trips to spread out and relax. The rooms are spacious with high speed internet and huge tvs and there is complimentary coffee and tea.  The ground floor also has a restaurant / café and a conference room that seats up to 100. The price at the Grage starts at 450.000 IDR with a cap of 750.000 IDR a night.
.
Phone: (62-274) 383738
Website: http://hotelindahpalace.com/jogja/
Description:
These lovely hotels provide their guests with plasma TVs, hot water, showers, wifi, etc. One location is right in the heart of Prawirotaman amongst the batik, food and oleh-oleh. Each room has a mini-bar and a private balcony! The room rate starts at about 300.000 IDR. Children are free here and there is also free parking. This hotel has both a buffet and a sit-down restaurant, and they offer massage and spa. Living the high life indeed!
1001 Malam Hotel: Sosrowijayan Wetan, Gt I/57  Yogyakarta 55000
Phone: (0)27 451 5087
Website: http://1001malamhotel.com/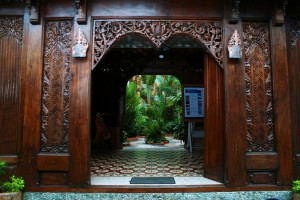 Description:
1001 Malam is like a giant home. There is antique furniture and patio tables outside of each room. They really cater to the traveler here, arranging airport pick-ups and drop-offs, luggage storage, high speed internet, tvs, hot and cold showers, etc. There is also a restaurant here, as well as arranged tours to popular attractions. 1001 Malam is surely worth the US $70 if you are in the mood to pamper yourself or your loved ones!