By: Putri Fitria & Emma Kwee

In metropolitan Jakarta, it seems nothing is more valuable than time. When there is spare time, most Jakartans spend it having a rest, or engaging in typical urban activities. Malls and restaurants seem to be the main source of entertainment (Read our Jakarta Insider Tips to make the most of it!). Feel bored with such routines and do you wish to get away from it all? The Seribu Islands are on Jakarta's doorstep and provide all the tropical island feel you need to reload and reboot before plunging back into hectic Jakarta.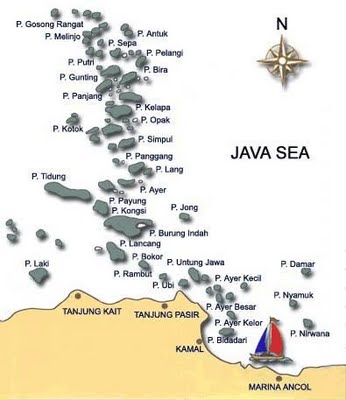 Pulau Seribu is a group of islands located north of Jakarta, right off Jakarta Bay. The name Seribu (meaning a thousand) does not necessarily mean that there are a thousand islands. In fact, there are only 342 islands, sandy and coral islands either vegetated or not. Like in many other areas in Indonesia, most of Pulau Seribu's islets are not inhabited.  36 of the 342 islands may be used for recreation. Of these 36 islands, only 13 islands are fully developed: 11 islands are homes to resorts island and two islands are historic parks. Twenty-three islands are privately owned and are not open to the public. The rest of the islands are either uninhabited or support a fishing village.
An Island for Every Taste
There are at least 44 islands that have been made Marine National Parks by the Department of Forestry of Indonesia. These islands, as a result, are ideal for nautical tourism. If you are up for an amazing diving or snorkeling experience with a lot of place to go snorkeling too, Pramuka Island is the place to go. You can visit other nearby islands by a boat, and explore the various diving spots at the same time. A day trip will cost you about Rp 350.000,- (usually for ten people).
For a more romantic experience, Pulau Tidung is the best pick. The island features a long bridge, known as the Jembatan Cinta (Love Bridge), by which you can reach a small inhabited neighboring island. Pulau Tidung is perfect for couples, as it's quiet and offers wonderful vistas.
Pramuka, Semak Daun, Panggang, Tidung, Kelapa, Putri, Pari are the names of islands often heard among snorkeling and diving enthusiasts.
How to get to Pulau Seribu
To get to Tidung or Pramuka (from there you can get to the other islands by small boats) board a boat from Muara Angke Port, costing around Rp 35,000. The boat only leaves Jakarta once a day, so don't miss it! From Jakarta to the islands the boat leaves at 7 in the morning. If you want a more comfortable and faster alternative, you can depart from Ancol Marina Port by speedboat for Rp 150,000.
There are various tour operators selling package deals, but more often than not, these will prove more expensive than organizing things yourself. It is a viable option though, if you are traveling in a group, as they can offer you a good deal (at least 4 people). Most islands have some form of accommodation, but check beforehand, because some only feature exclusive resorts (for example Ayer and Bidadari), whereas others are privately owned (mostly by Jakarta hotshots), or uninhabited (take a tent and/or sleeping bag!).
If you don't know which island to pick, Pramuka island is a good option. This island is in the centre of all the Kepulauan Seribu, and features some cheap lodging options. It's also easy to rent wooden boats from the locals, to explore the other islands. The boat from Muara Angke takes around 3 hours to get there.
From there, it's also easy to get a boat to Semak Daun island, one of the most scenic but uninhabited islands, with clear blue waters, deserted beaches and no tourist infrastructure.