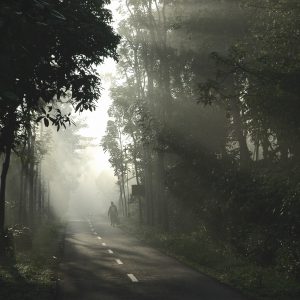 Somewhere in Central Java (picture by Peter van Riel)
by Dalih Sembiring.
"I like taking all kinds of photography, except beauty photography; I fear of drooling [from staring at the models]," 34-year-old Gandung from Bantul, Yogyakarta, said with a laugh. Gandung's love of photography sprang from his love of traveling. "I was still a university student at the time. I thought it would be such a waste if I didn't bring a camera with me to the places I visited."
From owning a manual pocket camera to having different DSLRs, Gandung's hobby evolved into a money-making venture. Seeing how carrying a DSLR had become increasingly popular, he opened a business of buying and selling digital cameras and lenses.
"Photography is in fashion nowadays. There's just a lot of people interested in it, mostly youngsters. Some take it up as a hobby to develop their skill. Some find the many photo competitions exciting. Some buy cameras to make money. Others are in it for the prestige, to be seen as hip, because most DSLRs are expensive," Gandung said.
Taking Photos, Making Cash
But buying a camera doesn't make one a photographer — it makes one a camera owner. However, any camera owner willing to learn about taking good photos can do so by reading books or free manuals on the internet, from friends, or by joining a club. But the main thing one should do, according to Ubud-based photographer and web-designer Susanto, is to practice a lot. He considers references as mere support.
"The more you take pictures, the closer you will become with your device, and certain characteristics will show up in your pictures by themselves as part of your identity [as a photographer]," said Susanto, who started off by shooting stills for bars and bands, and has sold a number of his photos to Canada. "This identity will set one photographer apart from rest."
The identity, according to Susanto, is a prerequisite before a photographer decides to make taking photos a source of income. It begins with passion, he said, figuring out what kind of photography one finds most interesting and trying to master it through extensive practice.
Once once is certain they have found their identity as a photographer, there are several steps they should take to make photography a profession.
"Do your own research — find out which clients need the kind of photos you take best," Susanto said. "Set up a convincing portfolio to go with the proposal you are going to make to these clients. Of course one can always try to apply for a job as an in-house photographer."
Fashion magazines, sports magazines, news agencies, advertising agencies, and design companies are some examples of industries in need of specific photographers.
Between Luck and Discipline
Today we have so many branches in the science and art of reproducing the images, they easily overlap. For example, no one in any newsroom could have guessed that sending a photographer to a sports event would lead to the exposure of a sizzling legal-political-economic scandal, as reported here (link: http://www.thejakartaglobe.com/home/bali-mystery-man-was-me-says-gayus/406723).
The photographer was lucky.
The same newspaper ran an interview (link http://www.thejakartaglobe.com/arts/taken-by-the-picture/426235) with Indonesia's prominent photographer Rio Helmi in March this year. In it he admitted to being not "particularly brilliant."
"I can show you lots of my work that's just crap," he said. However, Rio believes in the power of discipline. "There should be a story, a flow. I have a point-of-view and some skill, but maybe people are reacting to the stories in there."
Dalih Sembiring is a writer, translator, and an aspiring photographer. His photographs have been shown in a joint exhibition titled "Chairil Melintas" and, most recently, a solo exhibition titled "Intimacy: Homage to Hometowns" alongside poems by Dina Oktaviani that interpret them. He also takes photos to accompany the articles he writes as a freelance reporter.