By: Cher tan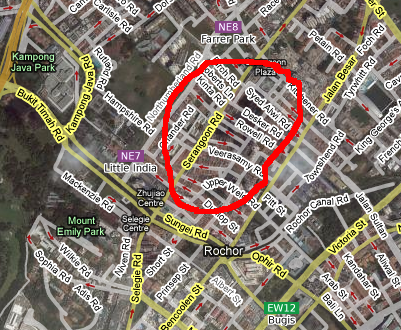 If anything, Little India is arguably the only place in Singapore which feels out of place in sterile Singapore. The feeling is palpable once you are in its vicinity – old Indian convenience shops clutter the streets, people jaywalk in droves, and on Sundays, migrant workers lay helter-skelter in open fields, enjoying their day off. There is none of that refurbishment you see in other parts of Singapore, as most shophouses are left intact: paint peeling off its walls, broken windows and dusty corners. As a result, Little India has become a hub for activity, almost like a home away from home.
How to get there:
Get off at Little India MRT Station, on the North-East Line, accessible via Dhoby Ghaut MRT Station on the East-West Line.
Highlights in Little India on & off the beaten track:
Only having opened a year ago in March of 2011, The Pigeonhole is set to take the arts community by storm. Touted as an all-in-one arts space, bookstore (books are specially handpicked and hand-carried from secondhand bookstores all over Asia), and cafe, the joint has a lot to offer. With a focus on promoting local NGOs, music, film, performance, and art, it hosts events at least thrice a week ranging from open mic nights to flea markets to Powerpoint KTV; most of the events being quirky and eclectic. A unique selection of European beers and freshly ground coffee also await. 52/53 Duxton Road, opens Tues-Thurs 10am-11pm, Fri-Sun 11.30am-1am.
Jothi Store and Flower Shop: A one-stop Indian wholesaler and retailer, it is filled to the brim with Indian clothing, accessories, spices, cosmetics, incense, and flowers (like the name suggests). Spend hours wandering its aisles; amongst the creams promoting "fairness and beauty", fragrant flowers, and bright Indian saris, you never know what you might find. Ideal if one is too lazy to navigate the little nooks and crannies that comprise Little India (writer's note: you would be missing out, surely). 1 Campbell Lane, opens daily 12pm-9pm.
Mustafa Centre: Never heard of a 24-hour shopping mall, or never been to one? Then you should head to Mustafa Center. In a city where 24-hour eating places and convenience stores are commonplace, a 24-hour shopping mall seems almost like the next logical step. Located in the busy Little India district, Mustafa Center is not your typical mall, but an entire departmental store in its own right. Selling anything from fresh produce to electronics to shoes, it is the epitome of the "one-stop shop". One would be be able to find almost anything they need here, and at any time of the day, too. 145 Syed Alwi Road, open 24 hours everyday.
Singapore Indian Fine Arts Society: Have a keen interest in Indian classical performance? Or perhaps merely a curious onlooker? Also serving as a school for Indian visual and performing arts, the SIFAS is a centre for culture. With music and dance performances at the auditorium happening every month, culture connoisseurs will be in for a treat. 2A Starlight Road, email admin@sifas.org for enquiries.