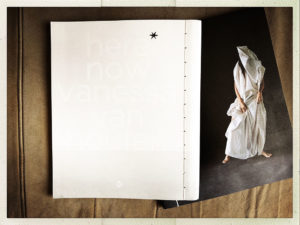 here*now
by Vanessa Van Houten
Vanessa photographed over fifty Indonesians whom she hardly knew before—women, men, warias (cross-dressers, transsexuals and transgenders) aged between 20 and 80 years old using natural light with her Leica SL camera. Vanessa photographed passionate chefs and baristas, young entrepreneurs, accomplished athletes, mothers, fathers, loved social influencers, dancers, beautiful yogis, makeup artists, sex workers, famous musicians, popular artists and talented fashion designers.
During the photoshoot only the person being photographed and Vanessa herself were in the room. She asked each person to think about their own ‹inner beauty› for 50 minutes without talking and invited them to behave in the area provided as if they were at home. Each had complete freedom: to move, to sit, to stand. What they did with their hands, feet and hair was their own choice. For almost an hour, individuals silently focused their thoughts about inner beauty and their own core values. They went into their past to think about who and what was, or is, an influence on their lives. Straight afterwards everyone wrote one page about their ‹inner beauty.›
Vanessa photographed each person twice; once in their favorite clothes and once almost bare in a white cloth, made especially for this project, by Chitra Subiyakto, the creative soul of Indonesian fashion and textile house Sejauh Mata Memandang. The dots on the material were inspired by a Balinese tradition where rice kernels are stuck to the forehead while praying.
For each person the white cloth took on different meanings. Each used it to cover their body and head in their own way. There is truth and beauty when taking off clothes, revealing skin with all its scars, tattoos, birthmarks and shades, as well as stored emotions.
In a time where many talk about diversity and differences, Vanessa was keen to examine what binds us together. The sessions, and the photographs, that resulted provide a glimpse into the lives of the people we are surrounded by. Even if we don't know each other we all live in the same city, we all stand on the same ground and breathe the same air.
—
About Vanessa van Houten
Vanessa van Houten was born in San Rafael, California, in 1971, and grew up between the United States and Germany, living in Augsburg, the Bahamas, Berlin and San Francisco. In 1996, after completing a Bachelor of Photography at Polytechnic University in Dortmund, Germany, Vanessa relocated to New York City to study with Jonas Mekas at the Anthology Film Archives. She completed a Bachelor of Filmmaking at The Film Academy (HFF) in Munich, Germany in 2007.
Vanessa van Houten has directed six films, which have screened at international film festivals and won several awards. Paper Bird (2007) also aired nationally on German television and Karma Cowboy (2001) won the Prix Regards Neufs First Prize and the Bavarian Documentary Award «The Young Lion» in 2002.
Vanessa's photographic series include Raw (2016), Suki and the Paperfold (2012), Taboo (2010) and Remembering What's Lost (2009). Raw was exhibited at HeadOn Photography Festival, Sydney, the Goethe Institut Jakarta, and Redbase Foundation, Yogyakarta. The series was also Vanessa's first fine art photography book published by Afterhours Books.
Vanessa lives in Jakarta, Indonesia, with her husband, Daniel, and three children; Peppa, Ziggy and Sonny.
check After Hours Books