By: Gabi Yetter
Not long ago, Johnny Phillips spent his days cooking lobster risotto and filet mignon for well-heeled patrons of his upscale restaurants.
Today, Johnny has a different kind of customer – tiny, barefoot children from the streets of Phnom Penh who come to his location for a plate of food to keep them from hunting in the garbage.
At 11am every day the gates to Buckhunger swing open and a steady stream of small patrons filter in, wash their hands and take a seat at a shiny metal table on a blue plastic chair. A group of Cambodian twenty-somethings serve their meals, sweep the floors and clear away their dishes – using the skills they learned from this former restaurateur.
"I train them so they can work in a restaurant after being here," said Johnny. "The customers at Buckhunger may be little children, but they are waited upon as though they are regular patrons."
While Johnny's training provided him with the expertise to run white tablecloth restaurants in Oklahoma, California and Arkansas (his Chalkboard restaurant was the talk of the town in the 70s and 80s), it was his heart that led him to open Buckhunger. In 2009, after a visa-run visit to Cambodia from his home in Thailand and seeing the need in this country, he made the decision to move and start a business.
The Launch of Buckhunger
He opened the doors to Buckhunger on December 4, 2011 and, on his first day, fed only four children who wandered in from the neighborhood. Day two brought eight kids and, within a week, there were almost 200 youngsters arriving for a meal.
Today, Buckhunger provides around 1,500 meals every week – a hearty plate of rice, meat and vegetables – that, in many cases, may be the only nutrition many of the children receive all day.
"I see many of the same kids every day," said Johnny. "Sometimes a couple of them climb out of a dirty old cart which acts as their home and sometimes I'll see a two-year-old holding the hand of her seven-year-old brother who takes care of her."
Not only did he open his heart and his doors to the street kids, he also provided them with flip-flops since most of them walked barefoot through the streets. He taught them to wash their hands (which has now become a novelty) and provided lodging for several of his young employees who didn't have a place to live. He also provides ongoing English lessons and put together a surprise boat outing for his staff as a special treat….all on his own dime.
How Buckhunger is Different
While there may be other organizations in Cambodia providing home, shelter and education for kids, there's one major difference at Buckhunger – it's completely operated, managed and funded by one man. And he's rapidly running short of money.
While he's managed to whittle down expenses to the bare minimum, Buckhunger costs approximately $5,000 a month to operate (with food, staff, equipment, electricity and other overheads). His donation box is mostly empty since few people know about him and he's deadly afraid of having to close his doors if funds don't come in.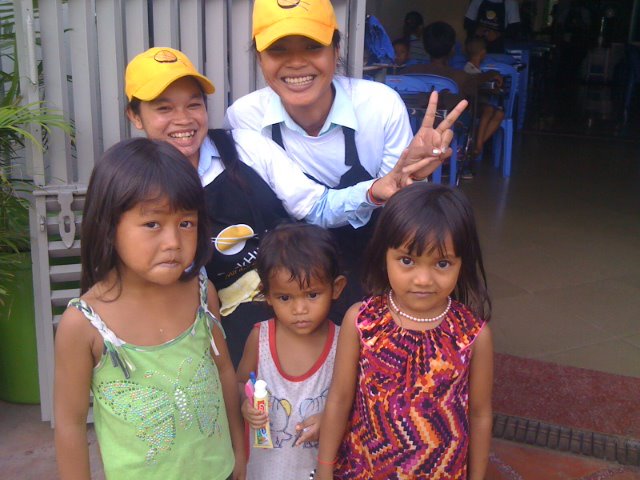 "I can't even think about it," he said, his eyes tearing up as he looked around at tiny kids sitting on plastic chairs. "There's so much need and, without Buckhunger, I know that everyone here would be back in the rubbish dumps, searching for food."
Help out Buckhunger and donate some bucks! You can donate through PayPal, and you can also give a young unskilled worker a chance to learn a new trade and start a life that they may never have had the opportunity to lead.
Many of the trainees would otherwise be homeless. They will be given free room and board in upstaire dorm style rooms here at our facility. All trainees will receive crisp new uniforms and will be trained in classes in their own language by our translators. Daily English language lessons will be given by our University trained and accredited in house English Teacher.
Food, a safe place to sleep, a uniform to be proud of, English skills, a paying job and most important, HOPE. All this takes money. Your help will make a difference for these kind and cheerful people. Find Buckhunger on Facebook too and spread the word!