by Kenneth Young
Criticising Jakarta's shopping malls for their ostentatious Christmas displays is too easy. We can feel sickened by the crass commercialisation of religious holidays in a country where many people do not have enough to eat, or we can naively view the Christmas glitz as an effort to uphold Indonesia's religious pluralism. Ultimately, it's a mostly harmless extravagance that is better than nothing at all.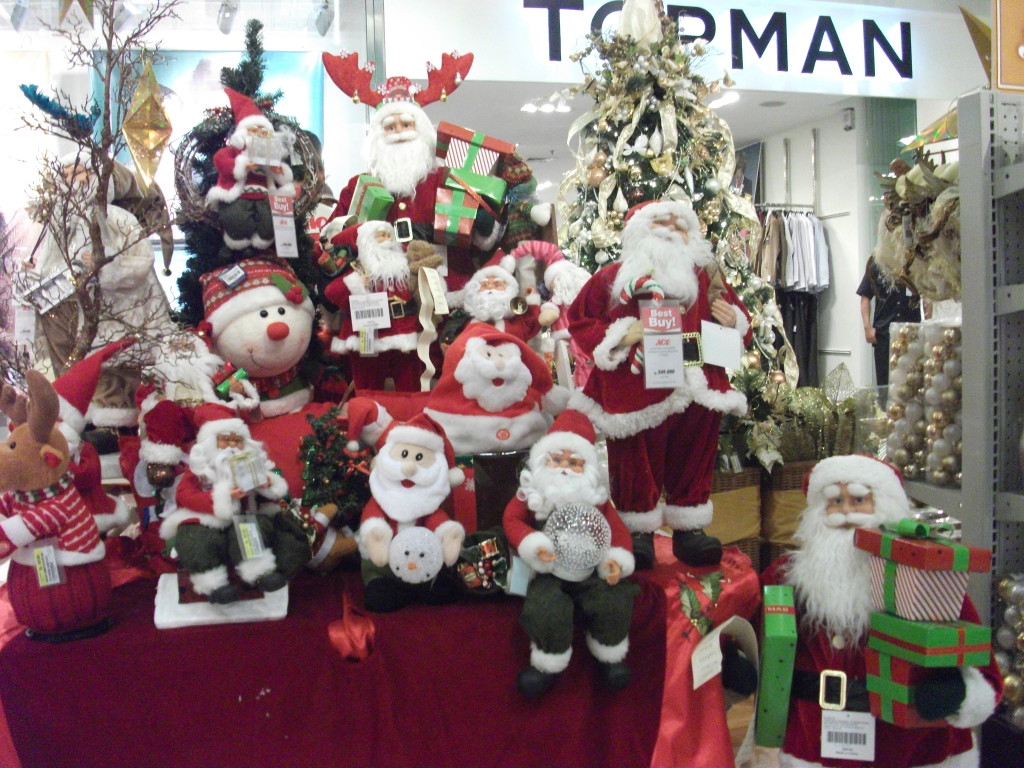 Some Islamic organisations have claimed that excessive Christmas decorations could offend Muslims, but Santa Clause is not having much success as a proselytiser of the Christian faith, at least not at Pondok Indah Mall 1 in South Jakarta. The mall's Christmas displays include a large motion-sensor singing Santa and snowman, which were installed in late November. When a young boy wandered away from his mother to inspect them, he set off the sensors and got the fright of his life when the Santa suddenly started shaking his belly like a bowl full of jelly while singing.
More than 100 churches in Indonesia have been closed or destroyed by intolerant mobs over recent years, but there is no such threat to Jakarta's mighty temples to shallow consumerism. The main complaint has come from the Indonesian Ulemas Council, which simply requested that malls in Muslim majority areas "tone down" their Christmas displays. Evidently there is greater tolerance for the commercial exploitation of Christmas than there is for actual churches.
Mall staff don't seem to mind getting into the Christmas spirit. "I'm a Christian and it's my right as part of [the national ideology] Pancasila to celebrate Christmas," said a doorman wearing a Santa hat at Plaza Indonesia. "No other group has the right to say we cannot celebrate Christmas," he said. At Pasar Raya in Blok M, a salesgirl in a Santa outfit (sans beard) said that although she is a Muslim, she is happy to wear the costume because "this is not about religion, but about business". For her, there is no connection between Christmas and religion.
When it comes to over-the-top Christmas displays, the main malls to head to are Taman Anggrek, Central Park, Pacific Place, Pondok Indah, Ciputra and Pluit Village. There is everything from falling snow to parades, massive trees, choirs, animated creatures, concerts and fashion shows. Just don't expect to find many displays of baby Jesus in a manger, let alone messages of charity and goodwill. Not all malls in Jakarta have jumped on the Christmas bandwagon, especially smaller ones in Chinatown, which wait until Chinese New Year to bring out their decorations. Elsewhere, the Muslim holiday of Idul Fitri is the time for lavish decorations.
Central Park Mall, located alongside the older Taman Anggrek Mall in West Jakarta, commenced its Christmas celebrations on November 26th with a concert by multi-award winning singer Agnes Monica (who started out singing in churches) and the unveiling of a 36-metre-high musical Christmas tree covered in lights. The mall is also having fireworks and laser shows, as well as midnight shopping marathons, lest anyone forget the point of all the festivities. Most malls are continuing their Christmas celebrations until the New Year, some as late as January 8.
In addition to their displays, malls are selling plenty of Christmas decorations for people wishing to adorn their homes with such stuff. Plastic trees range from Rp.140,000 for an ugly stunted shrub to Rp.22 million for an enormous pine complete with lights and baubles.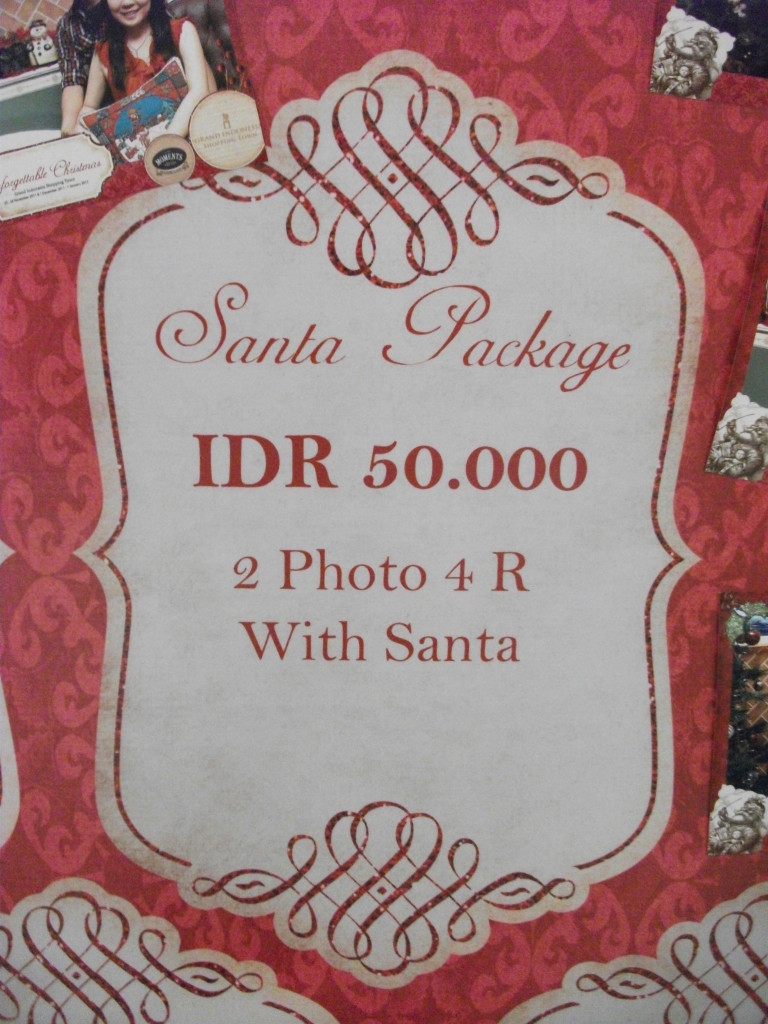 Many malls have at least one Santa Clause and charge shoppers about Rp.50,000 for a photo with the man in the red suit. The Santas come in various shapes and colours, with differing degrees of authenticity. A few malls hire Western men to dress up as Santa. Some of these Santas are extremely professional and experienced, others are not.
A few years ago, a mall in Bogor hired an American expatriate to play Santa, paying him Rp.500,000 for five hours work per day. One afternoon the mall was hosting a fashion show and the Santa, who had been drinking before work, felt an irresistible urge to join the attractive models onstage. He sashayed and swivelled up and down the catwalk, managing to grope a few of the models before being sent back to his grotto. Undeterred, he later commandeered one of the mall's wheelchairs and spun onto the catwalk, where he performed a series of stunt manoeuvres before crashing into the models. He picked himself up, raised his arms aloft and proclaimed to the startled spectators: "It's a Christmas miracle! I can walk!" That marked the end of his career as a mall Santa. If only the Christmas shows were always so entertaining.
Critics like to accuse Jakarta's mega malls of fostering social jealousy and cocooning the elite from reality, but in truth the city has many malls, catering to all socio-economic levels. Peace and goodwill are personal choices, rather than mercantile responsibilities.
First published in Jakarta Expat