By: Melissa Lin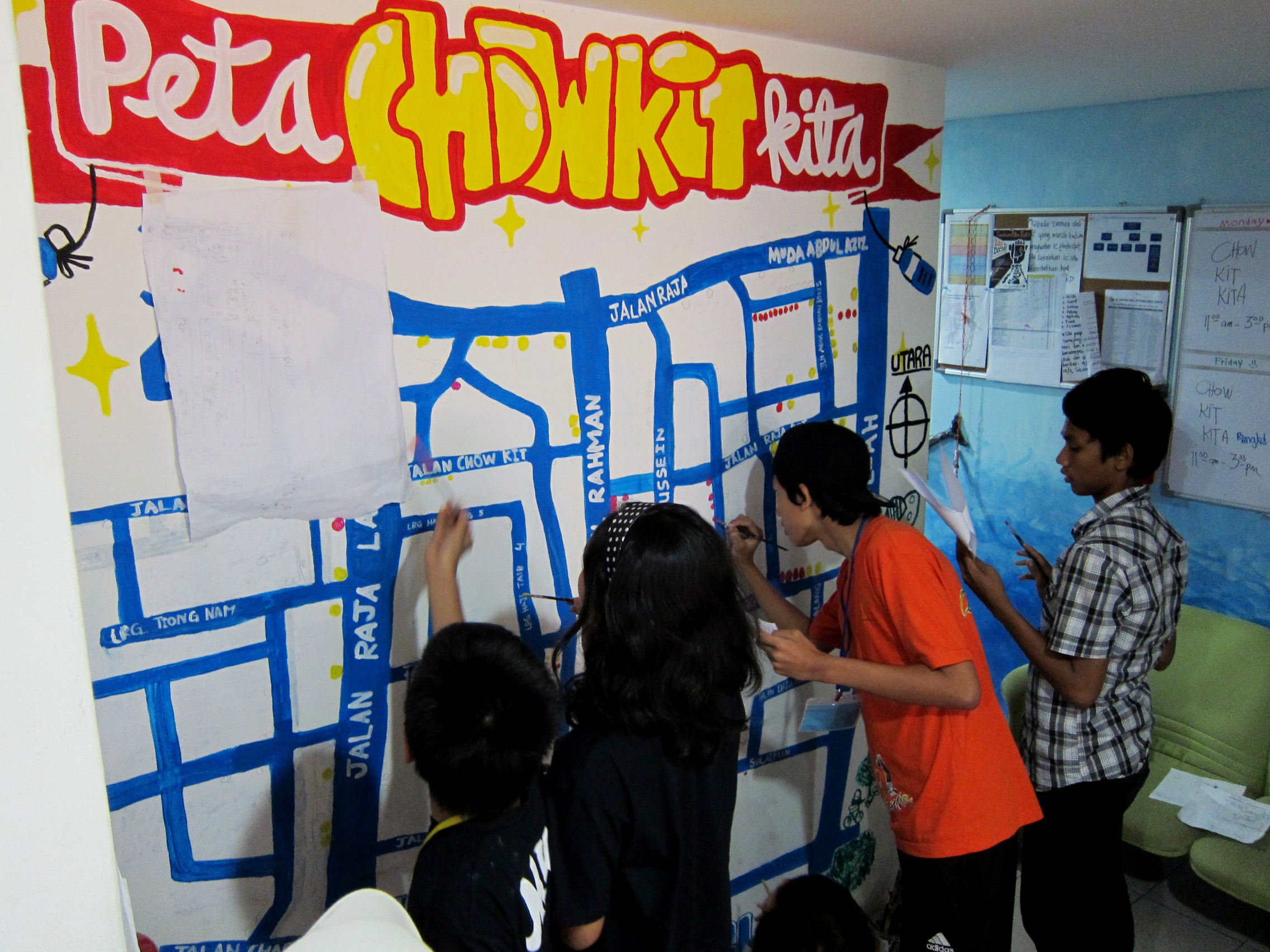 Chow Kit is a neighnorhood in Kuala Lumpur Malaysia. The area is known for the bustling market Bazaar Baru Chow Kit. It is located around Jalan Chow Kit (Chow Kit Road) and is enclosed by the parallel streets of Jalan Raja Laut and Jalan Tuanku Abdul Rahman. The area has one of the largest Indonesian communities in Malaysia and had a recent influx of African migrants. It is both one of the most colorful as well as one of the most criminal districts in KL.
Chow Kit Kita (Our Chow Kit) is a community based project that educates local youths by ways of workshops such as photography, research and graphic design. We talked with Pik-Svonn, project manager & co-founder of Chow Kit Kita, to find out more about this initiative.
Please give us an introduction to yourselves and perhaps share with us the initial inspiration and idea that got the Chow Kit Kita project started. What were the aims of the program at the beginning, and how has the program grown and evolved over time?
It started with the both of us having previously done social work with youth in the Chow Kit community in separate programs a few years before. When we found out there was a new activity centre in Chow Kit for teenagers, we found the concept interesting and decided to pay a visit to find out more. After talking to the centre manager and finding out that they were looking for long-term and sustainable programs, we started discussing and researching on how we could help.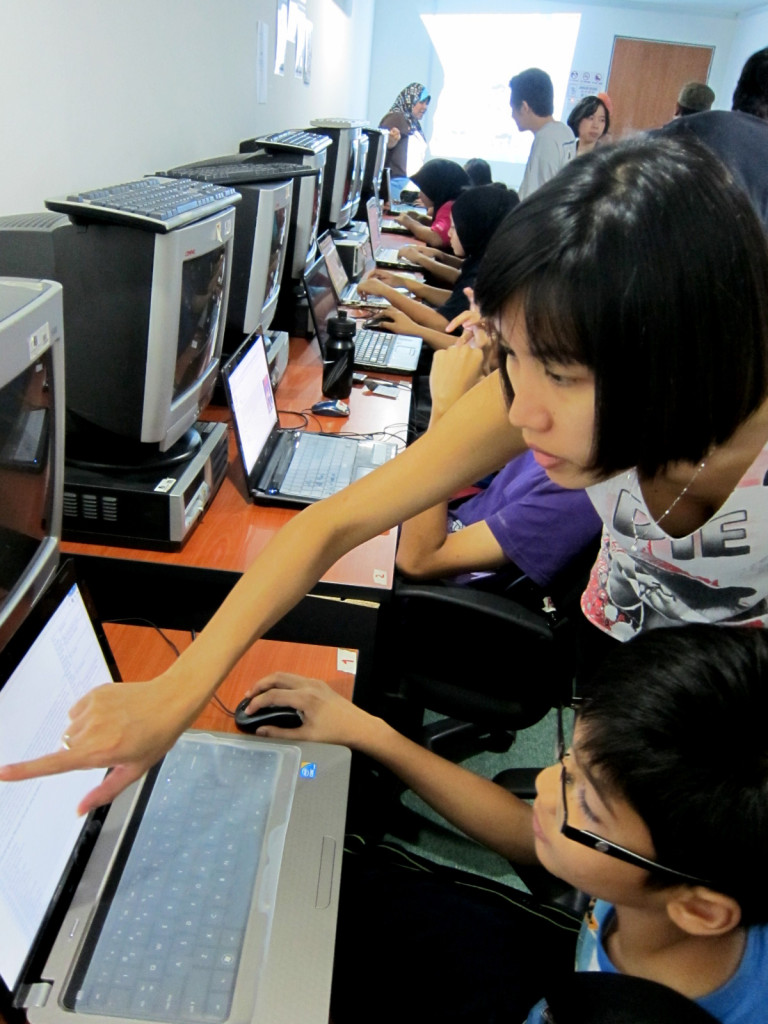 The Chow Kit Kita concept drew inspiration from a similar community mapping project in Balik Pulau, Penang. Working with children, they mapped out Balik Pulau's rich heritage sites using creative mediums like photography. We adapted the concept to suit the needs of the Chow Kit environment, youth and the community.
Few months before the project started, we conducted a survey to find out what skills teenagers wanted to learn. We took the 8 most popular skills and turned them into workshops that adopted experiential learning methods. The thematic community maps tie these workshops together. Themes range from food to transportation, and represent the voice of the Chow Kit youth. The mapping process creates avenues for them to explore, discuss, understand and share the knowledge they have acquired during research about the community. The outcome of these workshops like maps, brochures, videos, posters, performances and photographs, are given back to the community and beyond.
The workshops are facilitated by young local art and media workers who also go through preliminary workshops on how to facilitate and develop modules for an experiential learning workshop. Many are first-timers and some have continued to facilitate workshops in other community projects! To date, we have over 20 facilitators.
We also encourage the participation of students and young adults to assist facilitators in workshops. Currently, there are over 200 volunteers signed up for the project!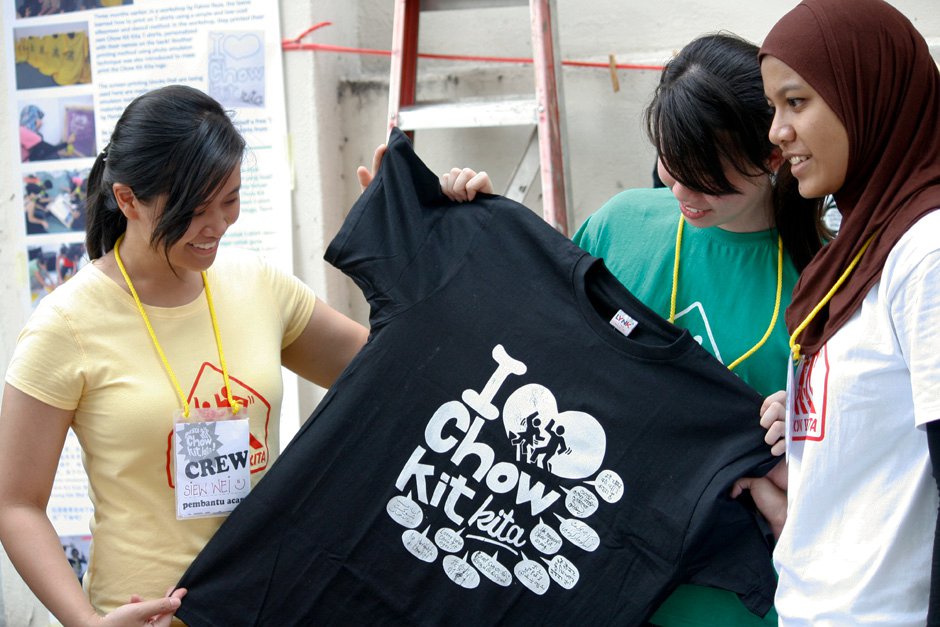 The project is divided into 6 phases, with a fresh group of teens and a different theme for every phase. After each phase, a Chow Kit Kita Festival is held to showcase and celebrate their works with the community. The past two festivals were attended by over 1,000 members of the community.
Chow Kit is a pretty special place in Kuala Lumpur with a melting pot of cultures, migrant Indonesian, Burmese and Nepali folks setting up stalls and engaged in various activities. It is also home to some local NGOs that work with injecting drug users, sex worker and transgendered communities. Can you tell us your personal feelings and or stories of how you experience Chow Kit?
It really shows just how beautifully diverse Chow Kit is. The diversity is not limited to different cultures but different groups and professions as well. While some would rather stay away from Chow Kit, known for its vice activities, I think they are a community asking to be looked at beyond the negative reputation. They want society to have a more non-judgemental view of who they are, what they do, why they do it, how they live and the everyday challenges that they face. Some are looking for assistance while others just want to live their lives with dignity and in peace. Each have their own unique stories and qualities, and I can really appreciate that.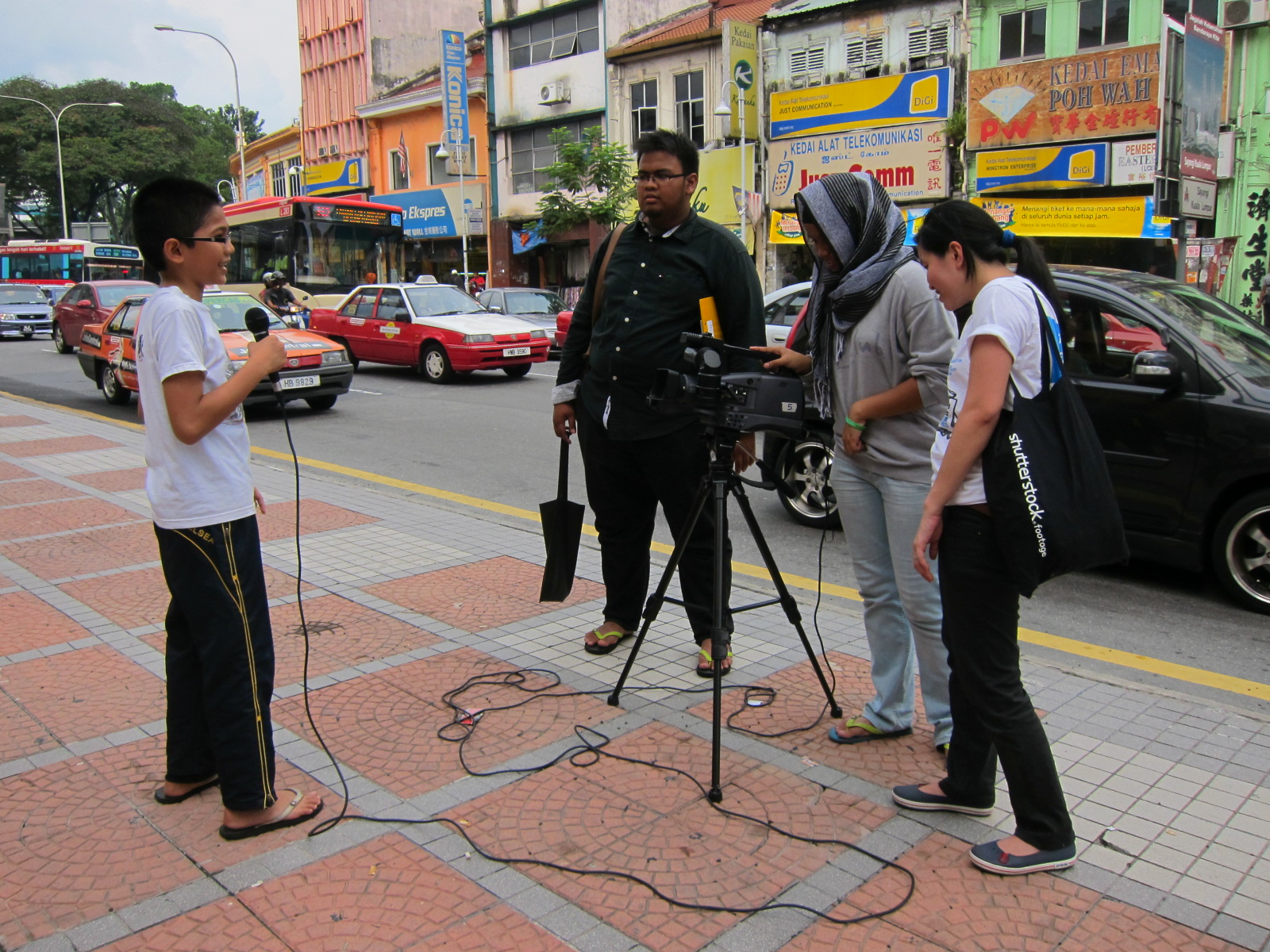 How has working and engaging with the communities in Chow Kit and on this project enriched or changed you as a person if at all?
I love Kuala Lumpur more than I used to. Just like most urban people, I went about my everyday life and never stopped or had reason to stop to question, discuss and appreciate my surroundings. In other words, I took my home for granted. Working on this project has given me the opportunity to meet and work with all kinds of people, try new things and discover my backyard like never before. I never knew what to expect when this project started but now, I've seen how much I've learned from this experience. Not only has this project taught me new skills and knowledge about the community but it has grown my civil consciousness that pushes me to continue what I do.
It seems to me that this project is really filling a need for kids to get engaged in and with their communities in a creative and inspiring way. What were some of the activities and workshops within the project that were your personal favourites?

We currently offer 8 workshops. They include: video, photography, graphic design, mural painting, acting, T-shirt printing, Internet and research. My favorite workshops are acting and research. Acting and research workshop really brings the group together because of its team-work nature. The activities in acting workshop are extremely physical and emotional, making it a great medium to remove one's self-consciousness and raise self-confidence. Research workshop on the other hand requires a lot of interpersonal skills. I particularly enjoy seeing teens who are shy in the beginning, gathering up the courage to step up to their tasks and responsibilities, even if it means having to talk their way through, to complete their mission.
What has been the response from the kids themselves and their families like? Any stories to share that particularly made an impression on you?
In an evaluation done with the teens, 90% of them felt prouder to live in Chow Kit at the end of the project, while 100% of them felt this project has made them express themselves and understand their community better. 70% of the teens have continued using the skills taught for their own hobbies and projects. For example, some have been printing their own T-shirts while others have been hired as photographers for events and making videos for a public bus network TV!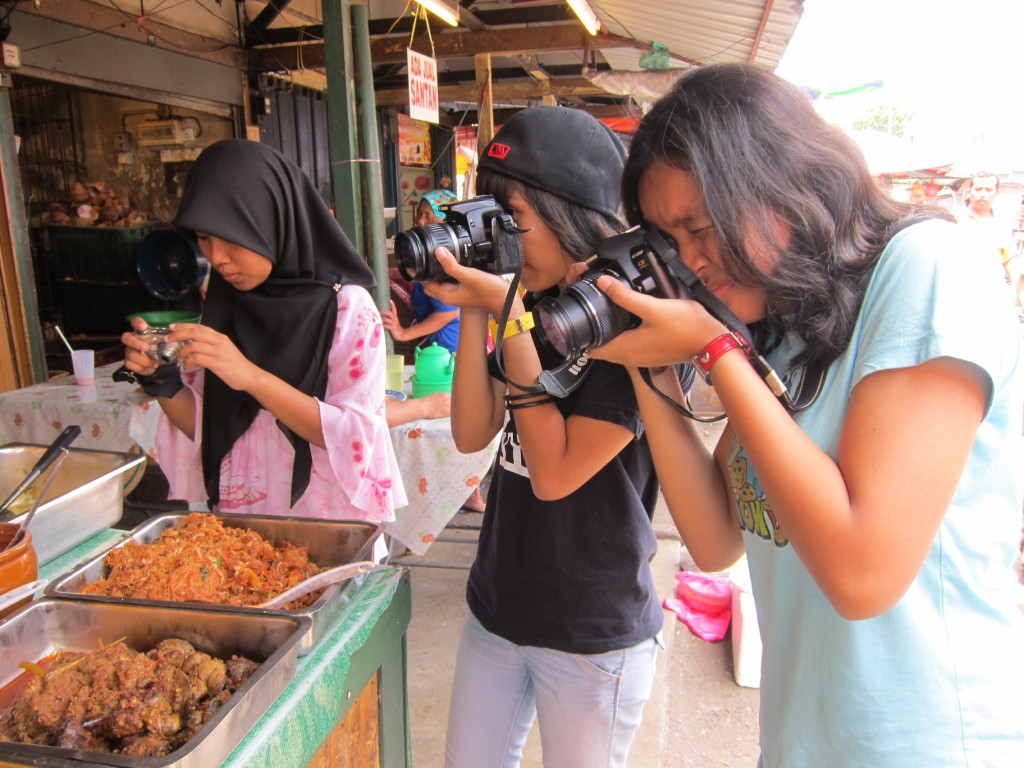 While some parents did not mind their children getting involved, getting consent and support from others was challenging. In the Malaysian society, there is very little appreciation for the arts medium. Many want their children to excel in their formal education so they could secure good jobs and a stable future.  Selling the idea of giving back to the community also proved difficult, with parents who think focusing on their formal education is more important at this point in time. When dealing with these parents, we usually have to sit down with them and explain how this project can benefit their children because it's not all about arts – it's also brushing up their soft skills, being exposed to new mediums for expression, and getting recognition for contributing back to the society. These parents have since been very cooperative.
Did you meet with any initial resistance from the community when you were starting the project and before people knew what it was about? What have been some of the challenges that the Chow Kit Kita team faced, and how did you go about solving them?
Initially many community members were sceptical about the project and understandably so. Firstly, a community mapping project is a fairly new concept and secondly, they have never heard of us. When we first approached shops and centres, many thought we were asking for donation and brushed us off as soon as we mentioned the word "charity". We've since learned how to present ourselves better and with results to show after two phases, we've gained credibility and they have been extremely helpful.
What we haven't gone about solving is recruiting youths of multi-cultural backgrounds. The Chow Kit area is predominantly Malay with a small Chinese and Indian community. Despite translating almost all our materials into Chinese and English, we still haven't successfully attracted these groups.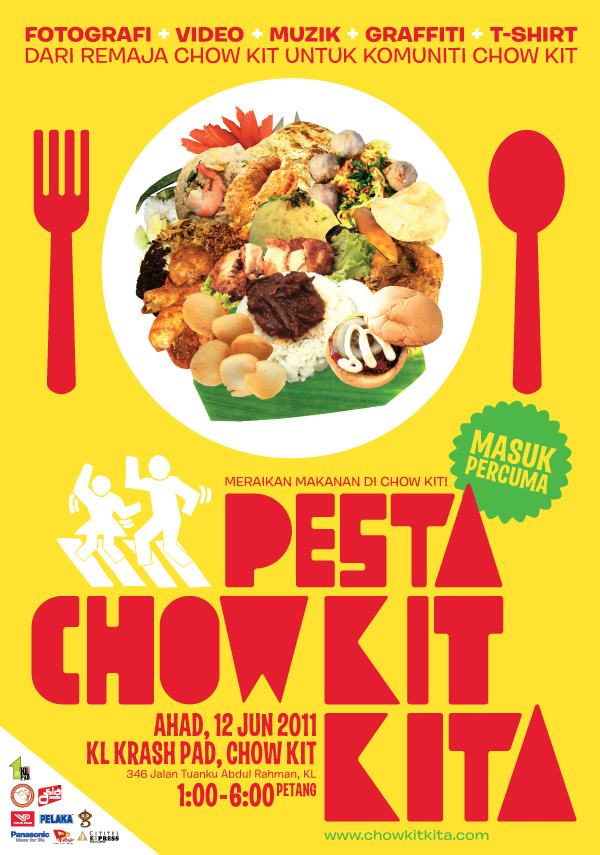 Funding is another obstacle we face until today. Despite contacting over 80 corporations, organizations and government bodies, and being featured in the media numerous times, we still haven't been able to secure funding for the project. During Phase 1, we received a small grant from the National Art Gallery but it was barely enough to cover our expenses. In Phase 2, despite zero funding, we went ahead and ran it anyway, hoping we would get some funding along the way. In the end, we didn't and ended up funding the project from our personal savings. All our sponsors currently offer goods and services.
Therefore, Phase 3 is currently on hiatus while we continue to look for interested parties who would like to fund us. We also have an online shop that sells products created by the teens to help offset some expenses. Go buy!
Lastly, do you have any advice to any communities interested in starting a project like Chow Kit Kita? and what are your hopes for the project?
Loving what you do and having the desire to learn is very important. It makes you push on to become more resourceful and creative when things don't work to your advantage, or when you fail. Plus, people will know when you are sincere. Sincerity will open up room for greater cooperation and opportunities.
To us, the process is more important than the end product. We want to share what we've developed and tested, and we are very open to suggestions on how to improve. Therefore, all our modules are made open-source and available to anyone or any group interested to start an initiative of their own. Our existing modules can help build a basic framework or template to start with and all it needs is some tweaking to suit your community.
Lastly, don't be shy to ask for help!
We hope to to bring the Chow Kit Kita model to other parts of Kuala Lumpur and hope more young people will start organizing projects in their community.