By: Prima Frambawati
Kuta is widely known as Indonesia's party capital. Clubs, pubs and beach side restaurants open til late (some never close) and usually have special offers and events planned to up the ante: ladies night, foam parties, happy hours, sport matches, live bands, you name it, Kuta has it! Take a look at this video for a short intro:
You can't say Bali nightlife without thinking about the Bali Bomb that devastated the area on 12 October 2002 and took the lifes of more than 200 people. Since then, the Ground Zero monument stands tall in the center of all the action. The area has been rebuild and once again young people flock to the nightclubs to celebrate Life on Bali.
The main buzz centers around Jalan Legian, near the backpackers area, but there are plenty more special places to discover. Here are some recommended night clubs around Kuta that are worth trying.
M BAR GO
Address: Legian, Kuta
Website: http://www.myspace.com/mbargo
The huge club M BAR GO opened in 2004 on Legian street. M BAR GO offers two enormous dance floors to show off your moves: Dance, trance, house, electro, hip hop and R& B. And, if your feet don't feel like dancing,  choose the VIP room where you can enjoy more intimate conversation and some cocktails.
Double Six Club
Address: Double Six Street, Seminyak
Phone: +62 361 733067
Website: http://www.doublesixclub.com
Update: As of October 2011, Double Six closed its doors. There are no plans yet for the future. Double Six Club in Seminyak was a hotspot, bringing in international top DJs from all over the world like Tiesto, Pete Tong, Steve Gerrard, Mike Hiratzka and many. The place is partly open air and is the only club in the world to feature a bungee jump!
KU DE TA
Address: Jalan Kayu Aya No. 9 Seminyak
Phone: +62 361 73 6969
Website: http://www.kudeta.net/
KU DE TA is located in the north part of Kuta, in the expat area called Seminyak. It is a favored beach front hangout, where expats and tourists flock to gaze at the sunset. Aside from that, KU DE TA is quite a stunning place, designed by French-born Bali based architect Fredo Tafin, with lounge benches and a pool to hang out. It is a very comfortable place to enjoy the sunset and continue the party with some food and drinks.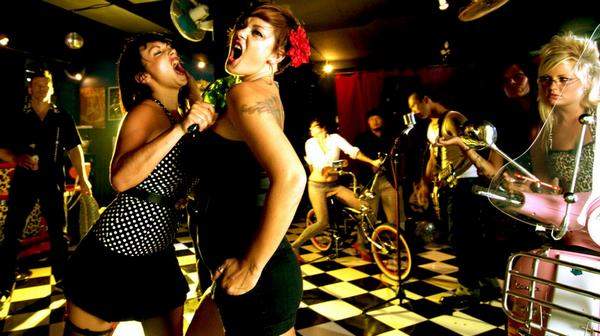 TWICE BAR
Address: Poppies Lane 2 – Kuta
Website: http://www.myspace.com/twicebar
Twice Bar is the place to be for rockers and punks. It is located in narrow Poppies 2, right in the middle of all the action (watch the motorcycles zooming past). Owned by a famous rockabilly icon in Bali, the drummer of Indonesia's renowned band Superman is Dead, Jerinx, Twice Bar is a very cool place to have fun and meet friends with similar interests from all over the world. The small club also sets up gigs for local and international rockabilly, punk or hardcore bands. So, if you want to go underground, visit Twice Bar and enjoy the rebellious side of Balinese youth.
BOUNTY
Address: Legian, Kuta
Bounty is a slightly tacky night club in the shape of a ship. There's Bounty 1 and 2, with 2 going on 24/7. The place always offers great party events with crazy themes. Once you enter the club, the sexy staff will give you a head band, as a welcome and way to pump up your party mood. Entering, the dance floor is huge and completed with several bars, high chairs and stages and cages for sexy dancers. Take a look here for an impression:
The cocktails are served in huge fish bowls, 2 for the price of 1 during happy hour, so stick around, you might never leave;-) One thing for sure, you won't leave shipshape