Asian Hot Shots 2011: September 9th-11th at Berlin's Moviemento "Berlin's most exciting Asian film festival"!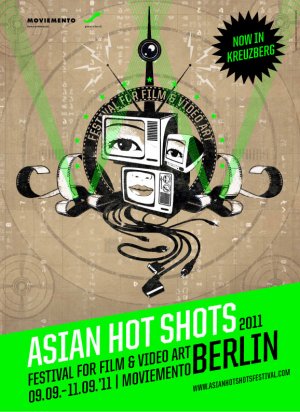 Since its inauguration in 2008 Asian Hot Shots Berlin has been introducing Asian independent film to the city. A supporter especially of Southeast Asian film, Hot Shots was the first German festival to give overviews over the actual PHILIPPINE, INDONESIAN and SINGAPORIAN film scenes in its respective editions in 2008 , 2009 and 2010.
Asian Hot Shots Berlin – the festival for young Asian cinema takes place from the 9th to 11th of September at cinema Moviemento in Berlin Kreuzberg. Whether it's animation or videoart, fiction or documentary, Japan or Korea – the filmfestival Asian Hot Shots Berlin represents  independent asian cinema beyond the mainstream: young, fresh, artistic and political films are presented to the audience.
This year there will be a packed film program with over 40 movies, shorts and documentaries – this year the festival focuses on experimental film and video art. Asian Hot Shots Berlin is a festival for discoveries, where we can see the »Young Asian Cool« filmmakers who were once an insider's tip and now become award winners at international film festivals. The festival also stands for Berlin's creativity – here you can meet tomorrow's stars. The festival gives a deep insight into the electrifying art scene of Asia – from Japan, China, India, Vietnam, South-korea, Singapore, Malaysia, Indonesia, Philippines or Thailand – directly to Berlin Kreuzberg. Over the past few years, more and more Asian artists from Tokyo, Bangkok or Beijing have moved into the vibrant metropolis Berlin. Also their films can be found in the program.
Since 2007 the green chilies team around Laura Coppens, Tina Lange and Maria Römer are being involved with young Asian cinema. The organisers met while working at different festivals and decided to get their own festival off the ground. In 2008 the first Asian Hot Shots Berlin – Festival for Film and Video Art was born. Since then it became an institution. A growing fan base of Asian culture and film enthusiasts meet every year to discover new films and partake in a cultural exchange at Asian Hot Shots Berlin.
Take a look at this promo video they did for the 2009 edition…one of the most entertaining promo video's we have ever seen: