By: Vijay Khurana
Short of a time machine, you couldn't find a better way to lose yourself in the past than by visiting Cambodia's Angkor temples. You'll see immaculately preserved carvings made a thousand years ago to honor gods and kings. You'll see nature and man fighting their eternal battle as jungle slowly overruns haunting stone ruins. Most importantly, you'll see Cambodia as it once was.
The temples are commonly referred to as Angkor Wat. In fact, they're a sprawling collection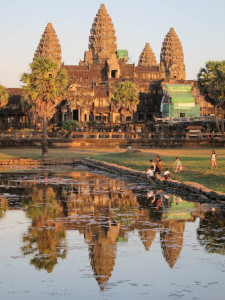 of over a dozen temple complexes,built by different kings in different time periods. Angkor Wat itself serves as the stunning centerpiece. This enormous city-like temple with its pools, walkways and bas-relief carvings is ingrained in the national identity. Its iconic towers feature on many a picture postcard in the country, as well as adorning the Cambodian flag.
Angkor Wat: A Top Five of Temples
Despite the spectacle of Angkor Wat, you'll find some of the most memorable sights in the surrounding temples. Here are my five favorites:
Ta Prohm:
This was used as a setting in the film Tomb Raider, which started Angelina Jolie on her well-documented love affair with Cambodia. Huge trees perch precariously on top of ancient stones as the temple and the jungle become one. No wonder they shot the film here: you definitely feel like an explorer as you wander through the ruins.
Bayon:
Ever get the feeling you're being watched? This architectural masterpiece is a towering mountain of stone, adorned with over 200 giant faces that smile down at you like gods. It was built by king Jayavarman VII to honor the Buddhist deity Avalokitesvara, though most guides will tell you the king cheekily modeled the holy faces after his own.
Banteay Srey:
Banteay Srey is a testament to the majesty of the Angkor period. The thousand year-old Hindu carvings are incredibly well preserved, and so detailed they seem to jump off the wall at you. This temple sits slightly off the beaten track, and the journey itself is just as fascinating as the destination. A 40-minute tuk-tuk ride takes you through villages where locals weave baskets, herd cattle and cook rice on traditional clay stoves.
Phnom Bakheng:
Cambodia is a country of spectacular sunsets, but dusk here takes the cake. Look out from this hilltop temple across the vast jungle, with Angkor Wat rising out of the sea of green like a breaching whale. But be prepared to share the beauty of a sunset here with plenty of other tourists and locals!
Preah Kahn:
It's the sheer scale of this massive temple complex that amazes you. Escape the heat by walking through corridor after corridor of cool stone. Look up at the heavy boulders that slot together to make up the ceilings and you'll be glad the builders were such good craftsmen. If you close your eyes, you can almost sense the ancient city around you. The birds sing as they would have in the 12th Century, and the footsteps of the people around you could be monks going about their daily routine.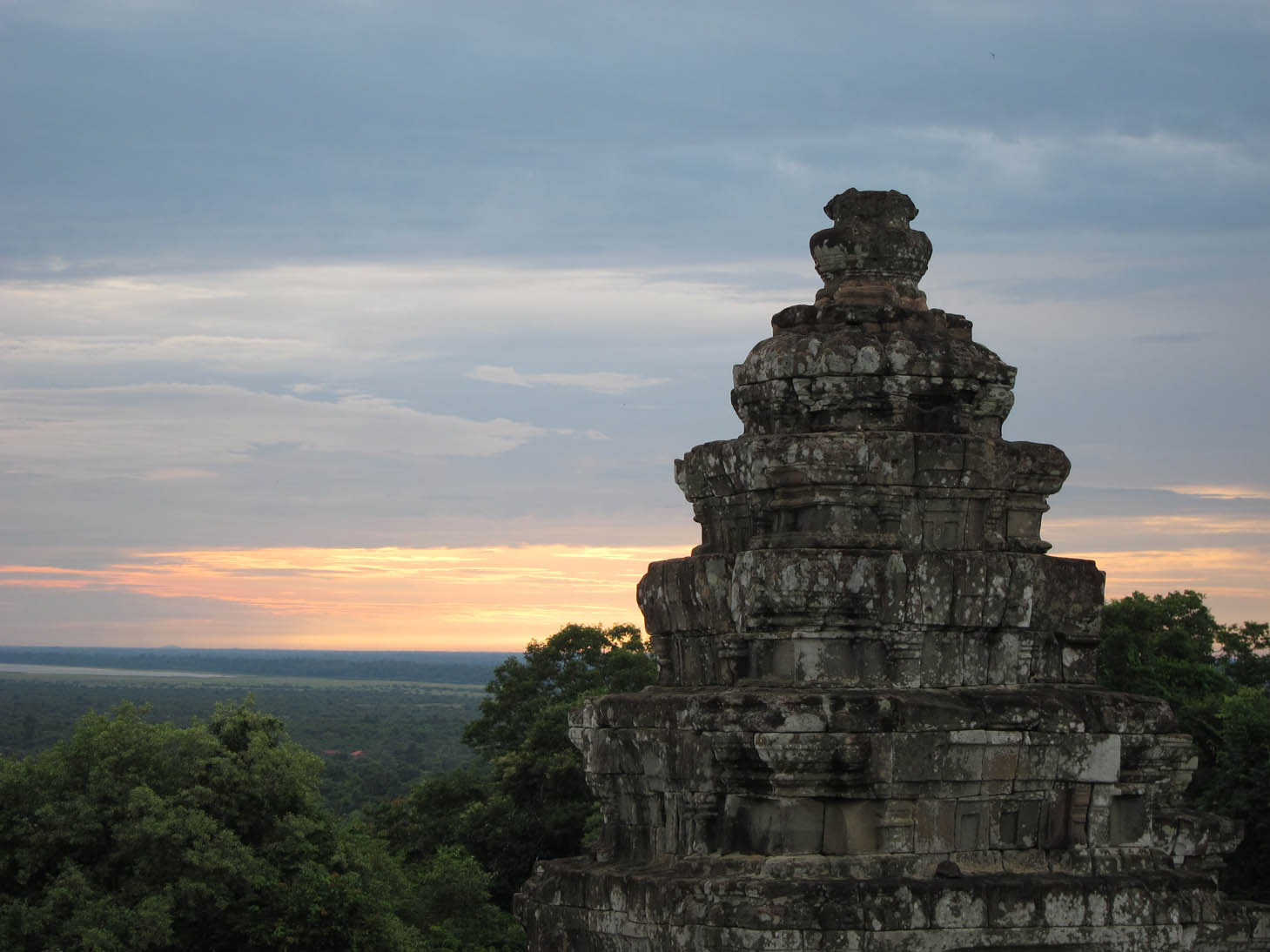 How to get to Angkor Wat?
The Angkor Temples are a ten-minute car or tuk-tuk ride from the city of Siem Reap. A day trip in a tuk-tuk (a motorized rickshaw, popular in Cambodia) will cost you between $12 and $15. Those willing to brave the heat can also go by hired bicycle. Siem Reap's International Airport has connections with many Southeast Asian hubs. You can also travel from Phnom Penh by bus, minivan, private taxi or even boat. If you're traveling in a group, taxi is a recommended option as it's faster than the bus and far more comfortable than the often-overcrowded mini-vans.
You can spend anywhere from two days to a week or more exploring the temples of Angkor. It's best not to try to pack too much into a day, as the heat, crowds of tour groups, and zealous hawkers can wear you out. While "temple fatigue" is common, you can always take an afternoon off and enjoy a massage and a cocktail in Siem Reap. Fear not: the wonder of the ancient stones will keep pulling you back, urging you to explore the next ruin, run your eye over the next mystical carving and poke your head around the next corner.