By: Latitudes, translated from the Museum Maluku's brochure

The Museum Maluku in Utrecht the Netherlands, features an exposition on tattoos from 25 September 2011 – 6 May 2012.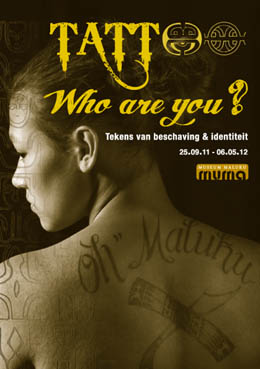 In light of the 60 year Moluccan presence in The Netherlands, MuMa focuses on the third and fourth generation of Moluccans currently residing here. How do they express their identity? What role does their country of origin still play in their lives? The exhibition looks at the vibrant tattoo culture of this group illustrating their continuing bond to the Moluccas. In these tattoos we see the reoccurance of traditional Moluccan patterns such as; parangs (machetes), salawaku (shields), family names and designs from the Alfur people of Seram.
The exhibition reveals the message behind these tattoos accompanied by wonderful photos, stories, drawings and various objects.
Tattoos are no stickers. You choose a tattoo for the rest of your life. It becomes part of your skin. Part of who you are. That's why people think long and hard before choosing a design. What are you trying to say with it and why? What is the story of your tattoo?
In the new exhibition in the Museum Maluku it's all about these stories. Different people, often with a Moluccan background, have their say. With the aid of audiovisual programs, films and photographs, they tell us about their choices.
Why is the traditional warrior design still popular? Has this remarkable pattern not lost its magical effect yet? In addition, artful depictions of Moluccan totems, traditional swords, exotic flowers and family names decorate many an arm, leg, back or neck.
Patterns from the Pacific – ranging from Maori until Samoa – are also popular. The meaning of these tribals will be clarified and linked to their usage in art objects. In the current tattoo-culture, these tribals are often combined with personal symbols. This way, the bearers of the tattoos create their own new sign language, that gives shape to their identity.
Besides this, the remarkable tattoos of the Moluccan Motorclub Satudarah MC are a focal point. These tattoos are often inspired by ancient Moluccan rituals.
The MuMa – Museum Maluku – is also interested in your story: Send them a picture of your tattoo and the story behind your tattoo to info@museum-maluku.nl, quoting 'My tattoo, my story'. Who knows, you might see yourself as an artwork in the Muma!
Sunday 30 October the tattoo exhibition will be presented in the talkshow MuMa Proudly Presents. Check: www.facebook.com/MuMaProudlyPresents
Museum Maluku, Kruisstraat 313, Utrecht, The Netherlands.
Phone: +31-30-2367116
info@museum-maluku.nl
www.museum-maluku.nl
open tue-sa 11.00-17.00
su 12.00-17.00