By: Cher Tan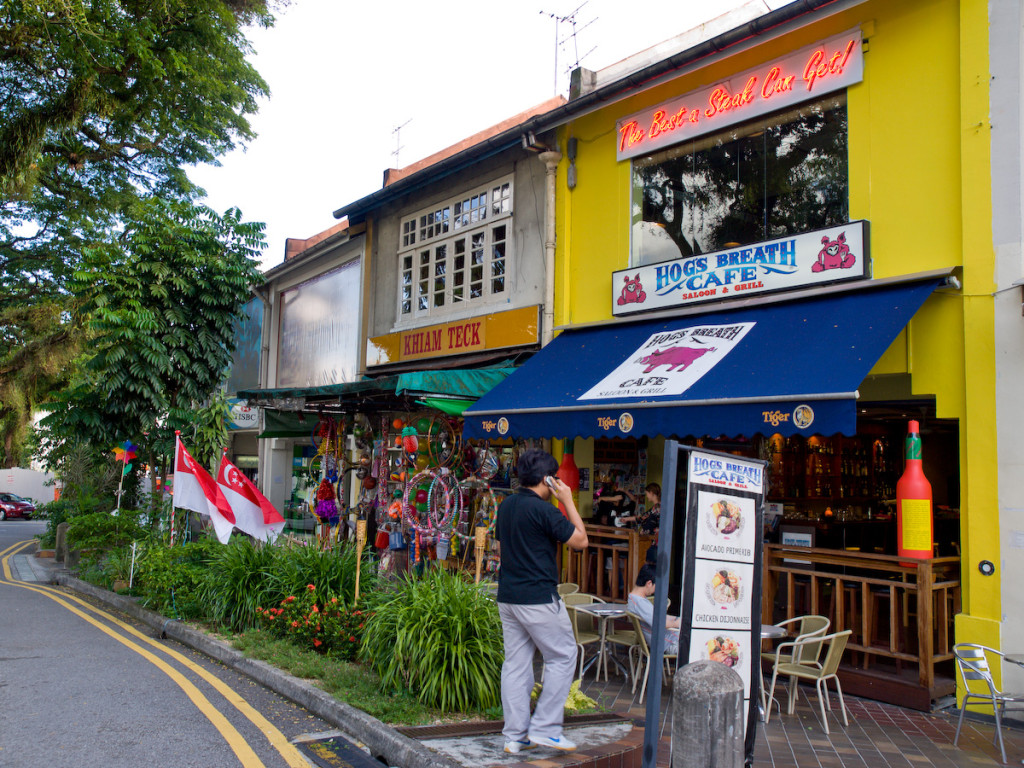 A slightly upmarket suburb, Holland Village is popular amongst the expatriate crowd. Despite the posh restaurants and bars however, it has a laidback feel, which is the perfect place for if you want to spend the entire day relaxing, catching up with friends, or listening to music. For vacationers who don't have time to explore every nook and cranny, it is also a microcosm of Singapore, and provides an array of shopping and entertainment options (juxtaposition of the old and the new) you don't have to look for elsewhere in the city.
How to get to Holland Village:
The Holland Village Mass Rapid Transit (MRT) station is still currently in the works, but one can take bus number 7 from Orchard or Bugis.
Holland Village Highlights off and on the beaten path:
Da Paolo Gastronomie: If you're on a wander around the Holland Village expat enclave, there's no better place than Da Paolo Gastronomie to fuel up. Pre-made salads, breads, dips, pizzas by the slice, cakes – everything you could want in a gourmet lunch. They are priced pretty reasonably as well, with set lunches going for $10 (a steal in the upscale Jalan Merah Saga area). And if you're lucky, one of the bench tables along the street will be a free and you can spread out and have an urban picnic. Block 44 Jalan Merah Saga #01-46, opens daily 9am-9pm (lunch: 11.30am-2pm).
2am: dessertbar: In a city like Singapore where late opening hours are not unheard-of, it is however, uncommon to hear of a dessert place which closes at 2am, like the name suggests. Serving wine to go along with your desserts (apparently supposed to go with the taste of your sweet confections), they also offer some sides such as burgers, salad, and cheese which are very substantial for supper. A wide variety of desserts from tarts to cakes to crumbles. 21A Lorong Liput, opens daily 4pm-2am.
Wala Wala Cafe Bar: Holland Village has had quite a makeover over the past few years, but its old-faithful watering hole Wala Wala – affectionately known as Wala's to locals – remains on Lorong Mambong. On the ground floor, enjoy a cold one at the distinctive yellow-lit bar and catch the game on one of several flat-screen TVs. The bar upstairs hosts a variety of local music and comedy acts, with an acoustic happy hour' from 7 to 8.30pm. 31 Lorong Mambong, opens Mon-Thurs 4pm-1am, Sat 3pm-2am, Sun 3pm-1am.
Original Sin: One of the more expensive vegetarian establishments located in Singapore, you might think of giving this a miss. However, despite its prices, servings are huge, and the grub is fantastic. With Mediterranean being the restaurant's theme, expect to see favorites like baba gannouj, tzatziki, and hummus on the menu, served with olives, feta, and pita bread, as well as moussaka and risotto dishes. Also worthy of note are the pizzas, which are served with Middle Eastern toppings. Block 43, Jalan Merah Saga, #01-62, opens Tues-Sun 11,30am-2.30pm and 6pm-10.30pm; Mon 6pm-10.30pm.