By: Cher Tan
The famous main shopping street in Singapore, Orchard Road can be considered Singapore's pride and joy. Emblematic of how Singapore got its reputation as a city best known for shopping and eating, the street is about a 20-minute walk of malls, malls, and more malls. Love it or hate it, if you are a first-timer to Singapore it is strongly recommended that you visit, even if only to soak in the atmosphere without actually buying anything.
How to get to Orchard Road:
Get off at Orchard MRT Station on the red North-South Line. Various exits are located in the station based on your preference.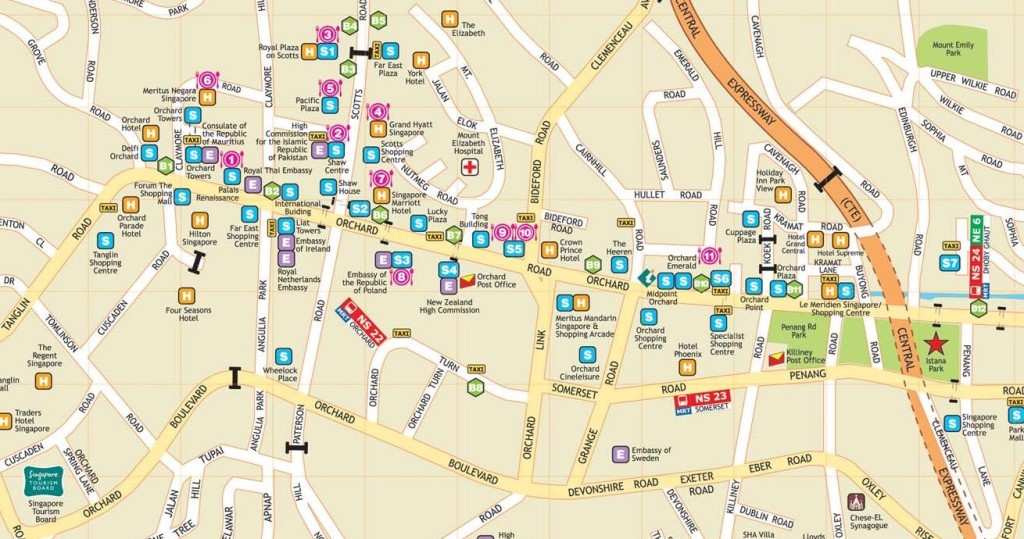 Orchard Road Highlights off and on the beaten path:
Lucky Plaza: Most visitors end up in Lucky Plaza thanks to the dubious street-level camera and electronics stores, which are legendary for rip-offs, and are best avoided. However, there is more to the mall than that: cheap souvenirs, off-season designer perfumes and cosmetics, $10 facials/haircuts/manicures (a fraction of the cost at salons in the rest of the city) and various Filipino stores if you are in search of something Pinoy or are merely a curious passerby. 304 Orchard Road, opens daily (regular shopping hours) 12pm-9pm.
*scape: Located in the heart of the city, *scape was opened by a non-profit organization with the aim of building a cool and hip centre catering to youths. Comprising of various performance spaces, dance studios and a skate park, it is well-known amongst the 14-25 demographic. Catch a gig or check out youths on the skate ramps on weekends for a spot of people-watching (and/or travel photography). 2 Orchard Link, opens daily 10.30am-10.30pm.
Orchard Towers: Notoriously known as the "four floors of whores", Orchard Towers which is located on the far end of Orchard Road is of course, one of the designated red-light districts of Singapore. Discotheques and bars are aplenty, if you are in the mood for a drink and some fun. You might think you'd have stepped into a teleportation device and entered Thailand, as that is the prevailing atmosphere in the building. Right down to the Thai eating house (Korat Thai Café) located on the 3rd floor – expect sumptuous authentic Thai dishes such as tom yam, green curry, pad thai, and thai iced teas. 400 Orchard Road, opens daily 7pm-4am.
The Istana: Completed in 1869, this Malay-Indian hybrid building was once the Government House of the colony of Singapore, before being repurposed on independence as the official residence of the President (think the White House in the United States – the Istana is white in colour too). The 100-acre grounds occupy some of Singapore's choicest real estate and incorporate several gardens and even a 9-hole golf course. There is a Change of Guard ceremony every 1st Sunday of the month. The Istana is open to the public only 5 public holidays a year: Chinese New Year, Deepavali, Hari Raya Puasa, Labour Day, and National Day. Orchard Road, next to Plaza Singapura, opens 8.30am-6.30pm, non-Singaporeans pay a $1 admission fee.