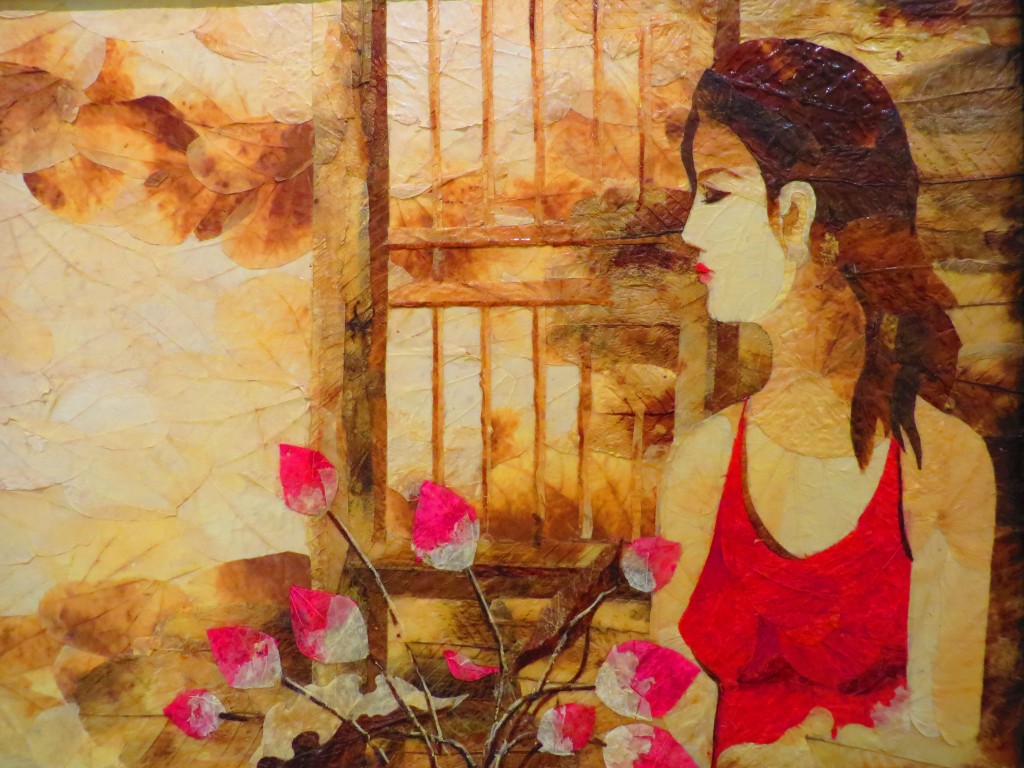 Le Dac Trung's paintings are worthy of notice not only because they are the kind that can appease any art critic's discriminating taste, but because they are humbly rooted to the ground. Literally. Leaves, fallen to the ground, are what make up empty canvases of his quaint gallery. These canvases are skillfully brought to life when coupled with an amassed interested in visual arts. Needless to say, Mr. Trung can make unique images no other art form can imitate. And it all started with a desire for art.
He discovered his interest in the art form at a young age. "I have been enthusiastic about painting since I was a little boy," he said. "Through the introduction of a friend, who is an artist too, I knew the art of leaf painting." It all started with a workshop that he joined almost a decade ago. There, he tinkered with dried flowers and leaves to create artworks. "And the first leaf painting that I know was finished as a result," he said.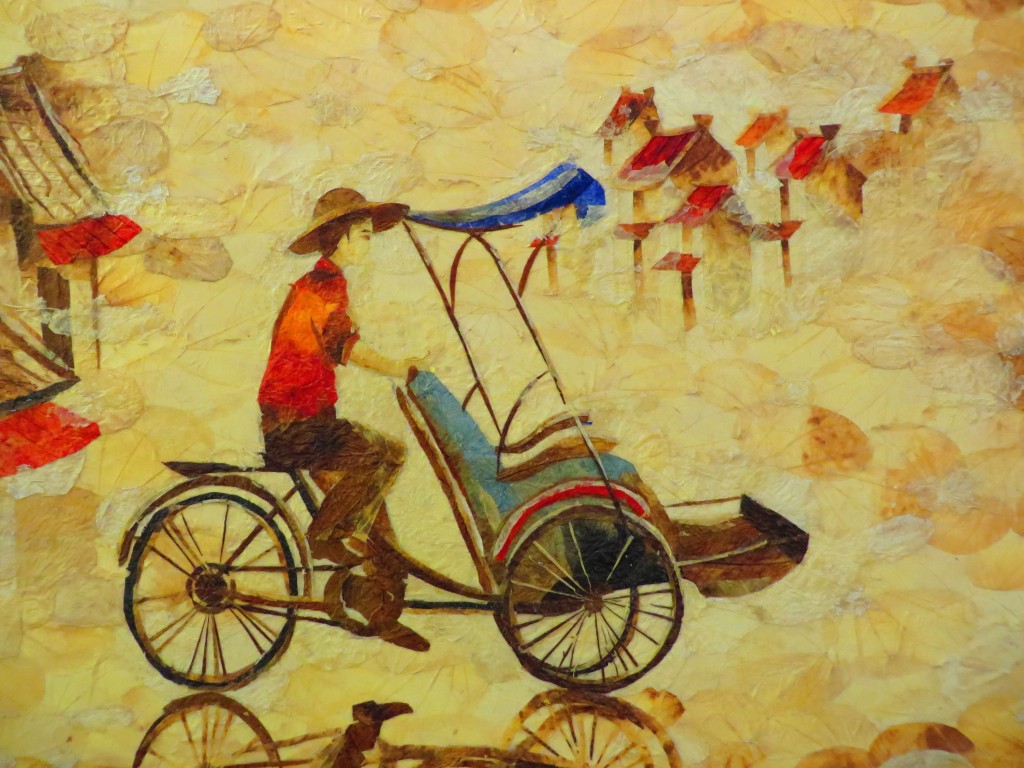 Since then, he practised the leaf art faithfully; he finished his first artwork in the middle of 2004. Night Moon (50 x 60 cm) debuted him into the leaf painting world, a masterpiece that he worked on for three months.
"It depicts a village's quiet night scene with a stream and a cottage having two lights up as seen through a window," he described. "That picture was sold out. But that one impressed on me strongly until now."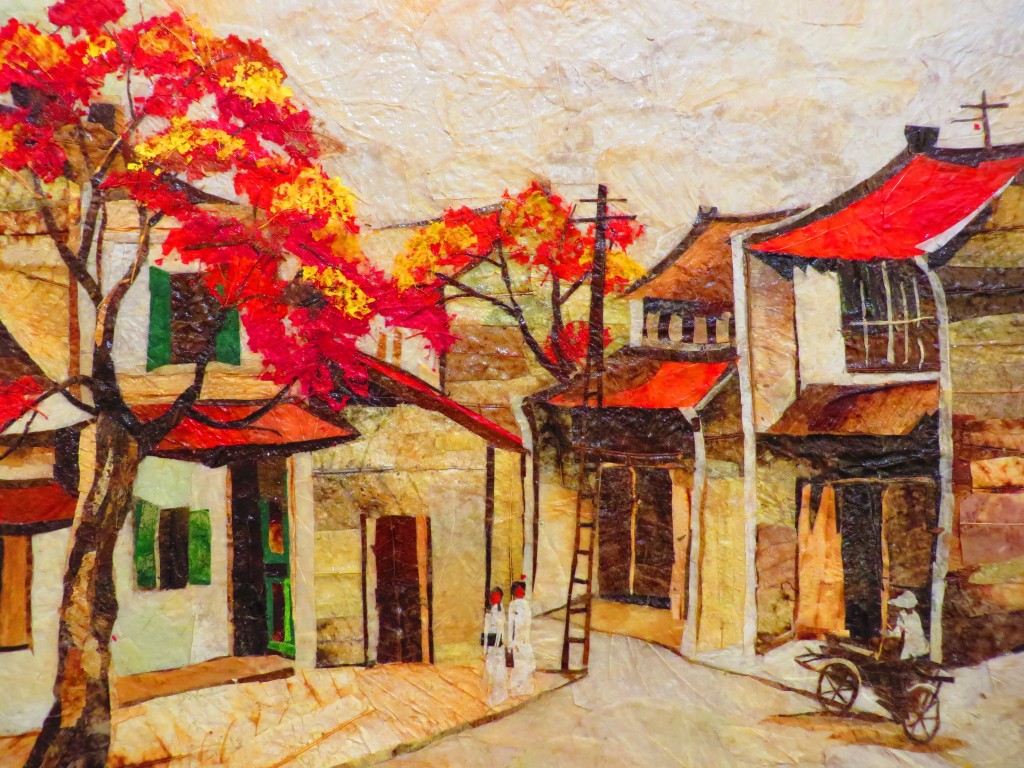 Mr. Trung, who hails from the province of Bac Ninh, studied architecture in Dong Do University of Science and Technology and is an architect by profession. But he never lets his busy life get in the way of pursuing his love for leaf painting. One way or another, he is able to use his knowledge of architecture in making leaf paintings, as evidenced by his detailed artworks the depict life and housing in Vietnam.
Leaf painting 101
Mr. Trung described that a leaf painting artwork, which is different from other types of art that uses brush, is made of thousands of small pieces of leaves. A canvas can be made a thing of beauty by cutting, tearing, crushing and pasting leaves onto it.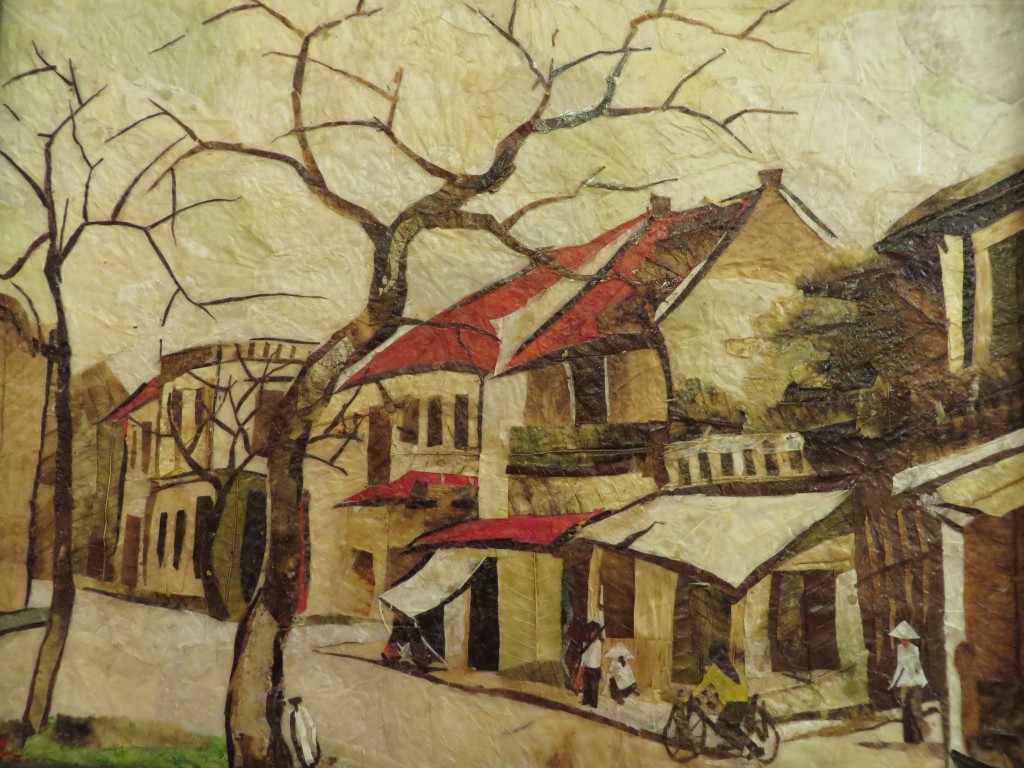 Leaves to be used for a canvas have to be processed through several stages meticulously. "They have to be heated at high temperature within 7 days so that the leaves last longer and become resistant to termites."  On top of this, Mr. Trung said that leaves also need to be dyed, steamed, and dried.  His art process also includes being able to "feel" the art that he is making; this allows him to focus on what images he wants to produce. "Then, you need the meticulousness and patience to arrange small hundreds and, sometimes for big canvases, thousands of pieces of leaves to finish an artwork."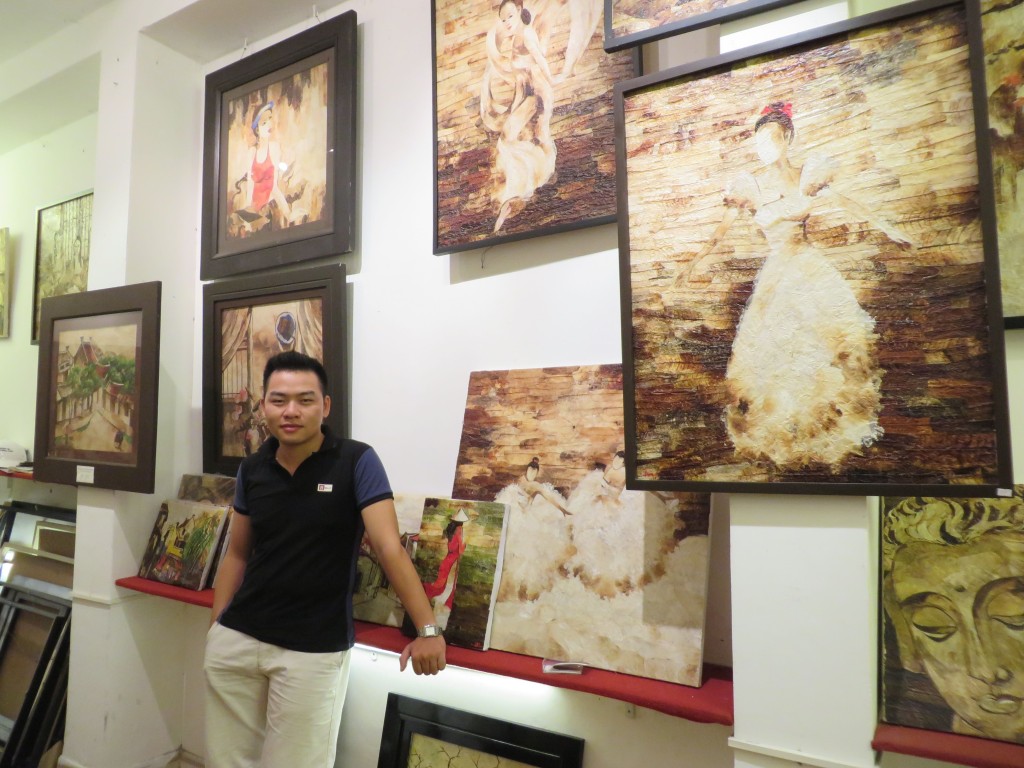 Leaf painting artworks often have cold and dingy hues with smooth gradients that no other art forms can imitate (Mr. Trung strikes a balance between having these leaves dyed naturally and artificially). As a result, leaf painting artworks are nostalgic pictures that evoke messages and emotions subtly. The various cuts and sizes of leaves pasted on a canvas add distinct texture, thanks to the varying leaf veins.
"Leaf painting can show a variety of content: from including streets, to landscapes, and to simple depictions of a young girl," he said. "Leaf painting shows many art movements but the most successful ones is of impressionism. Each leaf is arranged naturally to make amazing and impressive effects." In Mr. Trung's case, he uses his medium to describe the beauty of the culture and the people of Vietnam. "I want to show these for the people from all over the world." And he does this with passion, saying that he has already painted these "thoroughly and seriously."
And he will paint more.
He often gets inspiration from the trips that he has throughout Vietnam. Aside the varying leaves that he can collect as materials for making his art, travel immerses him deeper into his culture. "It is culture and people from many other regions that give me endless inspiration."
Back to life
Some of the leaves that he has used were those that have fallen from trees in Cuc Phuong National Park, and in forests in Phu Tho and Thai Nguyen provinces. He prides himself of the hundreds of artworks that he has made, exhibited, and sold since. "I am particularly satisfied with the artwork entitled Survival (120 x 140 cm), which was painted for four months and finished in 2009."
He said that his sold artworks were also showcased in Austria two years ago and in Singapore last year. He regularly holds exhibitions in Hanoi; the more recent ones are entitled Vu Dieu Cua La (Dancing Leaves), The New Look, and Viet Hand.
Mr. Trung makes sure to bring at least one new piece of art in his gallery daily (he also has two art apprentices that help him produce art). In return, his gallery is able to sell several paintings to the art enthusiasts who visit—often those who come all the way from Europe and North America.
"I feel very happy every time people find interest in my artworks. They reinforce respect and appreciation for my emotions and effort poured into my art," he said.
At the beginning of 2013 alone, Mr. Trung claims to have produced and sold over 120 artworks. He makes his artworks in his house and in his workshop area with his apprentices near where he lives (in Vinh Tuy Street).
Mr. Trung quipped that painting with leaves is relatively new in Vietnam; the art form has only been in the country for about 15 years, but his doesn't stop many artists to find interest in doing the art.
His leaf painting gallery, which opened more than 3 years ago and is probably the only one in this side of Hanoi, stands out among other stores that sell and display oil pastel and water color artworks.
Very few people like Mr. Trung can gracefully bring life to artworks using leaves that have fallen to the ground. And he will continue to strive for his art as often as tree leaves fall to the ground.
(Trung Anh Gallery, home to leaf paintings from Vietnam, is located in 22 Ly Quoc Su Street, Hoan Kiem District, Hanoi. The gallery is a 10-minute walk from Hoan Kiem Lake.)