Latitudes Travel Award
Our slogan "Latitudes.nu: Your Gateway to Southeast Asia!" has been supported by many travel writers. Over the last two years they have sent us stories from all over the region. Now it's time to reward the best travel report. You can help us by picking your favourite one. Check Latitudes.nu during the month of April everyday. You may win a price too! Mail your choice to win@latitudes.nu
By: Isaac Olson
Coming across the words, "supervolcano" and "largest known explosive eruption anywhere on Earth in the last 25 million years" were enough to spark my interest in Lake Toba. Then again, I'm a little childish in my love of giant explosions.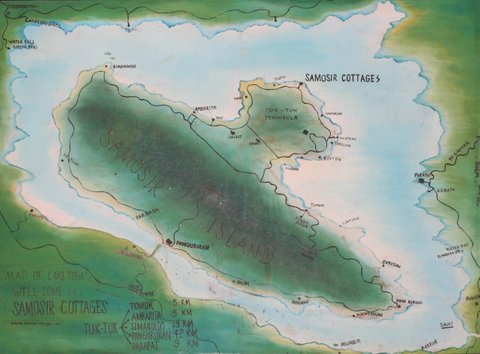 I came across the above  words on Wikipedia after trying to figure out what there was to see and do around Medan, Indonesia and northern Sumatra. In reality, Lake Toba's days of exploding and plunging humanity into doom are over. Today, it's a peaceful holiday destination for lovers of mountains, lakes, and tropical environments.
Most people, when first setting eyes on Lake Toba, will be surprised by its immense size. In fact it's 100 kilometers long and 30 kilometers wide! Samosir Island, in the lake's center, is the lake's highlight. This island is not only beautiful but one of the traditional lands of the Batak people who greet you by saying "Horas."
Things to Do at Lake Toba
No one should visit lake Toba without taking a swim. The water is warm for a mountain lake, and taking a dip surrounded by the mountain scenery is wonderful.
Renting and driving a motorbike around the island is another highlight. For those not comfortable doing this, car tours can be easily arranged. The coastal road is paved and most of it is safe to drive on, but people will pass you even on narrow parts.
There are a few stretches of road of particular scenic beauty. When the coastal road veers off towards Tuk Tuk, go straight on the slightly inland road instead of taking the road hugging the coast that passes through Tuk Tuk. This will take you along a front mountain range with a beautiful waterfall acting as a centerpiece. For another good view of the waterfall, go left away from Tuk Tuk after landing at the harbor. Another scenic ride is up the Valley of Sagals which can be reached by driving off Samosir Island at Pangururan . This ends at Tele where there is a tower with panoramic views of the lake and Samosir Island.
The hot springs off Samosir Island near Pangururan are a relaxing stop. Individual businesses have pumped water into their own pools. Prices vary, but the restaurant/hot springs at the very top,  allows customers to use the pools for free after buying food or a drink.
Traveling to Lake Toba and Back
The lake is mainly accessed from Medan, where international flights arrive. Main travel options from Medan:
Main travel options from Medan:
Transport
Rupiahs
Hours
Frequency
Where to catch
Comfort
* To go from Samosir Island to Medan. Quoted at a hotel in Tuk Tuk.
Public Bus
25,000
4.5-6
about every hour
Medan bus station, side of road in Parapat
usually non-air conditioned, minimal leg room, crowded with a lot of pushing on holidays, chain smokers common
Shared Van
about 65,000
4.5-5
when van is full, about every 30 minutes
travel agency in Medan or Parapat
should be air conditioned, minimal leg room in far back seat, should drop you off where you want, might not be seat belts
Public Taxi
about 450,000*
4.5-5
anytime
hotel, travel agency in Medan or Parapat
should be air conditioned, will drop you off where you want, might not be seat belts
On my partner and I's short visit, we took the public bus to the lake and a shared taxi van back. Most vehicles go to the lake shore town of Parapat, where you catch a ferry (7,000 rupiahs) to Samosir Island. Boats usually land at Tuk Tuk on the island where nearly all of the guest houses and resorts are located.
Where to Stay at Lake Toba
The peninsula jutting out from the island where Tuk Tuk is located has plenty of places to stay. We saw prices as low as 50,000 rupiahs and as high as 600,000 rupiahs. We were there on a holiday weekend, so prices will vary and bargaining is always an option. Samosir Island is a popular destination for people from Medan, and we had to walk for several kilometers before we found a place with rooms available.
We stayed at Samosir Cottages for 350,000 rupiahs a night. The rooms were nothing elaborate and in fact lacked hot water, but the resort's lakeside location and folk show were a lot of fun. We appreciated the diving board over the lake and the folk show's upbeat music. Overall though, we expected a better room for the price. It's also important to note that on Samosir Island air conditioning is unnecessary, only about two places in Tuk Tuk accept credit cards, and there is apparently only one ATM in Tuk Tuk.
Is Lake Toba Worth a Holiday?
Lake Toba is definitely worth a visit for two to three days. Just be sure to account for travel times to and from the lake. It's a relaxed destination that isn't completely overrun by Western tourists. Advertisements for "happy pizza" with marijuana or magic mushrooms abound, but the drink, party, and drug crowd doesn't seem to have overrun this place (read: it's not Ko Phangan or Vang Vieng). From my perspective, this is a relief, and it's a destination that I would truly love to return.