This Friday, CinemAsia presents 'Out & Proud in China?' during the Amsterdam Gay Pride festival – featuring the Chinese documentary "Our Story: 10-year 'guerilla warfare' of Beijing Queer Film Festival" followed by a discussion about LGBT life in Asia.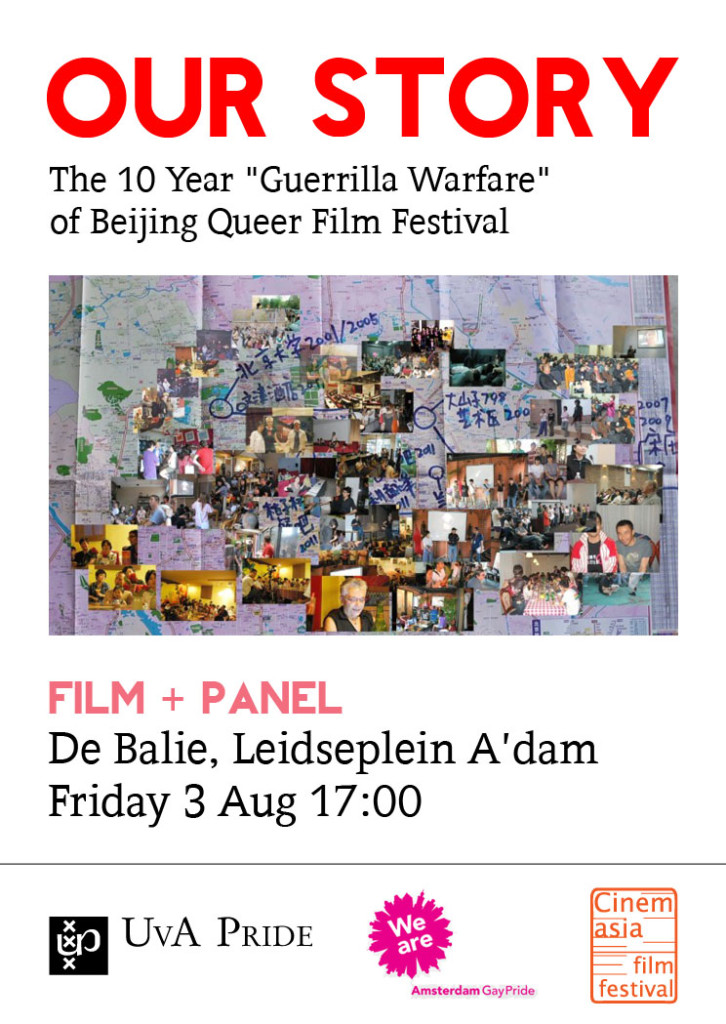 CinemAsia brings the diversity of Asian cinema to the attention of the Dutch audience and offers a media platform to discuss Asian topics on screen.
OUR STORY – 10-YEAR 'GUERILLA WARFARE' OF BEIJING QUEER FILM FESTIVAL (CHINA 2011)
Out & Proud in China? For ten years the Beijing Queer Film Festival has battled oppression and homophobia to fight for more visibility for gays and lesbian issues in China. The film documents this struggle and the 'guerrilla' tactics used by the festival's organisers. Yang Yang, director of the film, has been executive director of the festival for 10 years, providing an essential space for the queer and allied communities of Beijing. The film will be screened in Chinese with English subtitles.
DISCUSSION ABOUT LGBT LIFE IN ASIA
After the film there is a discussion about LGBT Life in Asia. Panel members such as Stijn DeKlerck (Programmer of Beijing Queer Film Festival), Saskia Wieringa (Professor Gender and Women's Same-Sex Relations Crossculturally at the University of Amsterdam) and others will take part in the discussion. Friday 3 August 2012 17:00 – 18:30 De Balie Amsterdam TICKETS are ON SALE at the Balie, go to www.debalie.nl For more information, go to www.cinemasia.nl.  This screening is hosted in collaboration with *UvA Pride* and *Amsterdam Gay Pride*