Bali survival guide is packed full of hot tips and good neighbourly advice to keep you safe on your next trip.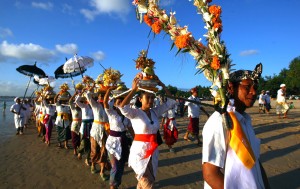 What Do We Know About Safety? Well, we've been working in the travel insurance industry for over 10 years so we're the most up-to-date travelling buddy that you could ever wish for. We take safety seriously, but we won't ever sound like your mother. We also like to have fun, because that's what travel is all about!
Bali, known as the "Island of the Gods", is a tourist mecca because of its top-notch beaches, gnarly surf and stacks of culture. But like anywhere in the world Bali also comes with its fair share of thrills and spills. From moped accidents to drink spiking, it's important to know the risks associated when travelling so you come home safe and sound.
The Best Of Bali
Before we go through all the things you might need to be careful of,
here's our top things that you NEED to do if you're visiting
See A Breathtaking Sunset

There are some amazing sunsets to see in Bali so make sure you head to a relaxing spot with your camera in hand. Some of the best spots include Jimbaran Bay, The Rock Bar & Tanah Lot.
Head Outdoors

White water rafting, scuba diving and kite surfing are just some of the adventure activities you can do. If you're more of a land lover you could try climbing Mount Batur at sunrise for a spectacular view.
Live Like A Local In The Rice Paddies

Whether you spend a week here or just a day trip the rice paddies of Bali will give you firsthand experience of how the locals really live.
Catch Some Waves

Bali is known as one of the world's number one surfing spots. There's waves for everyone from beginners to the pros.
Eat Like The Balinese

Don't miss out big time on one of the best parts of Bali culture! Make sure you try Sate, Nasi Ayam and Nasi Campur and Betutu.
Visit A Temple

There are thousands of temples in Bali. Must sees include Besakih (the mother temple), Ulun Danu Beratan and Uluwata.
https://www.1cover.com.au/bali-guide/