Art Stage Singapore is Asia's premier international art fair. It is a rendezvous point for the movers and shakers of the Asian Art market. Focused on quality through stringent selection, it provides an avenue for dynamic dialogue between collectors, artists, curators, galleries and art aficionados.  Art Stage embraces Singapore's unique position as a bridge between the East and the West in a celebration of both emerging new regional artists and international superstar names.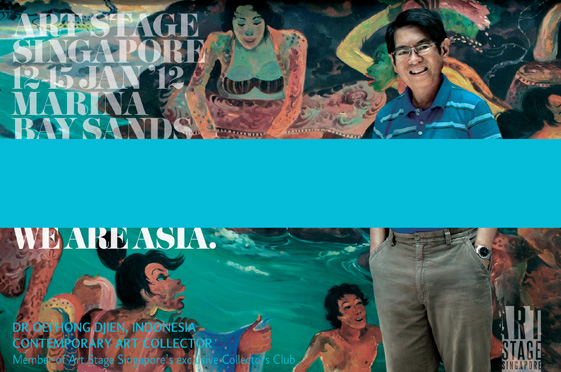 In 2012, Art Stage Singapore (ArtSS12) will be held on 12 to 15 January at the Marina Bay Sands Convention and Exhibition Centre. With over 100 galleries exhibiting, there will also be a lecture series featuring renowned art industry professionals, various fringe programmes, and art-centred activities over the four fair days.
In contrast to other art fairs in Asia, Art Stage Singapore is not a copy of a Western show, but Asia's necessary top event with its own strong (Asian) identity. Art Stage Singapore supports and defends the interests of Asian artists and galleries by elevating them to a level of international importance, by positioning them as strong and competitive players in the global market. Therefore the heart of the fair will be the best and most exciting of Asia's artistic creativity, the most important, most interesting and most stunning artists and galleries of the entire continent.
The Asian galleries are juxtaposed against carefully selected Western galleries which will complement and not conflict (White Cube, Victoria Miro, Lehmann Maupin, Perrotin, Eigen & Art, etc). They will add an additional value and will make a special effort. It makes absolutely no sense to blow up an art fair in Asia with countless occidental galleries presenting and offering what they were not able to sell in the West.
And in contrast to other art fairs in Asia, Art Stage Singapore is a show which puts the art in a context. The main criteria for the fair are not trends and easy saleability. Art Stage Singapore showcases the art in an Asia Pacific context, by presenting interesting and stunning artistic positions and galleries from all over the region and supporting the best Asia Pacific emerging galleries. And it showcases art in an artistic context, by supporting special projects and presentations.
More info on the website of Art Stage Singapore.