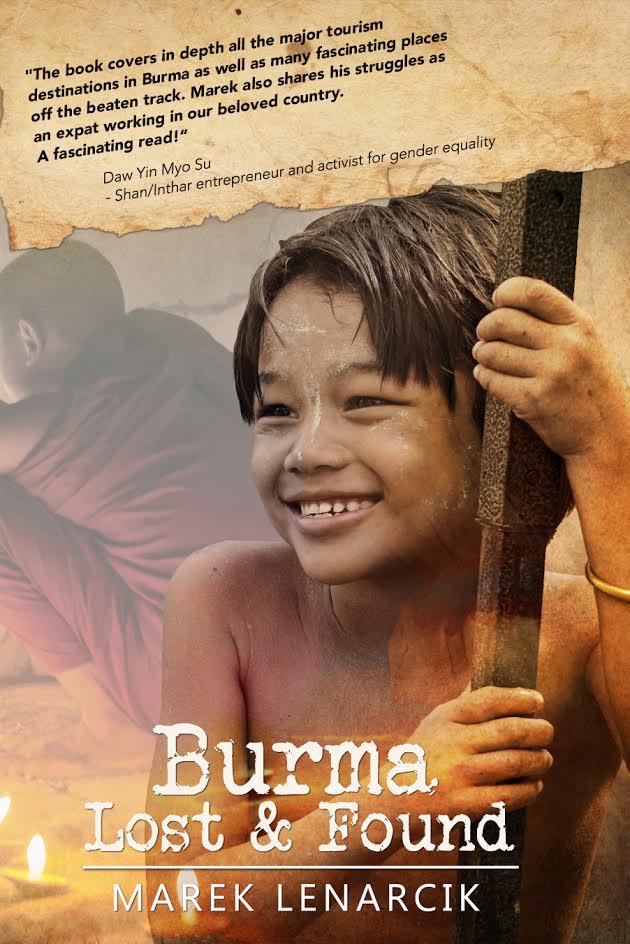 by Marek Lenarcik
Its political isolation ended, Myanmar yet remains a land of little-known cultures and peoples. Those with a curiosity to know more will find much to enjoy in Burma Lost & Found: Three years living my dream job in the travel industry in Rangoon and beyond, author Marek Lenarcik's new book describing diverse experiences, from the fishing villages of the Andaman Sea to inland hunter communities and holy mountain peaks.
Among the locals and expats he meets is Lily, a 16-year-old Kachin refugee who's been working as a bar girl since her father disappeared in the clutch of soldiers in the country's longest-running civil war. On the 500-mile train journey to Mandalay, he shares a sleeper car with Mogok, an elderly monk hauling a TV to a monastery who tells a prophetic fortune. On a remote Andaman island is Dorothy, an eccentric resort manager with a penchant for scaring visitors to the untamed jungle. These characters and many more people fill the pages of a unique journey.
Lenarcik traverses the country by trains, planes and automobiles to experience stunning landscapes, ruins of empires, exotic food and unique cultures in search of the best that the nation's budding tour and hospitality industry has to offer. He also encounters the workplace challenges of implementing change inside a country and culture where little has changed in over forty years.
Lenarcik had little idea what adventures awaited him when he landed in Yangon for a short-term work assignment in January 2011, just before political reforms ended a decades-old military regime. But a short time later, reeling from a broken heart and facing a dwindling savings account, he landed work as a travel product manager for one of the country's top travel companies.
Quickly Lenarcik realized that his new fortune was more than a dream job. As a professional traveler, he's in a unique position to witness the country's unprecedented rise in interest to the international business and travel community. Burma Lost & Found, one of the first travelogues on Burma to be published since the country's reform and opening, follows this change. Within a couple years, the number of cars, expatriates and construction cranes in Yangon rises exponentially, and so do the expectations for tourist arrivals.
As Lenarcik's experience of the rapidly modernizing country builds, he reaches insights that will inform and entertain the armchair traveler, the trip planner and the expatriate alike as few volumes can. Compared to the myriad volumes that document neighboring Southeast Asian countries, few contemporary books and still fewer travelogues have been published on this country that's piqued the world's curiosity.
About Marek Lenarcik
Two weeks holidaying in Thailand in 2007 changed Marek Lenarcik's life. Fed up with dreary Irish winters, he decided to leave his corporate job and, in 2009, bought a one-way ticket to Asia. Since that time he's worn a variety of hats. He's taught English in a Thai university, hosted outdoor adventures in Malaysia and organized expeditions around Southeast Asia and South America. In 2012, he moved to Yangon, Myanmar, where he currently works in the tourism industry.
Lenarcik holds an M. Phil  in International Peace Studies from Trinity College Dublin and a BA in Political Science from the Warsaw School of Social Sciences, Poland. He began writing at age 17 and has since published thousands of articles. His work has appeared in The Washington Times, Playboy, Paranormal Magazine UK and The Times, among others.
His first book Tajski epizod z dreszczykiem (Thai Episode with a Thrill) was published in Poland in June 2012 and quickly became a bestseller in its category. Its English version was published in February 2013 under the title This is Thailand: A Story of Love, Sex and Betrayal in the Tropics.
Read more about Lenarcik and follow http://www.lifeinthetropics.org.