by Steve McCurry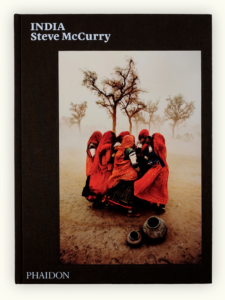 India explores the lives of everyday people in extraordinary settings through the lens of Steve McCurry, one of the most admired photographers working today. As featured on cnn.com.
This new portfolio of emotive and beautiful photographs from India features 150 previously unpublished images taken across the Indian subcontinent, along with iconic photographs that are famous worldwide.
Reproduced in a large format with captions, and an introductory essay, this book features a range of color pictures illustrating this most colorful of countries, capturing the lives of everyday people in extraordinary settings: from the Ganesh festival on Chowpatty beach in Mumbai to the Kolkata railway station before dawn to the flower markets of Kashmir and the streets of Old Delhi.
Following Phaidon's 2013 bestseller Untold: The Stories Behind the Photographs, McCurry's India is a new selection of the photographer's beautiful and powerful images of India, a country he has photographed many times over the last thirty years.
Other Phaidon titles by Steve McCurry, include Steve McCurry, The Iconic Photographs, Steve McCurry, Unguarded Moment and Steve McCurry: South Southeast.
About the Author
Steve McCurry (b.1950) has been one of the most iconic voices in contemporary photography for more than 30 years, with scores of magazine covers, over a dozen books, and countless exhibitions around the world to his name. A member of Magnum Photos, he has created stunning images in six continents and countless countries. His work spans conflicts, vanishing cultures, ancient traditions and contemporary culture alike – yet always retains the human element. McCurry has been recognized with the Robert Capa Gold Medal and National Press Photographers Award.