By: Simon Hare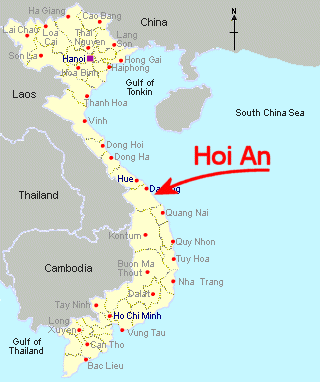 Hoi An is a sensory feast. Its ancient streets and alleyways are lined with ornate dark-wood shop-houses of mould-streaked ochre, pale cornflower blue, and the occasional rebellious splash of peppermint green. Brightly coloured silk lanterns gently dance in every shop and every house. Ornate Chinese meeting halls jostle for space with cool white European town houses, their elegant Dutch gables festooned with vibrant bougainvillea, shuttered windows framed in timid hibiscus and the jagged spikes of bird of paradise.
The heady perfume of luxuriant frangipani mingles in the warm river breeze with the swirling incense from myriad pagodas, and the faint aroma of cinnamon drifting from the pho pots of dozens of kitchens. The gentle rustling of the wind in the swaying palms and towering bamboo is only broken by the insistent chirping of lively songbirds, the occasional reedy blast of a moto horn and the constant shout of "YOU BUY SOMETHING!…HAPPY HOUR PRICE!…BUY ONE GET ONE FREE!" or, somewhat appropriately "BOGOF", as those familiar with retail promotions call this particular sales gimmick.
Hoi An In The Beginning…
Frequent engagement with pedlars and hawkers should come as no surprise to visitors to Hoi An, a town that owes its existence to trade, to buying and selling. First, as the commercial capital of the mighty Cham Kingdom, and later as one South East Asia's great trading ports. At its height between the 16th and 19th centuries merchants would flock to Hoi An from all over the world to attend fairs lasting months on end to trade in spices, silks and ceramics.
Hoi An's sudden decline as a port came late in the 19th century when the Nguyen King revoked its free trade status, the harbour began to silt up, and merchants were forced to moor their ships at the deeper harbour to the north at Da Nang. However, this abrupt change of fortunes meant usual commercial development came to a halt, preserving the town's unique architectural heritage, and in a final twist of fate this once unwelcome hiatus eventually led to UNESCO bestowing world heritage status on the town in 1999.
Hoi An Today
The streets and alleyways today are still lined with brightly decked out shops and stalls selling every kind of souvenir imaginable, and in a nod to its silken past, the town is said to boast more than 200 tailors who can turn around a made-to-measure dress, silk shirt or suit in less than 24 hours.
Chinese and Japanese settlers left their architectural legacy in the form of temples, meeting halls and wooden merchants' houses. The iconic early 17th century Japanese covered bridge and temple spans a narrow tributary of the Tho Bun River, separating the picturesque old Japanese and Chinese quarters of town. Built at the location of the heart of a mythical dragon, the bridge was supposed to pin the dragon down and calm the seismic activity it was allegedly responsible for in distant Japan.
The finest examples of meeting halls, temples and merchant houses, along with the Japanese bridge and temple can all be visited on an official ticket, purchased only at a designated ticket office. The ticket buys entry to 5 of the main attractions, and should you use up your entitlement you will need to return to the official ticket office and buy another ticket. No tickets on the door.
The ubiquitous bamboo-framed, silk-covered lanterns which adorn every street are one attraction that can be enjoyed free of charge day or night, and have given rise to Hoi An's often used nickname of Lantern Town. Once a month the town plays host to its own full moon festival where electric lights are dimmed and the streets are illuminated by nothing but thousands of colourful lanterns, adding a romantic mysticism and allegedly a dose of good luck to the old back streets. Clearly this monthly celebration is not to be confused with the rather more raucous full moon celebrations to be found on certain Thai islands.
Indian, Dutch, Portuguese and English settlers also left their mark, giving the town a cosmopolitan feel reminiscent of Old Goa or Fort Cochin. Allegedly many European traders stayed permanently, marrying local Vietnamese women, so impressed were they by their astuteness and business acumen. This gift for, or some might say obsession with, money making is still very much in evidence today, from cute children plying the streets at night selling gaudy plastic toys, to gnarled and weather worn betel-chewing old ladies squatting in the market demanding one dollar for the pleasure of photographing their conical hats and blackened, red-stained teeth. Am I too cynical in thinking that someone has told them all that a shot of an old betel-chewing Hoi An woman with stained teeth won The Guardian Newspaper's Travel photography competition in December 2011?
Filling your Days in Hoi An
One of the best ways to soak up the charms of Hoi An is simply to hang out in the narrow streets running parallel to the river. Walk, cycle or take a guided cyclo tour amidst the historical buildings, and even go into a few and admire the perfectly preserved interiors.
Stop at the stiflingly hot but irresistible daily riverside market and haggle over fresh produce, local art and trinkets of pearl, jade and marble. From the waterfront you can take a breezy boat trip along the river or cycle over one of the town's bridges to Cam Nam island. Go early for the best views of the old town in a warm dawn glow, and to watch the boats bringing in the morning catch.
If you fancy yourself as bit of a chef there are many cooking classes to choose from. You can learn your craft in restaurants, in hotel gardens, on boats, and even in local villages.
If you feel the need to venture further afield there are numerous tours to tempt you. The thousand-year-old Cham ruins at My Son are just 40km away. A 20 minute speed boat ride or one hour on a slow boat will take you to the undeveloped Cham islands for great snorkelling or hiking over the unspoilt hilly terrain.
Just 6km from the centre of town is Cua Dai, a long broad stretch of still unspoilt sandy beach. Ignore the over-enthusiastic guide book descriptions though – it is not dazzling white, just miles of good old fashioned clean, fine yellowy sand, surrounded by shady coconut groves. There's a good selection of beach bars and restaurants serving excellent fresh seafood, which can even be delivered to your sun lounger as you gaze across the South China Sea to the looming Cham islands floating on the horizon.
Filling your stomach in Hoi An
Hoi An is reputed to have some of the best food in Vietnam, and for a small town has a huge range of excellent establishments to choose from. Like most places the more you pay the bigger the quantity and the better the quality although even the cheapest of meals are still pretty good.
The waterfront Bach Dang is home to many traditional eating houses where you can sit and watch life on the river with a cold bottle of Saigon or the locally brewed Beer La Rue for as little as 15,000 Dong (75 cents). By necessity many of them are seasonal as they regularly disappear under water in the wet season. Café 96 (Number 96 Bach Dang) is a popular if ramshackle joint that proudly displays the upper limits of the 2007, 2009 and 2011 floodwaters high on its mildewy walls.
Quang Thang (No 90) is another busy eatery where you can pore over visitor books filled by happy customers extolling the virtues of the owner's village tours as you enjoy your 75,000 Dong ($3.50) five course set menu. Actually it's two courses, with four of the "courses" offered being served up in one hit on the same plate, but it's tasty fare and good value all the same.
Thanh Hien (No 113) serves memorable food and stands out from the budget options for having a waitress who is much more smiley-smiley and less shouty-shouty than some of the other formidable women running restaurants on this strip. They had a rather creative approach to customer accounts when we visited so be sure to get a written bill and check it thoroughly.
At the higher end of the scale recommendations are aplenty, including Streets, where a proportion of proceeds helps local street children, Faifoo (one of Hoi An's former names), and Miss Ly's Cafeteria. At Morning Glory we splashed out 250,000 Dong a head ($12.50) on a truly world class meal, including shrimp mousse on sugar cane skewers, fresh spring rolls with jumbo prawns, and tender spicy squid stuffed with minced pork. Reservations advised.
Wherever you choose, make sure you try some Hoi An specialities: "White Rose" or banh bao vac,  a rice flour "dumpling" stuffed with shrimp and pork, and Cau lao, a bowl of noodles with a star anise-infused broth, topped with crispy rice paper, fresh herbs and crunchy pork crackling.
Time to rehydrate…
For nourishment of the liquid kind most of the waterfront restaurants on Bach Dang will let you sit and nurse a bottle of Saigon beer on their terrace even if you don't eat. The Dive Bar is a popular meeting place in the old town, and is also where you can book your Cham Islands diving trip. Next door the Q Bar is rainbow-lit gay-friendly option, and on Le Loi, the main street running down to the river you can join a cosmopolitan crowd at Before & Now, and pay some of the highest prices in town for a beer, whilst listening to music so loud that the staff can't hear you complain about the prices.
For a little sophistication White Marble Wine Bar and Restaurant occupies a light and airy corner spot where you can eat, and drink from a huge selection of world wines – although the cheapest is upwards of 85,000 Dong a glass (about $4.50) – and practise saying No thank you in Vietnamese as you are assaulted by nocturnal child vendors and even more surprisingly by women trying to sell you snack-foods as you await your meal.
And so to bed…
There is so much choice that it's not so much which hotel you stay in that matters, but more where it is. Many hotels offer free, if a little infrequent, shuttles to and from the old town and the beach.
Between Da Nang and Hoi An the coast road and it's impressive sandy beach are home to reliable mega -brands such as The Hyatt Regency and the Crowne Plaza. The stand-out option here though is The Nam Hai, a villa-only slice of absolute luxury named best resort in the world in Travel & Leisure Magazine's annual design awards. Villas from £260/$410 a night include your own butler and some have their own pool.
Closer to town Cua Dai Beach has a cluster of shops and low key restaurants and a handful of beachfront hotels including The River Beach Resort, whose ground floor rooms open onto a grassy river bank with dreamy views of quiet coconut palm groves. Rooms from £40/$65 a night. The Hoi An branch of upmarket local chain Victoria Hotels and Resorts is located right on the beach and offers seafront bungalows as well as standard rooms from £72/$115 a night.
The Life Heritage Resort is on the river just a short stroll from the market and old town, and has appeared on Conde Nast's Gold list for three consecutive years. As well as its great location the resort offers some alternative activities such as Tai Chi, traditional painting and Vietnamese language classes. Rooms from £89/$140
Getting There
Da Nang Airport is 40km away with Vietnam Airlines offering regular flights from Ho Chi Minh City and Ha Noi as well as flights from five other Vietnamese cities. Direct flights are also available from Kuala Lumpur, Seoul, Kunming, Shanghai, Taipei, Pakse, Savanakhet, Siem Reap and Singapore.