By: Yvette Benningshof
'I'm the pioneer of Yunnan's local hip hop culture', says MC 'Nan' laughing about his own statement in the documentary 'Say Sing'. It's a funny, honest and hilarious docu about the journey of the progressive Chinese hiphop group 'West Hill'. Combining rap with traditional Chinese instruments and rhymes written in their local Kunming dialect with a healthy dose of self-mockery; 'I'm the king of pop!'
Straight after the screening of 'Say Sing' at the CinemAsia Filmfestival in Amsterdam West Hill performed their songs and in no time the audience was jumping, while no one understood what they were rapping about. 'The energy of those guys is just catching', says Kuang-Chong Yu, Taiwanese music producer and director of 'Say Sing'. 'When I started filming I also didn't understand what they were talking about. I just felt the atmosphere was important enough to keep filming. Afterwards when we translated the texts into Mandarin it proved that it was worth filming.'
The documentary won the CinemAsia 2012 Audience Award. It was obvious that the public felt immediate sympathy for the four young men after watching the documentary. In which, as a true band, they share tears, joy, get drunk and go crazy. The first performance of the band outside China at CinemAsia is still part of the ongoing documentary project, that will be finished in May this year.
'I started filming them in 2008', says Yu. 'I'm an amateur in filming, but when I heard their demo in 2007 I just knew, as a music producer, that these guys were special. Chinese record labels were not interested because of their controversial topics and their Kunming dialect. They would never pass the censorship.'
Trailer:
With their unlimited energy and enthusiasm these 'Fab Four' keep on believing in their dream 'West Hill'. 'We are like Lennon and McCartney', jokes mc and guitarist Ming. Frontman Nan, with his sense for drama, knows how to motivate the others to keep on going. They decide to produce their first album and are quite happy with the end result, but in China you have to be creative. They put the label 'explicit lyrics' on the cover and start selling their album in shops of friends and local music stores.
In 'Say Sing' we also see them perform at night in the middle of the street, which is a risky thing to do. Yu: 'I was filming while they were playing when a police car drove by. I couldn't film it but the policeman pulled down his window and said: 'Kunming dialect, good', and moved on. We were very lucky.'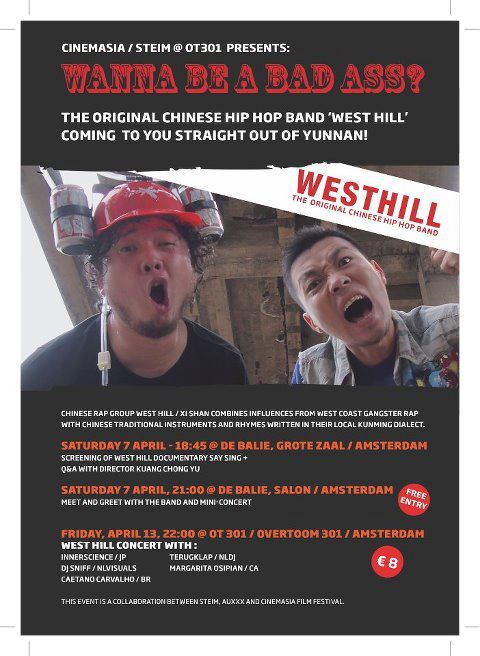 MC Cui-Nan and percussionist Stone, who 'maxed out' two credit cards for buying equipment, are music teachers as well. Maybe that's why their music is so diverse. One song is like 'Cypress Hill meets the Beasty Boys' and the next one sounds is a mid tempo ballad using Chinese instruments. Nan: 'The band's name West Hill refers to our Xishan district in Kunming, Yunnan. And Cypress Hill of course!'
Last chance in The Netherlands to see West Hill ('coming to you straight out of Yunnan') perform:
Friday April 13, 22.00,  @ Overtoom 301
Amsterdam.
More footage and songs of West Hill on Vimeo.