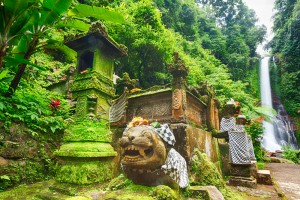 Bali has a wonderful selection of waterfalls, especially in the central-northern highlands, offering the opportunity for both gentle and challenging nature treks through jungle and mountain forests to hidden cascades where you will be rewarded with gorgeous scenery and a cooling dip. Here is an overview of just some of these secret treasures, all of which can be visited easy. All of these falls are in the island's less explored regions.
The best-known and most visited waterfall in Bali is Gitgit, comprising twin falls, which are easily accessible from the main Bedugul to Singaraja road. Getting there is a comfortable trek through a shady ravine with a wooden boardwalk over a small gorge and narrow streams. Upon reaching the base, you will be delighted by the spectacle of the 40-metre-high double cascades tumbling into a cool rocky pool guarded by a small shrine. If you wish, you can trek a little bit further to the nearby falls of Mekalongan, which are a continuation of Gitgit's watercourse. Gitgit flows all the year round, with clearer waters during the dry season.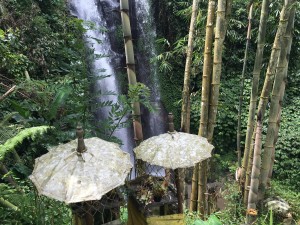 Also in the Buleleng Regency is Sekumpul Waterfall. This is one of Bali's most scenic natural attractions but one that requires a three-hour hike and a great deal of effort, with dirt tracks, crossings over streams, and about one hundred steps, making it suitable only for the fit and the adventurous. The waterfall is actually a cluster of six to seven narrow cascades that form the centerpiece of a lush green bamboo forested valley. These cascades are fed by two upland streams, and are the most accessible of a collection of falls within the area. Trekking past durian, rambutan and coffee plantations, you will reach a viewing point offering a glorious vista of the 80-metre-high falls from a distance. Alternatively, you can follow a different trail down yet more steps to a rock pool at the base of the falls.
Close to Lake Tamblingan, set between orange groves, coffee plantations, blue hydrangea fields and hedges of pink bougainvillea, is the pretty village of Munduk and two more of Bali's enticing waterfalls. From the road, a short, 300-metre track lined with sweet scented clove trees leads to the 15-metre-high Munduk Waterfall. This is an alluring place where you can bathe in a rocky pool and absorb the invigorating vitality of the rushing water. Melanting Waterfall, a short trek to the north, has similar features, complete with a bridge that traverses the fall's peak.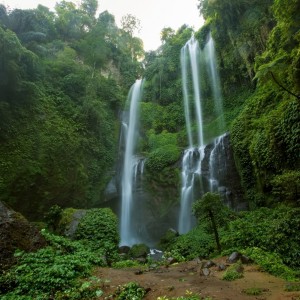 In the same area, north of Lake Tamblingan, within the verdant valleys of Wanagiri village, are the secret twin waterfalls of Banyumala, also referred to by the locals as Air Terjun Tirta Kuning or 'Yellow Waterfalls'. Getting there is quite a trek, with a scramble at the end, but pathways have been constructed to make it easier and safer, with carved steps, bamboo railings and ladders.  Banyumala is a pair of mellow waterfalls with steady streams running down the rock face and trickling to the sides. At the base is a very clear and shallow soaking pool. The area is abundant in bird life and you may spot babblers, woodpeckers, ground thrushes and malkohas, if not you will most certainly hear them.
From the village of Les, near Tejakula, on the main North Bali coast road, you can take a pleasant one-kilometer walk up the river course through plantations of papaya, pineapple and jackfruit, to the mighty Yeh Mempeh waterfall. The name means 'flying water' in Balinese, and you'll understand why when you see the jet of pure white energy gushing down into a crystal clear pool, with the adjacent rock faces carpeted in foliage and wild orchids. Here, you can stand in the surge of the waterfall and enjoy the sensation of a natural massage amid the soothing sights and sounds of nature.
Getting to Nungnung Waterfall near Plaga Village incorporates a lovely drive through expanses of rice fields and flourishing plantations. Reaching the falls requires a descent down hundreds of steep steps, with several sheltered lookouts along the way where you can stop to catch your breath. After crossing a small bridge, the towering 50-metre-high falls greet you with a torrent of water against a dense green valley.
Finally, near the picturesque farming village of Pupuan in Bali's Tabanan Regency, Blahmantung Waterfall is truly magnificent, especially in rainy season. With a spectacular drop of over 100 metres, this is Bali's highest and most impressive waterfall. The 800-metre walk from the car park is challenging in places with some slippery rocks but the prize at the end is a captivating pool against a backdrop of trailing vines.
Guided treks to these waterfalls can be arranged through the 'In the Know' program at InterContinental Bali Resort ; please come to the Resort Concierge desk or dial +62 361 701 888.