Cricket Grounds To Visit In Asia & Australia
Sports can offer tremendous incentive for tourism. That's not to say there aren't plenty of other good reasons to get out and see the world. But if you happen to already be a sports fan, you can motivate yourself to travel by making a list of venues to visit or events you've always wanted to see, and using it to plan your next trip.
We've done it for you here, if you happen to be a cricket fan! Not many things can top the atmosphere at a great cricket stadium, and many are worth the trip before you even begin to consider attractions in the surrounding areas. Here's our look at 10 of the best cricket grounds to visit in Asia and Australia (in no particular order).
Basin Reserve – Wellington, New Zealand
Australia's venues tend to get more attention, and we'll get to a few of them later on, but this is a picturesque cricket stadium built in 1868 against the backdrop of Mount Victoria. Wellington's club and the New Zealand national team both play there, and it's a comfortable place to watch a match. The hillside seating is even a nice alternative to regular seats.
Feroz Shah Kotla – Delhi, India
Multiple Delhi clubs call this unique stadium home, and the Indian team also plays there. Sometimes referred to as "The Kotla," it's marked by higher and more vertical seating in the main area than one tends to see at a cricket venue. It's also a particularly friendly home stadium for the Indian national team. The team has had several noteworthy wins at the Kotla, as well as a Test match win streak that exceeded 25 years.
M.A. Chidambaram Stadium – Chennai, India
Built in 1916, this is actually somewhat new compared to some of the other major Indian cricket grounds, but it's still a wonderful place to watch a match. It's primarily the home ground for the Chennai Super Kings, and an enthusiastic home crowd tends to dress in all yellow to create a festive and communal atmosphere.
Dubai International Cricket Stadium – Dubai, UAE
A lot of the world's best cricket stadiums are old, and show their age proudly. But like most everything else built in Dubai, this stadium is state-of-the-art. It's an imposing and awesome place, and is home to the Pakistani national team. It was opened in 2009, but Pakistani national team has already hosted T20 events and should continue to be a sought after destination for international cricket in the years ahead.
Galle International Stadium – Galle, Sri Lanka
This stadium was nearly destroyed by a tsunami in 2004, but it's bounced back and is still in use today. It's the home ground for Galle Cricket Club, and because of its attractive construction and close proximity to the Indian Ocean, it's seen as one of the most gorgeous cricket stadiums (if not sports venues) in the world.
SCG – Sydney, Australia
A home ground for both New South Wales and the Australian national team, SCG is a beautiful and historic stadium that is home to great matches and a distinctive green façade over some of the stands. It may be one of the most complete packages among the stadiums on this list with the added benefit that it's in Sydney.
Wankhede Stadium – Mumbai, India
More than maybe any other stadium on this list, Wankhede resembles some of the older baseball parks that you might find in the United States. It's home to the Mumbai team and also occasionally hosts India. It's also a comfortable place to watch a match even if it lacks some of the history of its fellow national stadiums.
WACA – Perth, Australia
WACA stands for Western Australian Cricket Association, and the ground hosts the Western Australia team, the Perth Scorchers club team, and sometimes the Australian national team. It's a little more intimate than most of these stadiums, with a capacity just under 25,000, and that makes it particularly enjoyable for a big match (or a weekend evening).
Adelaide Oval – Adelaide, Australia
South Australia, the Adelaide Strikers, and the Australian national team all play here, at what may be the most amazing state of the art ground on this list outside of Dubai. It may surprise you to learn that it was built in 1873. Some of the seating feels old, but the construction of the stadium is flawless and the field is kept in perfect condition. It's as a nice a place as there is in the world to watch a match.
Eden Gardens – Kolkata, India
For authentic cricket atmosphere and enthusiasm, this place is as good as it gets. It's one of the main stadiums for the Indian team, but also hosts Bengal and the Kolkata Knight Riders. But no matter who's playing the atmosphere can get loud and crazy. It's the oldest and biggest stadium in India, which is saying something in the country that arguably loves cricket more than any other. Over the years it's also been home to countless memorable events and matches.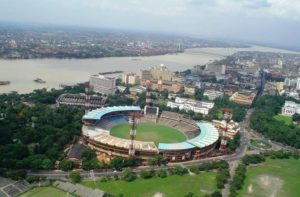 More on traveling to India?
More info