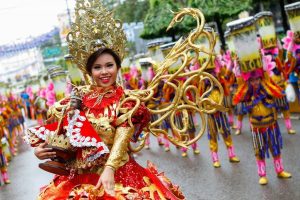 The holidays are fast approaching, and you know what comes after that – the Sinulog Festival. You've seen it all on TV. You've probably heard people talking about it a couple of times before. You know all about the grand parade that happens every third Sunday of January, together with the revelers' don Sinulog hats, face paint, and colorful Sinulog shirts that make the Sinulog Festival what it is.
A few months from now, the streets are once again going to be full of festive decors and colorful banners. People will again hear the famous drum beat which is a symbol of the good times that are about to come.
The Sinulog Festival is popular for its raves and parties, but its main purpose is to celebrate the Santo Niño. Here in the Philippines, anything that has something to do with religious activities is a great excuse to leave town.
But before you begin packing your bags, you better equip yourself not only with the essentials but also with the necessary knowledge that will help you survive the whole event.
What Is The Sinulog Festival?
Considered to be the biggest event in the Philippines, the Sinulog Festival is held every January as a Thanksgiving event for the Santo Niño.
Sinulog is so popular that it attracts about 1 to 2 million Filipinos every year. There are so many popular events in the country, but finding one that people will actually go out of their way and travel to a faraway location for the sake of being part of a festival is one of a kind.
On the other hand, the thrill of people regarding the Sinulog Festival isn't surprising because setting aside the religious component of the festival. There are also street rave parties that people from all around the country are crazy about.
The original Sinulog Festival takes place in the city of Cebu, but other places have their own versions, too. Examples of other places that have other versions of the Sinulog Festival are Cagayan de Oro City, Maasin City, Kabankalan City, Butuan City, Balingasag Misamis Oriental, and Southern Leyte.
The most popular event in the entire Sinulog is the Grand Parade featuring candidates from the city of Cebu, as well as from across the country, which usually takes 9–12 hours.
You might have also heard of the Sinulog's dance contest, which is done at the Grand Parade of the Sinulog Festival. You'll see the dancers wearing costumes, gracefully dancing to the rhythms of the native gong, drums, and trumpets.
read more
read more