By: Rani Yunus
"Raden Saleh and The Beginning of Modern Indonesia Painting" is the first-ever monographic show of the maestro's works in his homeland Indonesia. It is also the first effort to make the paintings of this "Father of Javanese Modernity" accessible to a broad audience. The exhibition will open a new window on his life and his importance for Indonesian art. Dr. Werner Kraus, a German art historian, expert on Southeast Asian art and Raden Saleh-biographer, is the curator of the exhibition.
Exhibition of Raden Saleh's work at the Galeri Nasional Indonesia
Raden Saleh is rightly associated with the beginning of a new visual approach to Indonesian art. As the first Indonesian painter to study in Europe (he spent more than 25 years in the Netherlands, Germany, France, and Italy) he brought a new understanding of visual arts back to his home country, though his work remained deeply rooted in Javanese culture. The exhibition aims to show that Raden Saleh started a new form that was both entrenched in a European as well as Javanese tradition. Raden Saleh's overall contribution to the modernization of Javanese culture and thinking has hardly been explored and shall gain new momentum with this first exhibition of his life and work.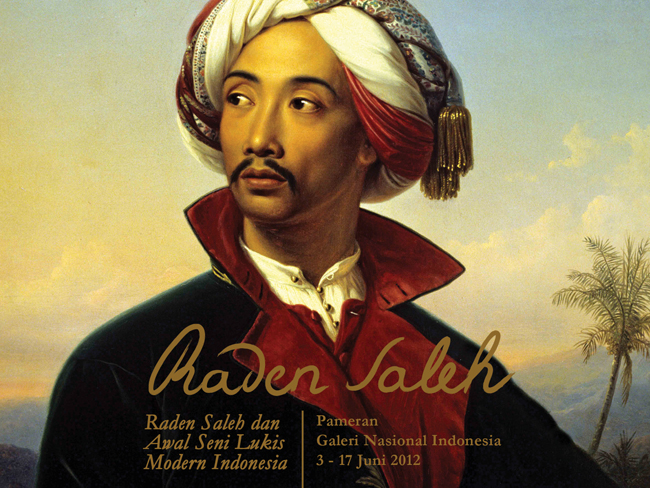 The show brings together over 40 oil paintings and numerous drawings by Raden Saleh, complimented by a multimedia show on the artist's life and work that will provide the audience with special access to his experiences in Europe and Germany. At the same time, it will integrate reproductions of works – particularly paintings from European collections – that cannot be brought to Indonesia.
Raden Saleh & the Dawn of Modern Instruction in Drawing
Nineteenth century Java had a poorly developed system of school education for native children. Only very few schools provided instruction in subjects such as drawing. One pioneer in this field, was Karel Frederik Holle (1829 – 1896). He proposed that tekenvoorbeelden – drawing templates to help teach drawing – should be developed and printed. He thought immediately of Raden Saleh who was already a famous painter and illustrator at that time.
Raden Saleh designed 46 templates for drawing lessons at regency schools, which were lithographed series. Today, only 26 sheets remain at the Varia collection of the National Library in Jakarta.
The teaching material was of very high quality. There was no comparable initiative in any other country in Southeast Asia (with the exception of the Catholic Philippines).
One of the most famous paintings by Raden Saleh is the 'Capture of Prince Diponegoro', which depicted a famous betrayal by the colonial government to the famous Javanese prince. It was kept in the Dutch royal Palace and returned to Indonesia in 1978, given a new home in the President's Palace Museum in Jakarta.
Raden Saleh is said to have taken a stance against colonialism by depicting the Dutch as arrogant and pompous, yet imbalanced. The Javanese, on the other hand, were depicted as somehow more balanced in composition.
Related Events
Workshops: The Art To Present Art For Conservators And Exhibition Organizers
(Invitation Only)
2nd June 2012, 19.00 hrs.
Vernissage
(Invitation Only)
3rd June – 17th June 2012, 10.30 hrs.
First day of the exhibition, opening for public
International Symposium: "Hybridity and Modernity"
The aim of the symposium is to take a second look at the process of modernization in Javanese society, science, and especially the arts in the second half of the 19th century.
The focus of the discussion will be on the emergence of a new aesthetics and new visuality in Javanese and (as a comparative exercise) other Southeast Asian cultures.
9th June 2012, 18.30 hrs.
Fashion Show "Raden Saleh – Pelopor Seni Lukis dan Fashion Indonesia
16th June 2012, 15.00 hrs.
Talk Raden Saleh, The Forgotten Artist Organized by National Geographic Indonesia
Budi N.D Dharmawan and Dr. Werner Kraus will discuss the present standing of Raden Saleh in Indonesian art.
INFORMATION
Location
Galeri Nasional Indonesia
Jl. Medan Merdeka Timur 14
Jakarta 10110, Indonesia
Dates
3rd – 17th June 2012
Opening Hours
Monday – Sunday
9 AM – 6 PM
FREE ADMISSION
Contact
Web: radensaleh.jerin.or.id
Email: radensaleh@jerin.or.id
Twitter: @jer­­_in
Facebook: jermandanindonesia
Youtube: jermandanindonesia
Flickr: jerman-indonesia