By: Gerard Mosterd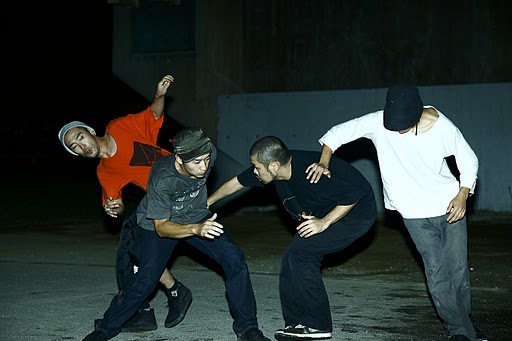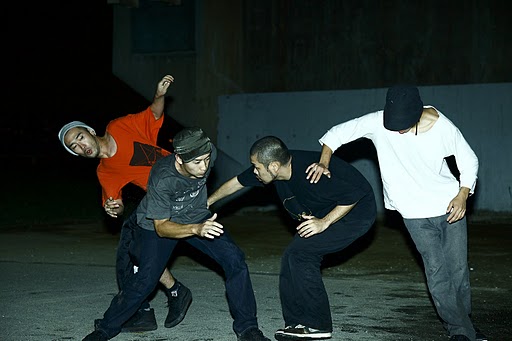 The show in the Blauwe Zaal begins casually. When approximately fifty visitors have taken their seats the performers lay out a series of T-shirts on the stage and ask the audience to choose which shirts they should wear that night. Yuya Tsukahara gonzo dancer explains through a microphone that this selection will determine the performance. A red shirt generates a different inspiration than a blue one. Someone from the audience shouts "I want the I love Utrecht T-shirt!" The audience laughs. "We used that same T-shirt yesterday" Yuya answers spontaneously. Once again more laughter. After the public has chosen the T-shirts and they have been put on then the dancers begin to warm up on stage.
The movements of Contact Gonzo remain the same for long periods and can be described in a few sentences. Pure contact improvisation as practiced throughout the world are combined with elements of the martial arts, hard knocks, kicks and punches which hurt not only themselves but the sensitive public also experiences pain and lasting chills. The code is that one does not get hit below the belt nor kicked or knocked in the face. Sometimes the bodies jump against each other in an explosion like wild salmon. Then once again struggling bodies lie entwined on the floor while someone else in victory aggressively jumps, kicks, pushes, or climbs the cluster.
Brutal blows

The big attention grabber in the performance or perhaps better stated: improvisation session is spectacular and unconventional percussion of a young Japanese musician, Sayaka Himeno from the all-female Indie Rock band Nisennenmondai. She comes onto the stage 15 minutes after the start of the stage show and takes a seat on a stool with her back to the audience. Shortly thereafter, a drum kit is set up for her. An overwhelming tsunami of rhythmic artillery discharges relentlessly, and during this violence the Contact Gonzo dancers entangle themselves in the waves, under and on top of each other. The brutal blows to the drums and "hi hat" sometimes drown out the painful hits the bodies endure among themselves. The violent thumps which have to be endured artillery have a shocking effect.
There is a certain synchronicity between the hypnotic percussion and the attacks of movement. This unpretentious show can easily turn out badly for the performers. From a hernia to fractures and worse. Just as in a boxing match there remains the unpredictability of a catastrophic blow. Although a real dramatic arch is absent, the extremely heavy music in combination with the fighting bodies remains entertaining. Normally people keep a natural distance from each other but these Japanese street warriors constantly provoke each other with their distance, which penetrate and take hold. The entanglement is momentarily unravelled then it is abandoned in a moment of relaxation and reflection only to be renewed in an attack from a different direction. During the performance the performers take at unexpected moments photos of each other with a disposable camera and sometimes drink water from plastic bottles.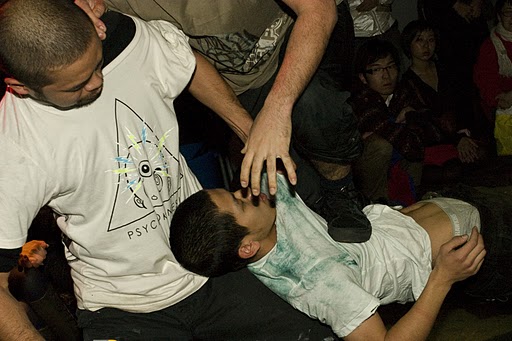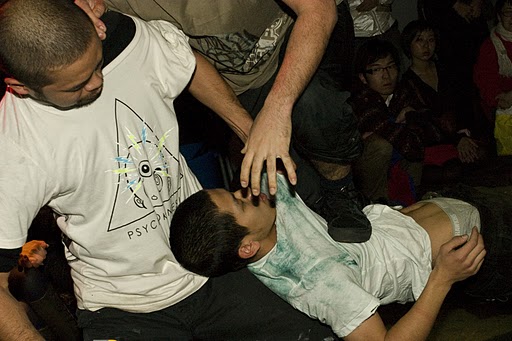 Obviously the show is reminiscent of the MTV reality television program Jackass in which a group of friends in a classic gonzo formula imaginatively seek out extreme sensations and the boundaries of pain. It leads one to presume a rebellious urge to wake up a bored, lethargic and zapping audience. A leisurely, prosperous consumer society as in the 90s, probably results in a numbed daze and triggers initiatives from young people with courage who are hunting for "real-feelings". They may try using home cameras (and / or disposable cameras) in an intimate, reflective manner to allow the public to share in their quest for realism and raw emotions.
Contact Gonzo is a Japanese initiative created around a trend imported from the U.S. Gonzo itself is a typical American underground phenomenon. It fits in the fleeting world of fast food and disposable culture. The collage-like format sets up the filmmaker, photographer or journalist more central than his subjects and aggressively seeks out physical and emotional limits. The late Hunter S. Thompson was the inventor of gonzo journalism, a highly subjective, raw and cartoon-like kind of reporting in which truth and fiction rapidly alternate. His famous novella and cartoon Fear and Loathing in Las Vegas: A Savage Journey to the Heart of the American Dream and Other American Stories was published in 1971 after appearing as a serial in Rolling Stone magazine. Filmed in 1998, the film was a financial flop, but gained a cult status. The gonzo method became an influential turn of the century genre. Not the slick advertising images from Photoshop but real, raw, unedited and spontaneous images are promoted by gonzo in which the author is regularly seen. They are in the meantime the sort of images with which worldwide we are familiar with through the use of smartphones.
Gonzo pornography

Illegality, violence and sex were from the beginning the exhaust valves of the gonzo phenomenon. One of the earliest forms of gonzo resulted in so-called gonzo pornography. This form of explicit graphic eroticism is so immediate, raw, non-edited and spontaneously presented that the viewer can at once identify with it and the distance between audience and performance dissolves. The home-made video film of the passionate copulation of a famous rock star and a celebrity Baywatch actress which was watched worldwide on You Tube is perhaps the most well-known example (in its mildest form) of Gonzo pornography.
Gonzo has initially emerged as an interesting phenomenon and perhaps reveals a deep desire for tangible authenticity, personality and vulnerability, desires typical for this time of plastic makeovers, superficial aesthetics, and anonymity.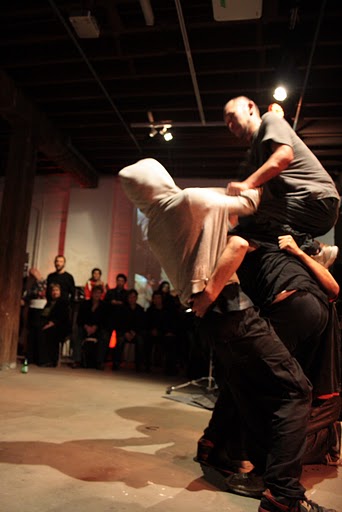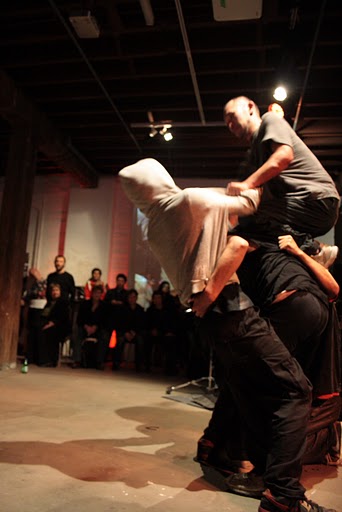 Dance: Keiko Mika Jiri Itaru Kato, Yu Kanai, Yuya Tsukahara
Drummer: Sayaka Himeno
Production: Contact Gonzo
Seen on 21 April 2011, Stadsschouwburg Utrecht, Netherlands

Interview
Gerard Mosterd in conversation with Contact Gonzo dancer and founder Yuya Tsukahara.
How did you like the Springdance experience and where are your next shows?
We were, in total, about one week in the Netherlands and these were our first performances at a dance festival in Europe. I do not know what the public thinks of our work but the reactions seem not so different from the other parts of the world where we have played. One of the things we wanted to do was for the audience to choose at the beginning of the session T-shirts. We had never done this before. We were somewhat concerned that we would appear too much like hard-core conceptualists. We wanted to show the public that we are normal guys from Japan. The public may think we were trained Asian monks. We want to show ordinary, untrained people who give themselves over to nonverbal communication. Next summer we will go on tour through various cities and parts of Europe. Berlin, Zurich, Groningen, Slovenia and Belgrade.
Do you train daily and what techniques do you use?
We don't do any physical training techniques. We meet at a park and play; we climb a local mountain and deviate from the path, rush along the wild hills and get lost. Or we build a new office. We cook together. Everyday life is our rehearsal.
All members of Contact Gonzo are from the Kansai region (around Osaka). The contemporary dance circuit in the Kansai region has become a closed, elitist high arts scene. It began as an open platform, but without any academic and modern dance background I would never have gotten access there although I aspired to it.
With the gonzo idea we wanted without specific training and background make a physical experience that connects performer and audience. Our inspiration was originally Systema, Russian martial arts which we had discovered and studied on YouTube. Eventually we manufactured unsystematically a version completely our own.
We work a lot in the park. Western martial arts are mostly concentrated on yes or no, win or lose. Systema had more gentle ideas such as dancing and evasive movement phrases. It was not about destroying the opponent. Manipulating the weight of the opponent by pressing and pushing was one of the specific properties that we took over. This martial art has affinities with aikido and judo. The emphasis is not on one's own strength but that of the opponent.
We try not to attack but wonder what would be fun. We tend towards more of a sort of conversation, a question and answer game. It should be fun. We use different codes, sometimes we follow these codes, but we always improvise during each session and the code can be ignored completely unexpectedly. We determine this neither verbally nor in writing. We have learned how to fall safely. The first few years we got serious injuries. I had my ribs broken, and could not walk for a while and I once seriously damaged the knee of Kakiu, co-founder and trained modern dancer who no longer is part of the group. During a session one of our performers lost a front tooth. Now we get fewer injuries. The head is most vulnerable and that is mostly spared. When you relax your upper body you can more easily manoeuvre from position to position. Playfulness is very important because fear disappears and creativity takes over. During the sessions in the park we hurt each other.
How did you come in contact with Gonzo?
My uncle influenced me very much with his taste in music and art; he got me interested in particular in the innovations of the 1960's. Such as the Beat Generation. In my 19th year I was a fan of Soft Machine, the name of this progressive band was the title of one of William S. Burroughs novels. I read The Naked Lunch. Then I began to read Hunter Thompson's work and then I saw Terry Gilliam's award-winning film. Gonzo is also making collages of photos or Polaroids. I admired Terry Richardson's provocative "trashy" pictures. So cheap and fast. The attitude of "care but do not care". I translated texts by American Gonzo artists (e.g. Dashed Snow) into Japanese.
What Gonzo form inspired you the most and which elements of it?
When pornography loses its story. Pornography is controversial, taboo-breaking physical art. In Japanese porn actors and actresses play a lot of stories, nurses, doctors, flight attendants. There is a new wave of Japanese pornography, which according to the principle of Gonzo, has no story and thereby is simultaneously more realistic and fantastic. In Japanese society and history pornography has a different position than in the West. It is underground yet available everywhere, present everywhere and often extremer in nature. I like the rough camera work and if you sense someone behind the camera. Linguistic concepts, ideals, structures are destroyed. Mistakes are suddenly not errors anymore.
Do you think your work has associations with urban street dance culture?
We have quite a lot of influence, but then again not really so much. Street culture is more commercialized than it used to be. We try to have fun and to play instead of concentrating on money. What we do is more reminiscent of hand-made street art.
About the interviewer:
Gerard Mosterd is a theatre producer, cultural entrepreneur, choreographer, teacher and writer. He danced as a soloist with the English National Ballet and with several international ballet companies. After his dancing career he focused as a choreographer on producing contemporary dance performances based on Eurasian themes, staged annually at Dutch theatres and theatres in South-East Asia. With his agency Kantor Pos Gerard Mosterd brings cutting edge dance productions from Asia to Europe and vice versa. In August an Indonesian version of Stravinsky's L´Histoire du Soldat, choreographed by Gerard Mosterd will tour the island of Java with a live orchestra and star dancers Miroto, Eko Supriyanto and Sri Qadariatin. In the first week of October there will be a tour at Dutch theatres. For more information see: www.kantorpos.nl or www.gerardmosterd.com.
This article has been edited by Paul Goodman. The shortened version can be read in Dutch at www.danspubliek.nl