By: Emma Kwee
Ariel, iconic front man of Indonesian hit band Peterpan crumbled under the weight of Indonesia's media army these last few months. Peterpan collected over 20 awards and recorded 6 hit albums, of which Bintang di Surga (A star in heaven) scored a whopping 21x platinum status. Their number one hit Ada apa denganmu (What is it with you) echoed through the archipelago for months. Ariel's voice and looks landed him the Indonesian dream (pretty similar to the American dream, with the added bonus of a supermodel girlfriend).
Overnight Ariel's music career ended up in the gutter when in June 2010 his precious sex tapes made their appearance on Facebook, after his laptop was stolen (the latter a criminal offense not considered of any interest by the media). The videos were taken off the popular social network but not before dozens of copies started to emerge in several forum's, video sharing websites and porn sites in Indonesia.
A media frenzy erupted that unequivocally put Ariel's head and other body parts on the chopping block. Various helpful sources were called upon to enlighten the Indonesian public on Ariel's sanity, the moral decay in Indonesia, the added benefits of censorship and other issues deemed relevant. The talk shows worked overtime and dished up celebrity friends, showbiz acquaintances, family members, psychologists, ulama's and 'professors' on this or that, to get to the bottom of this.
Monsterhit in 2005 Ada apa denganmu by Peterpan
What had happened?
Ariel apparently has the nasty habit of videotaping his amorous endeavors with model/actress/singer/girlfriend Luna Maya. Unfortunately he didn't stop there, since he also videotaped his bedside manners with remarried ex-girlfriend Cut Tari, (coincidentally a famous gossip show presenter).
Two-timing Ariel could've never anticipated what happened next. Under the controversial 2008 pornography laws Ariel faced a jail term of up to 12 years as it is illegal for sexually explicit material to be filmed or photos taken in Indonesia. Deputy Head of Police Headquarters 'Public Relations Division, Zainuri Lubis explained:
"The actors in the videos can be charged based on penal clauses in three different laws: in Law No. 11 / 2008 on Pornography carrying a penalty of 12 years in jail, Article 27 paragraph 1 of the Law on Information and Electronic Transactions requiring a penalty of up to six years in jail and a fine of 1 billion Rupiah (about 110.000 US Dollars), and Article 282 on immorality in the Criminal Code.'
Zainuri added the actors in the sex videos could be held responsible based on those articles because they were aware their immoral acts were being recorded and because of their negligence in keeping the videos from the public.
"It is quite possible, the videos have circulated widely among the public because of their negligence," the National Police spokesman said. He said that adults should not have committed the acts because they were clearly of immoral nature.
Ariel meanwhile stubbornly denies all allegations (even if evidence to the contrary is quite overwhelming) and keeps on playing the 'it wasn't me' card. It hasn't helped him to obtain a 'Get out of jail free' card though, as he is currently housed in the cell next to alleged terrorist Abu Bakar Bashir, though they reportedly do not know anything about each other.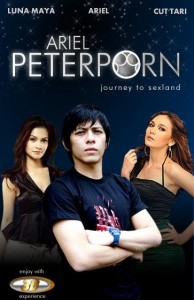 Ariel, Luna Maya (the face of Lux cosmetics) and Cut Tari have already lost contracts with TV stations and ad campaigns, not to mention the repercussions on their private lives (Cut Tari is married with children). The launch of Peterpan's new album has also been postponed.
All kidding aside, their careers and to a great extent their integrity, were severely damaged. And why again? Someone had sex and videotaped it, a lethal combination in Indonesia. Ariel is the first celebrity victim of the hugely hypocritical pornography laws, who will be next?