By: Dina Indrasafitri
The recent flood that besieged Indonesia's capital, Jakarta, last month raised alarm even beyond the country's borders. The disaster paralyzed the growing city-inundating major thoroughfares and even the presidential palace- and caused the death of dozens. The city's governor Joko Widodo announced a 10-day emergency period To a certain extent, it was foreseeable. Jakarta's glitzy malls and high rises fail to hide a multitude of problems such as pollution, socio-economic discrepancy, and poor waste management. And those who have had their share of the city's notorious traffic congestion would likely agree that something – at least infrastructure wise-is not right. It's easy to point fingers, but some Jakartans have decided to take it one step further and begin grassroots movements to improve living conditions in the city. In this series of Jakarta change makers, I talked to several of these groups about their dreams for Jakarta and the ways with which they try to make them come true.
Bike to  Work: fight for your rights to pedal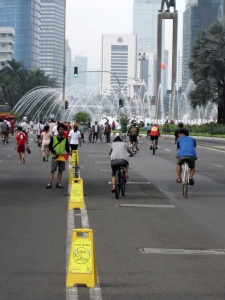 You would have to be a bit of a daredevil to partake in Jakarta's traffic scene. When the streets are less packed, road users-a hodgepodge of motorcycles, rickety buses, and cars -tend to engage in a frenzy of maneuvers, ignoring basic traffic signs such as pedestrian crossings.
When they are congested-and this happens on a daily basis – motorbikes often claim the little space that is supposed to be the footpath, thus endangering the pedestrian. The bike paths face even direr conditions. In South Jakarta's Blok M area, one bit of the little amount of bike lanes Jakarta has is usually claimed by motorists, either as part of their lanes or as parking spots.
So if it takes guts to drive or even battle motorbikes for the rights to the footpaths in the city, it must take extra guts to cycle in it. And, surprisingly, these last few years have seen more and more people having these extra guts.
Jakarta's cyclers are determined cruise the streets their own way, and while some only do it on car-free days or weekends, others are even more persistent in their effort to use bicycles as their daily tools of transport. This movement became more evident when a group of cyclers in Indonesia established the Bike2Work (b2w)Indonesia group in 2005. Having been engaged with mountain biking sessions in Tangerang's "jalur pipa gas" track for several years, the cyclers decided to take up a new challenge of regularly biking in the city.
B2w
Seklie Patyuniestri, b2w Indonesia's communications officer, said she first had her Jakarta cycling adventures solo before joining the group in 2009. Luckily, she also found a cycling partner to help her make her way through the traffic everyday.
"This city has a lot of problems, including traffic congestion, and, as most of my friends from b2w think, we ourselves are the traffic…we do not want to be part of Jakarta's problems and we want the change to come from ourselves," she said when asked the reason why she and some others other people have chosen to take up the challenge amid the gruesome traffic situation.
Around 150 cyclers first announced the movement, and, according to its website http://b2w-indonesia.or.id, the group currently has over 11,900 members nation wide. It routinely campaigns both for wider usage of bikes as well as more facilities for cyclers.  According to Seklie, b2w Indonesia is planning to hold an annual event this April, when 21 female cyclists will bike from Banda Aceh to Padang in West Sumatra as part of the celebration of Kartini Day.
Kartini is a Javanese woman who lived in the Colonial era. She is widely regarded as a pioneering figure in Indonesian women's fight for equality. Seklie said that she has seen progress in the city's cycling scene over the years. "There are more cyclists in Jakarta nowadays and during car-free days we can see many people cycling. This shows that cycling is a lifestyle, not a trend," she said.
Jakarta Cycling Tips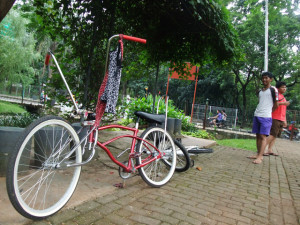 Choosing to cycle in Jakarta might be a noble gesture, but it is highly advised that you do it the safest way possible to avoid accidents.
Rangga, a 20-something artist, became a victim of a hit-and-run when riding his bicycle in 2011.  He was riding from Depok, West Java, to Bogor at around 5.30 a.m when a minivan hit him from behind. Rangga was not wearing protection and his black bike was not equipped with lights. He suffered a fractured jaw and lost three teeth. The accident failed to discourage Rangga to continue cycling whenever possible these days. He still, unfortunately, refuses to wear a helmet, but his bikes have lights now. "That way , [if another accident happen]  there will not be excuses like people not seeing me on the road," he said.
Seklie from b2w Indonesia shares her tips for those interested in pedaling through the city
First, do some researching and surveying to find out whether there are routes that are more or less safe. These safe routes are ideally shared with as little motorists as possible.
Many road users still look down on cyclists and refuse to treat them well on the road. Therefore, it is best to play safe by wearing helmet, gloves and other protection, as well as an eye-catching attire.
Wear a pollution mask
Try to remain on the left side of the road
Use hand signals to let other road users know where you are planning to go.
Wear comfortable attire
Find out if the place you are going to, such as the work place, has a shower so that you can freshen up after the bike ride
Browse the internet, and communicate with other cyclists to find out more tips and safe routes. The b2w Indonesia website is a good place to start.