by Nico Haryono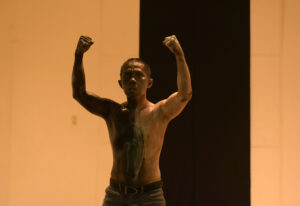 This article is about a young Indonesian choreographer who worked at the Katalis Collective in Solo (Java). The story wants to share the method of Wan Harun in pictures.
There was sound of ratok (lamentation) of a Kampar-speaking man, Riau, Indonesia, breaking the silence of the room. The lyric sang on ratok was not clear, it was such as murmuring, the intonation was fast and heartbreaking. Then a shirtless figure and tattered of trousers moved slowly towards the center of the room. His body movement was focused on the hands that appear to be doing the same and repetitive activities. He moved slowly to various corners of the room, accompanied by the increasingly piteous ratok sound.
On January, The main hall of Balai Soedjatmoko Solo, which is usually used as a showroom. This time it became a space for Wan Harun Ismail to present his work entitled Bakatoputui. This work was once staged in Pekanbaru, Riau in November 2019, dismantled, discussed and reorganized. This residency at this time was not only short-term oriented, but is expected to be able to provide reinforcement to Wan Harun in working for the future.
It is Katalis Collective that facilitated Wan Harun to explore the ideas of his work. Through the LaborArt program, Katalis planned activities in Solo and Yogya. Each city has its own specifications and objectives. In Solo, at the core of his residency, Katalis applied a personal approach to Wan Harun's needs. Katalis realizes that every artist has different needs and achievements. Dissatisfaction with the previous process, then brought Wan Harun to do a lab in Solo, accompanied by Wilis Rengganiasih, a lecture and dance practitioner from Solo.
This young choreographer from Riau wants to repeat his deepening of his work idea, about violence and trauma. Through the title Bakatoputui, which means determination, Wan wants to reveal his choreographical work about life's journey, and records of dramatic events related to the violence and trauma he experienced, from a young age to adulthood. How each violences came toward him and accompanied his life. He was a witness to the incidents of violence and political atrocities in 1998 that hit this country, which also happened in the city of Medan, North Sumatra. This incident left a deep mark on Wan Harun, who at that time had just graduated from elementary school. Together with his family he had to leave the city of Medan for Kampar, Riau, because they felt unsafe anymore. They were not direct victims, but they saw firsthand what was happening. How violence, arson and beatings took place in plain sight. So that there is trauma to them.
All of Wan's bitter experiences have left trauma that he immediately needs to overcome, according to his work entitled Bakatoputui which means determination, it meant determination to recover. His journey to grappling with traumatic experiences, as well as the complexity of getting out of the trauma, he also wants to understand more broadly from the experiences of others. This is important to do to enrich the perspective in presenting his ideas, even though in person, Wan really embodies the idea of violence. However, the perspectives of others are important for familiarity with a wider experience, empathizing with a wider range of emotions.
After going through the process of discussion and observing a number of references, Wan Harun conducted the internalization of the idea. To find something new in his ideas after analizing it. Then it is used to consider artistic decisions whether to be reworked, or to discover new movements and other artistic elements. After going through the process with Wilis, Wan Harun presented a limited presentation at Balai Soedjatmoko-Bentara Budaya Solo. Presentation of minimalist works that emphasizes discussion to hear the response of the audience. It is important for Wan Harun to measure the suitability of artistic decisions with the discourse he produced.