By: Ed Caffin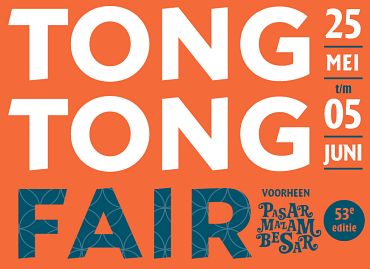 If you have ever been to Dutch city The Hague this time of year, you must have seen it. It is hard to miss. A group of large white tents on Malieveld close to the city's central station. Around them, coloured flags. These are the tents of the 'biggest Eurasian festival of the world', the annual Tong Tong Fair. Formerly known as the Pasar Malam Besar, the festival is deeply rooted in Indo-European culture in the Netherlands. And proudly so.
The mission of the Tong Tong Fair is to "celebrate, preserve and promote Indo culture at large". And it has been doing that for the last 53 years. Over the years it has grown to be one of the largest festivals in the Netherlands. But it had once started as a small cultural market in the local city Zoo in 1959. Back then it was called "Pasar Malam", an Indonesian-Malay word, meaning Night Market.
That first edition was organized by a group of people called the 'Indies Cultural Circle'. It consisted of Indo-Europeans that had just migrated from the former Dutch East Indies to the Netherlands. Among them was Jan Boon, better known as Tjalie Robinson. Jan Boon and other members of the group opposed the assimilation policy that the Dutch government tried to apply to the Indo-European migrants. Organizing the annual Pasar Malam was one of their achievements.
Nowadays, the festival is much more than a market. The main stages of the festival provide a rich cultural program with lots of entertainment, theatre, music and expositions. The rest of the 22.000 m² of festival terrain is dedicated to a large number of food stands and small shops, still referring to the market-like character the fair once had. See the 2010 promo video to get an idea:
As a whole, the festival is an experience in itself. It has an unmistakeable "Asian air" that makes it hard to resist. Add that up to the historic significance of the festival and it's clear why the festival attracts so many Indos and Indonesians every year.
But not only Indos or Indonesians appreciate the Tong Tong Fair. With more than 100.000 visitors every year, it attracts many Dutch people and tourists as well. Although the program adopted a broader perspective of "mixed culture", the festival still expresses the centuries-old ties between the Netherlands and Indonesia. And the rich culture that evolved out of that, is still alive and kicking.
So if you are ever in the area around May, look out for the white tents. The Tong Tong Fair is more than worth a visit. If you like Indo-European and Asian culture, and food, this is the place to be in May. Don't miss it next time…