By: Reyhard Matheos
Jesus never set foot on Java. At least, there's no mention of him doing so in the Bible. Yet, only 20 kilometers from Yogyakarta in a small village called Ganjuran, we find a statue of Jesus in a church, wearing a Hindu robe and a hairdo vaguely reminiscent of Lenny Kravitz. How did he get there, and who dressed him up like that?
The Catholic Church of Ganjuran
In 1924, two brothers by the names of Joseph Smutzer and Julius Smutzer erected the church. At that time they were working at the local sugar factory "Gondang Lipuro." They had been doing so since 1912. They did not not only build a church, but also managed to build 12 schools and a clinic that in the future would become the famous Panti Rapih Hospital. A Dutch architect, J Y van Oyen, involved in the building of the church, realized the dream of the Smutzer brothers and designed the church. Most of the surrounding inhabitants were working in the same sugar factory which lasted until 1930. The Smutzer brothers were very concerned with the locals, especially concerning their welfare.
Hindu and Javanese Influence
History tells us that the reign of Hindu kingdom ruled for nearly fourteen centuries in many parts of Indonesia. In the age of early Christianity, building a church based on Hinduistic architecture was considered heresy. But the Smutzer Brothers weren't rebels without a cause. Their love of Javenese culture and its people, inspired them to create a localized church that wouldn't separate the local people of their culture.
In the course of its development, the church took the shape of a Hindu temple and was named Candi Hati Kudus Yesus (Sacred Heart Temple of Jesus).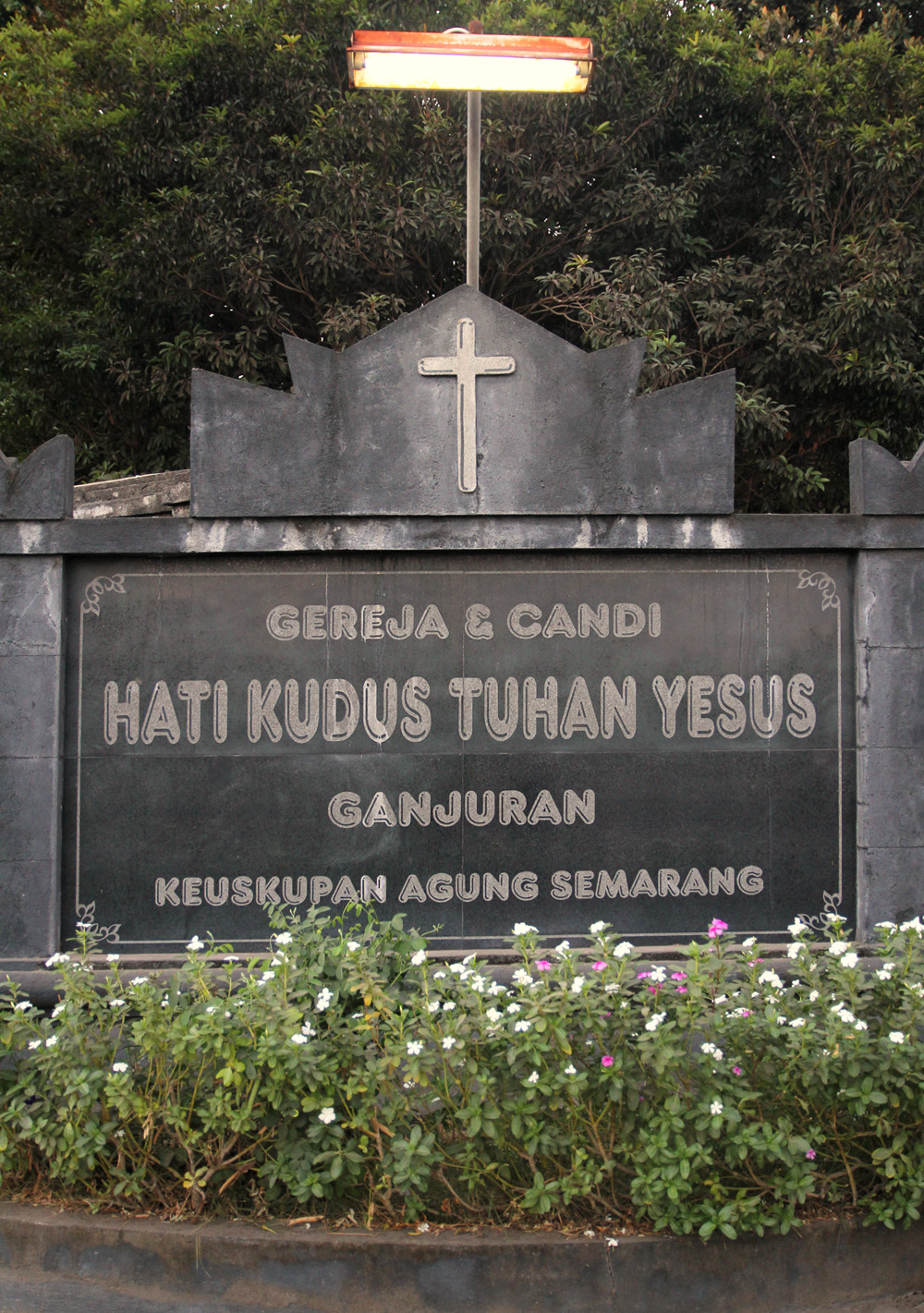 Walking around the lovely exterior of this christian temple, one notices that the building is a wonderful combination of European, Hindu, and Javanese styles. The European influence is quite obvious, as most Indonesian churches are based on a European model. The Javanese element can be seen in the rooftop, shaped in the traditional way of a tajug. These small square buildings are sometimes used as a sanctuary for praying. The rooftop shows four teak wood panels, with carvings of four disciples of Christ: Matthew, Marcus, Lucas and Johannes.
Javanese stylistic elements can also be seen at the altar, sancristi (storage for rituals), doopvont (water cup for baptism), and chatevummenen (cathecism). A statue of Jesus Christ and another one of the Vigin Mary carrying her newborn son, are dressed in Javanese clothing. The temple terrace shows lotus relief of Jesus wearing traditional Javanese clothing. The relief also shows Christ looking resembling a Hindu monk, while carrying his cross.
All in all, the church in Ganjuran is a wonderfully eclectic building, that meshes diverse cultures and religions into one.
Join the mass in Javanese language, where the singing is accompanied by gamelan, Thursdays to Sundays at 05.30 in the afternoon.
Address: Gajuran Sumbermulyo, Bambanglipuro, Bantul, Yogyakarta.