By Bartele Santema
It was in January 1862 that a Prospectus was issued by the Dutch publisher C. W. Mieling, announcing the publication of what is the most spectacular set of plate works of Indonesia: "De Indische Archipel", (The Indian Archipelago).
The work contains 24 chromolithographed plates which are among the largest and most detailed ever published on Indonesia. From both a topographical and artistic point of view the plates are of great interest, ranging through Java, Borneo, Sumatra and Minahasa.
Een Boschbrand met vluchtende dieren. (A Forest Fire with Fleeing Animals). Lithograph on paper after a painting by Raden Saleh.
The Boschbrand painted in 1849 was presented as a gift to King William III of the Netherlands. This 4 meter wide painting was lost until 2006, and is now one of the masterpieces of the National Gallery of Singapore.
In the 1862 Prospectus stated that although in recent years a good deal had been published on Indonesia, there was no sumptuous work reflecting the highest standard of contemporary art able to contend with pieces in oils.
Mieling had long wanted to publish such a work but there had been many difficulties which had only now been resolved as a result of the cooperation of the participating artists. The chromolithographs are created after drawings by virtually all the prominent mid-nineteenth century artists of Indonesia, among them the great Raden Saleh, Ernest Hardouin and Abraham Salm.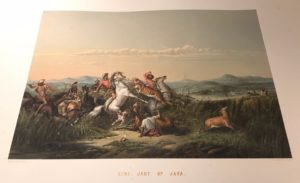 Eene Jagt op Java. (A hunt on Java), lithograph on paper after a painting by Raden Saleh.
Bartele Gallery's "De Indische Archipel" is part of the "Between Worlds" exhibition at the National Gallery of Singapore.