By: Riksa Afiaty
On April 30 this year — one day before Indonesian National Movie day – there was a screening of Anak Sabiran di Balik Cahaya Gemerlapan (Sang Arsip) directed by Hafiz Ranjale, a well-known documentary director and video curator in Graha Bhakti Budaya, TIM, Jakarta. The movie is a collaboration between Misbach Yusa Biran and movie makers in Forum Lenteng, Fuad Fauji, Hafiz Rancajale, Mahardika Yudha, and Syaiful Anwar "Paul" and reflects upon movie archival strategies for almost 30 years in Sinematek.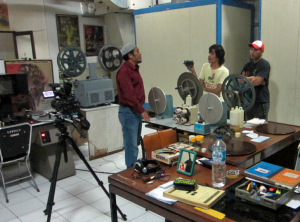 Sinematek is located in Jakarta and is the first film archive in Southeast Asia, invented by Asrul Sani and the late Misbach Yusa Biran in 1975 and the movie was screened to tell the story of Sinematek and the importance of its preservation.
The Chronicles of Sang Arsip
From the start, the concept of using movie archives as a representational heritage was contested on many levels and with various approaches. In the opening of the film, we hear the voice of Misbach Yusa Biran reading a letter and his discussions and conversations with Hafiz Rencajale about how documentaries should be made, thereby exposing us to the techniques, concepts and process of film-making.
The film unfolds in showing the abandoned environment in Sinematek, located in the Hajji Usmar Ismail Center, on Rasuna Said Street in Kuningan, South Jakarta. Rather than providing narration about Misbach Yusa Biran and his artwork, the documentary presents insights into the careful preservation of movie archives under Yusa Biran and illustrates his ideas and concepts for saving the national heritage which dates from the 1920's to the present day.
At Sinematek, most of the films, scenario archives, photographs, and storage rooms are in poor condition and the moviemakers show the state of disrepair as they walk between the aisles in the sombre rooms.
In order to characterize and understand the urgency of archiving, the movie focuses on three aspects. First is the issue of conditional funding. Since the government is not permitted to fund Sinematek, it is subject to financial crisis and employees are forced to economize as they figure out how to provide management of the organization and keep it alive. Second is the spirit of Misbach, and viewers are shown his characteristics and role in the movement through interviews with people in the film industry. Third is a narrated visual of the methods used by Sinematek in providing access to thousands of movie archives and the encouragement of widespread use of a collection of historical documents.
"Misbach is one of the living proofs of the history of Indonesian cinema and we see the dire situation of the erosion of film history Indonesia," said Mahardika Yudha, a media artist and curator based in Jakarta. "Sinematek and Misbach Yusa Biran provide historical knowledge which should be 'frozen', or at least written about so that it can be analyzed and developed for a new perspective in looking back at the history of Indonesian cinema by the next generation".
The Role of Forum Lenteng
Forum Lenteng is located in Lenteng Agung in southern Jakarta and uses audio-visual mediums to examine and convey ideas. Before producing Sang Arsip, some of the founders produced Dongeng Rangkas and Naga Yang Berjalan di Atas Air, which are feature-length documentary films with Indonesian titles.
"Bahasa Indonesia was used for the purpose of communicating with Indonesian viewers but it would be better to use the exact Indonesian language" said Hafiz. "While the issues can be understood, we are always looking for the best way to describe what kind of movie it is to the audience. For international festivals, we use English subtitles in the films so they can be understood by an international audience".
All films made for Lenteng Forum are intended for educational purposes as well as to provide value and knowledge to participants. There are similarities between local culture and institutions making movies, which can be seen in three of the movies. In Naga Yang Berjalan di Atas Air, there is a collaboration with Komunitas Djuanda, an institution that initiated the development of alternative media to the public and increased awareness of its members to social and cultural issues in South Tangerang. Their first movie production, Dongeng Rangkas, working together with Saidjah Forum, focused on community work and community development through the medium of text, video, archives and local socio-cultural studies in Rangkasbitung West Java.
"Working with the community provides experience in making professional documentary features as well as education about how to process the content," said Hafiz. "Lenteng Forum has a strategic position in Indonesian cinema as we encourage people to be part of the development of culture in this country. We are not paid for our work and only provide production facilities for equipment. We put into practice the concept of mutual assistance in producing documentary features".
In addition to making documentaries, Lenteng Forum provides education to people through their "world cinema" and documentary screenings every Monday.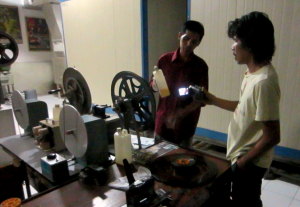 "For us, movies are very important tools," said Mahardika. "They don't just talk about the historical development of cinema but also interpret it as an attempt to examine our own cinema. Interestingly enough, if you look at development films in third world countries, you'll see they have been able to find a cinema language of their own. This is where the greatest function of the world cinema exists — that they are not used as examples in the making but used as reference works to find our own language of Indonesian cinema".
Movie Archives in Sinematek
Sinematek was founded in 1975 by Misbach Yusa Biran and Asrul Sani, both of whom are highly regarded in the Indonesian movie industry. Asrul Sani was a writer and film director who died in 2004 at the age of 77. Biran quit film directing in 1971 to show his lack of support for the film industry at the time and founded Sinematek. His most well known film which which was the inspiration for Hafiz's documentary is Di Balik Cahaya Gemerlapan which was made in 1966.
Under Ali Sadikin's government in the1970's, Sinematek was funded by the government in an attempt to protect the national heritage and movies of Indonesia. Today, Sinematek has thousands of archives containing 2,714 film titles, including 632 master copies and 318 screening copies as well as 1,615 documentary films in 35 mm and 16 mm formats. Unfortunately a 2001 law banned the government from giving funds to nonprofit organizations, including Sinematek and the financing stopped.
The poor condition of the archive does not stop there, according to Sinematek employees. "We have to use chemicals to maintain the quality of celluloid movies but we have to use recycled water and old chemicals because we have no money to purchase new materials," said one employee. Hafiz shows this process in his film and explains the importance of preserving celluloid in order to protect movies from the past. While colors were originally bright and transparent in the films, they are now seen to be fading and less vibrant due to this lack in funding and new equipment.
"Archival of movies is among one of the most important features of film, in addition to production, criticism and distribution" said Mahardika Yudha "In Indonesia, we do not have a good film archive so, as a result, films may not be produced in Indonesia putting us in danger of losing our historical culture".
Anyone who missed the documentary and may be interested in viewing it can check the Forum Lenteng website for screening dates, or contact them directly since they will probably be happy to make it available for screening in your neighborhood or at your own festival.