Home
Posts tagged Bali
(Page 7)
februari 23, 2011by
By: Labodalih Sembiring By the 1920s, the "civilized world" began to be intrigued by a beautiful, mysterious island called Bali. The following decade, films, books...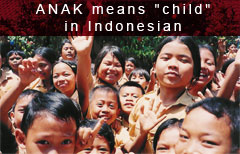 januari 04, 2011by latadmin
ANAK means « Child » in Indonesian. We are an international organization that operates locally in several countries. ANAK, a non-profit, humanitarian and cultural...