By: Emma Kwee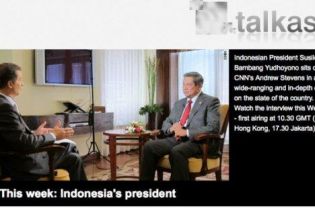 Susilo Bambang Yudhoyono is in good company as he was interviewed for CNN's Talk Asia. In this weekly program, people that influence Asia or can be seen as role models, are interviewed by rotating anchors of CNN.  Chinese grand slam champion Na Li, football legend Pele, Jay Z and Jet Li were all featured on Talk Asia. SBY might however be the first president on the list.
Interviewer Andrew Stevens asked SBY about corruption, growth, islam and democracy and radicalism. It proved an engaging conversation, with the president revealing his biggest challenges and concerns, as well as his favorite passtime: singing.
Indonesia as a Model for the Middle East?
President Yudhoyono became Indonesia's first democratically-elected president in 2004 and has since achieved econmic growth as well as political transparency and strengthened international relations. Currently in his second five-year term, his firm stance on corruption is notable, yet his indecisive handling of radicalism is by many viewed as his weak spot. With still three years on the clock, SBY is faced with political, religious, economical and environmental issues, in an "era of transformation."
Remarkably, as a former general under the 32 year autocratic Suharto regime, SBY took steps in disestablishing the military power in politics.
"During our reform process, I was actively involved in implementing internal reforms in the military. Afterwards, the military relinquished its political role. The military started respecting democracy and human rights," he added.
According to him, this could be the next step for many countries in the Middle East: "So what's happened in Egypt, the political power has to be first reformed, including the military, and together with the rest of society they can push forward reforms. Perhaps those are the lessons that can be learned by our friends in the Middle East and North Africa."
SBY even sees Indonesia as a model for the Middle East in their path to democracy:
"Indonesia can be a model where Islam and democracy exist hand in hand, with no contradiction between the two," he said. "We are still facing some challenges to becoming a role model… there have been some difficulties, some ups and downs, setbacks, but we insist that democracy, Islam and modernity can exist together."
Challenges, Corruption and Radicalism
He did however acknowledge that Indonesia still hase some issues with corruption and radicalism.
Corruption is indeed our biggest challenge — my biggest challenge. I have to be frank on that."



Another cause for concern is religious extremism. SBY claims extremism is in control, even though there are still a few cells in Indonesia. According to him, education is the key to halting radicalism.
The most interesting part came when Stevens challenged SBY's boldness in reforms and countering extremism:
"You were reelected in 2009 in a landslide victory. Your popularity rating around the time was about 90 percent. But, there are those who will say you have not spent your political capital enough. That you have not been bold enough in reforms, in tackling extremism. What would you say to those people? How would you respond to that?"
SBY answered: "During the elections in both 2004 and 2009, I got 60 percent of the vote. But Indonesia is a multi-party democracy and my party, Party Democrat, won only 26 percent of the seats in parliament. It's not even 30 percent – far from half. In order to ensure political stability, I need to engage in give-and-take, build consensus, and engage in negotiations without sacrificing principals. So sustainability and government stability can be preserved.
That is the difference between the 60 percent I got of the national vote and the real politics in parliament, which is the decision-maker of government policies. So, in terms of the fight against terrorism and radicalism, I think I've been very clear about this. I was a target of three assassination attempts, including a bomb aimed to be exploded at my home. This proves that I've never doubted or feared in fighting terrorism and radicalism.
What's important for me is to keep the rule of law, because I don't want to do this by resulting in authoritarian ways. There are people who want to solve the issue promptly, but we need to weigh up whether it's good for democracy, whether it's better for long-term objectives, or whether it's good for the balance in this country and its transformation. Therefore, I will use my political capitol correctly in accordance to the system and rules. But my priority is to keep the political stability in this country that enables me to do my job. It's impossible to conduct your duties amid political turbulence."
SBY's X-Factor
In a way, being the president of Indonesia is a balancing act. SBY releases the tension by singing. "The best way to escape from these pressures is to write songs to express my thoughts and feelings and communicate with the people." This videoclip is proof of his X-Factor:
When Stevens asked him about his legacy, SBY said: "I would like to be remembered as a leader who worked hard and gave all his best in an era of transformation, an era full of challenges. And, with all the achievements and shortcomings, I want to be remembered as someone who tried to do his best. I'm happy with that, because transformation will continue after my presidency. I hope to be remembered as one of the leaders who brought significant change in this country. That's probably how I would like it to be, if we're talking about legacy."
As always, time will tell. To read more about SBY, click to go to Ed Caffin's SBY, president of the Republic of Indonesia.