by Melissa Lin
This month is considered the holiest month in the Islamic calender and in Malaysia, our our Muslim friends begin to fast from dawn till dusk as part of their spiritual practice.
Fasting is said to burn away sins accumulated, cleanse the body to increase health and to increase the virtues of patience as well as compassion towards those who are less well off than us.
The breaking of fast after sunset is often a time of gathering to share food and good times with friends and family. There are various local favourite foods during this time of the year  including Kuih Lapis and Beef Rendang.
Kuih Lapis (Lapis Surabaya) recipe
Lapis, meaning 'layered' cake is a sumptuous treat, and is often served during Ramadan and Hari Raya. After a long day of fasting, many people break fast by first consuming water and dates, or cakes for sweetness, allowing their tummy to settle before having a more substantial meal.
There are many variations of Kuih Lapis and the method of making Kuih Lapis traditionally can be quite labororious and time consuming, for the thin layers that make up the cake must be cooked before the next layer is applied, The Lapis Surabaya is a 3 layered cake and is an easier but just as delicious version.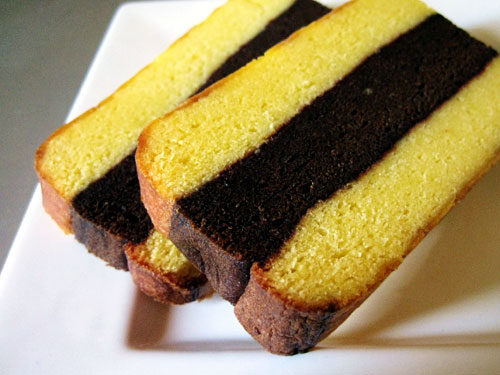 Lapis Surabaya is a simples, but equally delicious layered cake
Ingredients:
20 egg yolks
200 g fine sugar
250 g butter
5 egg whites
100 g flour
1 tsp vanilla essence
1 tbsp cocoa
8 tbsp apricot jam (you may substitute with your favorite jam here)
How to make kuih lapis:
Grease and dust three 20 cm round sandwich tins.
Beat the egg yolks and sugar until creamy. Beat the butter until creamy.
Beat egg whites until it thickens. Mix the beaten butter and egg yolks together, gradually adding into the mixture the flour and egg white. Add the vanilla essence. Divide this batter into three equal parts.
Sieve the cocoa into one part of batter, mix well and pour into a 20 cm round sandwich tin. Pour the remaining two parts of batter into the two other tins of the same size. Bake with moderate heat. (120 degrees C) for 15-20 minutes, starting with the cocoa batter. Bake the two other tins.
Warm the apricot jam and pass the jam through a coarse sieve.
Lastly sandwich the cocoa layer between the plain layers, spreading apricot jam between the layers.
Enjoy your very own kuih lapis!