By: Prima Ayu
Walking around the busy streets of Bali at night time you may run into the occasional slick mohawked youth dressed like Johnny Cash or Elvis. The island, other than any other part of Indonesia (including the cosmopolitan big cities on Java) has a musical trend that in the Indonesian context is uniquely Balinese: Rockabilly!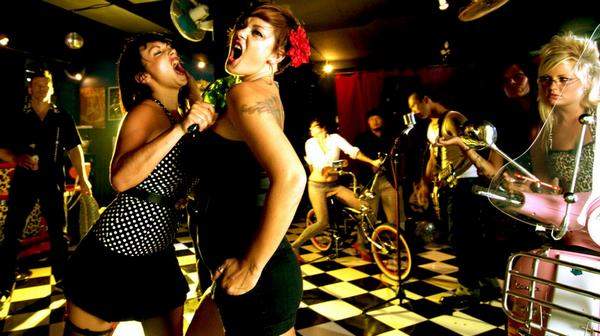 The local Balinese culture welcomes western culture in a very open way. Therefore, new ideas and subcultures that originated in western countries, have blown over and been adapted in a way that fits the lifestyle of the Balinese youth. No other seems to fit the Balinese so well as rockabilly.
Rockabilly: Just Another Subculture?
In Indonesia generally, subculture lifestyles only appeared in the last millennium. Punk is a widely spread phenomenon adapted by youth living in big cities like Jakarta and Bandung. Punk culture came to Bali later on. According to scholars, punk culture in Indonesia is not a complete adaptation of the punk in origin. The music and lifestyle has gone through some modifications and the transmission of this culture has been altered. However, punk music and culture, with their three chords and Do It Yourself ethics, seems to fit the context the Indonesian city youths find themselves in.
In Bali however, punk music changed closer to a genre called rockabilly. The roots of the Balinese version of rockabilly definitely lie in punk music, whereas in the west rockabilly is regarded as a merge of rock-'n-roll and country music.
Style over substance
Aside from the music, the fashion style is important too. Rockabillies dress up in black or printed t-shirts/ wife-beaters, shorts, big belts, boots or casual shoes combined with long socks, hats, and skillfully crafted mohawks or other hairstyles that require a lot of wax.
The style and lifestyle seem more important than underlying ideas or motivations. Bali is obviously a world class tourist destination. The nightlife and western notions about freedom, materialism, hedonism and consumerism, influence the culture and lifestyle of the Balinese youth. Rockabilly seems to embody that urge for freedom, a life by the beach, cruising the island on a motorcycle. Take a look at this terrific video of Balinese rockabilly band The Hydrant to get a glimpse of the rockabilly lifestyle:
Balinese punk and rockabilly music, is compared to 'raw punk or rock,' smooth, easy to listen and enjoyable to dance to.
The epicenter of Rockabilly is the Twice Bar in Poppies 2, owned by Jerinx, band member of the legendary (surf) punkband Superman is Dead:
(International) Rockabilly Succes
Superman is Dead is undoubtedly the most successful punk band in Indonesia. Succes however, is in punk terms an arbitrary and even problematic concept. Commercial success can in the punks scene be labeled 'selling out' (to big labels, success and fame, over producing your own music by your own means according to your own values). Superman Is Dead  signed with Sony-BMG  in 2003 and toured America in 2009 on the Vans Warped Tour, an amazing feat as the bands that make it to tour outside Indonesia can be counted on the fingers of one hand.
Rockabilly is also turning into a lucrative export product, as proven by the birth of some rockabilly bands following in the footsteps of Superman Is Dead. The Hydrants and Suicidal Sinatra are some recent examples. The Hydrant's highlight was their European Tour in 2009, "Bali Bandidos Eurobilly Tour 2009", while Suicidal Sinatra toured Europe in July and August 2011.
For some idealistic punks rockstardom is like spitting on the do-it-yourself ethic of punk. In laidback Bali, however, values seem to have shifted from politics to having a good time.
Just a cool trend, a fashion style, or a heartfelt passion for music…rockabilly continues to rock Bali (and beyond).