By: Jesse Boga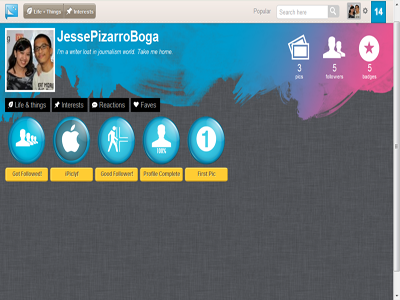 Is PicLyf something I'd want to add to my social networking routine? Yes!
This Filipino-made photo-based social networking site has all kinds of awesome in it. It's almost hard to believe that, for someone who spends a lot of time on the Internet, I've been missing all the fun since the site was made available to public just October of last year.
PicLyf banks on photos as its primary content. Eric Clark Su, Piclyf co-founder and product manager, shares that everyday photos are the "soul of PicLyf." Snapshots, doodles, and webcam photos make it easier for users to remember important moments of their life and tell stories.
And that's exactly why it appeals so much to me.
Hands on
PicLyf is nothing fancy: the user interface is very easy to use, signing up takes only seconds (literally!), and posting photos are a breeze. I get to file my photos under three main threads: whether they're about my life, my things, or my interests.
From there, I get to put notes, captions, dates, tags, and location of my picture making it easier for me to tell my story and eventually share them in other social networking sites like Facebook and Twitter (PicLyf seamlessly integrates into them).
I can post images by uploading them from my PC, posting a URL, taking a snapshot using my laptop's web camera, or by making a doodle—which is really fun.
Sharing my visual story in PicLyf become even more fun because of badges, virtual rewards that I get for completing certain "tasks" in the site (and even offline)! My recently opened account currently has 5 badges and I'm sure they're set to grow in number when I post more photos.
The fun doesn't end in my laptop, though. I can take PicLyf with me because it has a mobile app for iOS, Android, Windows Phone, and Symbian devices!
All these visual storytelling fun seem to be just starting. Because after PicLyf became one of the winners in the 2011 ON3 Pitching Competition (organized by the Science and Technology Advisory Council of Silicon Valley), everything about it becomes even more exciting and promising.
Off to Silicon Valley
Eric, with a colleague, will immerse himself in Silicon Valley, California, USA for three months. They will be exposed to the technological hub's community and, there, they will learn more about how to develop PicLyf for the better and prepare it to rock the world of social networking.
Eric shares that the site already has over 60,000 users that massively uploads photos on weekends.
In a recent press conference, Eric shares PicLyf's short term plans, which is to monetize it with advertisements starting February. His team, Twidl Inc., is also open to the idea of giving brands and products a platform for photo contests.
Eric, 29, and an IT graduate of John Paul II College in Davao, shared that PicLyf is a product of his observation on how people use Facebook. "There is a personal need to promote substantial updates and important moments in life," he said.
And just like that, I understood why PicLyf is here to stay.
Head to head with PicLyf's Eric Clark Su
How do you feel about PicLyf winning the ON3 competition?
Feels pretty great! The prize really is amazing and could be a pivotal development in the platform we are building.
What are you looking forward to doing in the Plug and Play (PnP) Tech Center of Silicon Valley?
I am looking forward to finding great partners that truly believe in our mission in helping people share, enjoy and remember life better.
What's it like running a social media platform?
It's probably the most difficult thing I have ever done. Problems come from all sides and different types. This is especially true if you are competing in a hyper competitive space and being located very far away from the startup hubs.
Name at least 5 people/personalities that we should be following in PicLyf.
Wow, there's a lot of people that are great to follow but I'm gonna name the most active ones. There's @techboba (http://piclyf.com/techboba) from Cebu, @ahsymai from Manila http://piclyf.com/ahsymai, you can also follow me (@ericzoo) or my wife (@reissasu).
A few people have also started their Project 365 (daily photos) this year: @mommyrubz and @thenonirishjazzman from the US.
Why is PicLyf fun and awesome?
PicLyf has only one core activity – posting pictures. But PicLyf makes it so that you will get a lot of good stuff per photo than anywhere else. It could be followers, stats, points, badges, or even real rewards or it could be personal like when you annotate your pictures, tag the people, tag the things, add the location – you will remember more of that moment than you normally would. Your photos will be in context and overtime weave a visual story of your life and that's pretty awesome.