By: Emma Kwee
The CinemAsia Film Festival in Amsterdam doesn't just showcase blockbusters and arthouse favorites, it also gives new talent a chance. In the FilmLAB three short films were presented, made by three young filmmakers from Asian descent. These three, Iegrien Yin Liu and Daan Vree from Amsterdam and Ari Purnama from Groningen, received financial, technical (and in some cases mental) support, during the painstaking, challenging and sometimes overwhelming process of making a short film.
Yesterday these films were presented. For those of you who missed it, be sure to buy tickets at CinemAsia for Saturday 13.00, for a last chance to see these gems.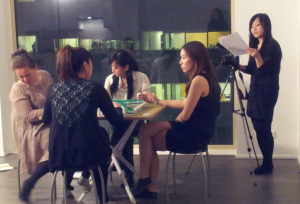 Generation Y by Igrien Yin Liu features four young women of Chinese-Dutch descent (all actors are friends of Igrien). While playing Mahjong together they talk about their hopes and expectations in life. All successful in a material sense, the question of their parents' approval lingers in the background.
As the girls exchange witty remarks, snap at each other's materialism, income and status, their veneer of modernism cannot hide their upbringing and traditional values. Maybe these women have more in common with their parents than they think? The strengths of this film are multifold: Excellent acting, witty dialogue and a well rounded story.
The Attachment to Rice by Ari Purnama deals with a very current subject: an Indo grandmother is persuaded by her children to move into an elderly home. Even though she agrees to their barrage of arguments, on the inside she is boiling. Several weeks later she invites her children over for a visit. Persuading them with nasi tumpeng (a favorite), the whole family shows up. All they find are children's clothes, a richly adorned plate of rice and a videotape…
The story of this film promises a short but gripping rollercoaster ride of emotions. From laughter (especially when two other elderlies show up with badminton rackets to ask the 81 year old grandmother to join them for a match), to real tearjerk moments (when the grandmother tries to explain to her grandaughter why she had to leave). The beautiful music, great angles and gripping story make up for the inexperience of the actors.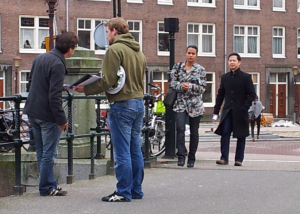 Aangenomen (Adopted), by Daan Vree, explores the theme of adoption from an interesting angle. Daan, himself adopted, decided to approach the subject from the perspective of a Chinese couple living in the Netherlands, Yin and Lian who are considering adoption. Much to Yin's mother's dismay, the child in question will be Dutch. We see her struggle with the idea of a white grandchild, while the couple is left disappointed with her reaction. The baby shower will eventually reveal whether Yin's mother has come to terms with their decision or not.
Daan's film makes you think. By simply reversing the standard, featuring a Chinese couple instead of a Dutch couple and by looking at the perspective of the adopters instead of the common perspective of the adoptee searching for his or her roots, new questions and new issues appear.
All in all, these shorts signify some great things to come. Three filmmakers, not afraid to tackle big subjects on a small budget and in a short timeframe. Not to say there weren't any bumps in the road. Ari Purnama was quoted sighing:
'The history of cinema can be summed up by the sentence: "How do I resolve the problem".
Because in film making, new problems always pop up at the last minute. The three young film makers had their fair share. Daan Vree had to scramble to find a new editor at the last minute. Ari Purnama half forced an innocent bystander to take the role of youngest daughter after one of his actresses got cold feet.
Yet, we have seen bigger productions, with more time and money at their disposal, who weren't able to pull of what these three filmmakers did. Each film had their own charm to it. See Generation Y for witty dialogue and beautiful shots, Adopted for an interesting and original take on adoption and The Attachment to Rice for a wonderful script, a laughter and a tear!
Order tickets for FilmLAB or any of the other amazing Asian films on the CinemAsia website!